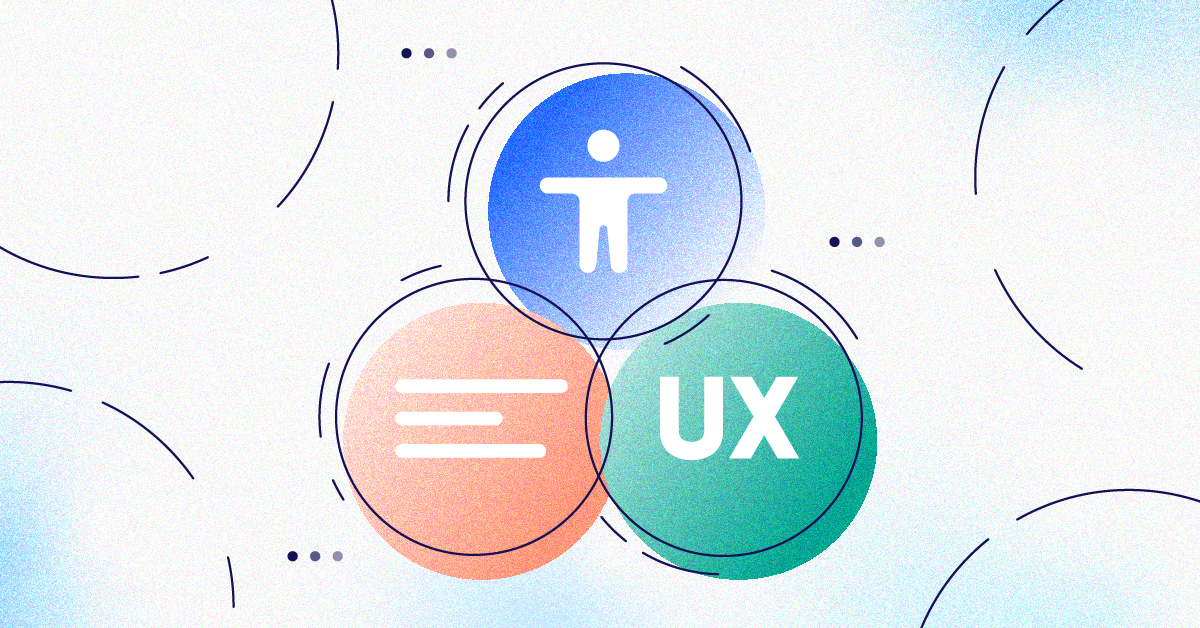 Creating the most inclusive UX in your enterprise organization
- By Chris Schafer - Aug 09, 2022 MarTech Content Experience Accessibility Quality Assurance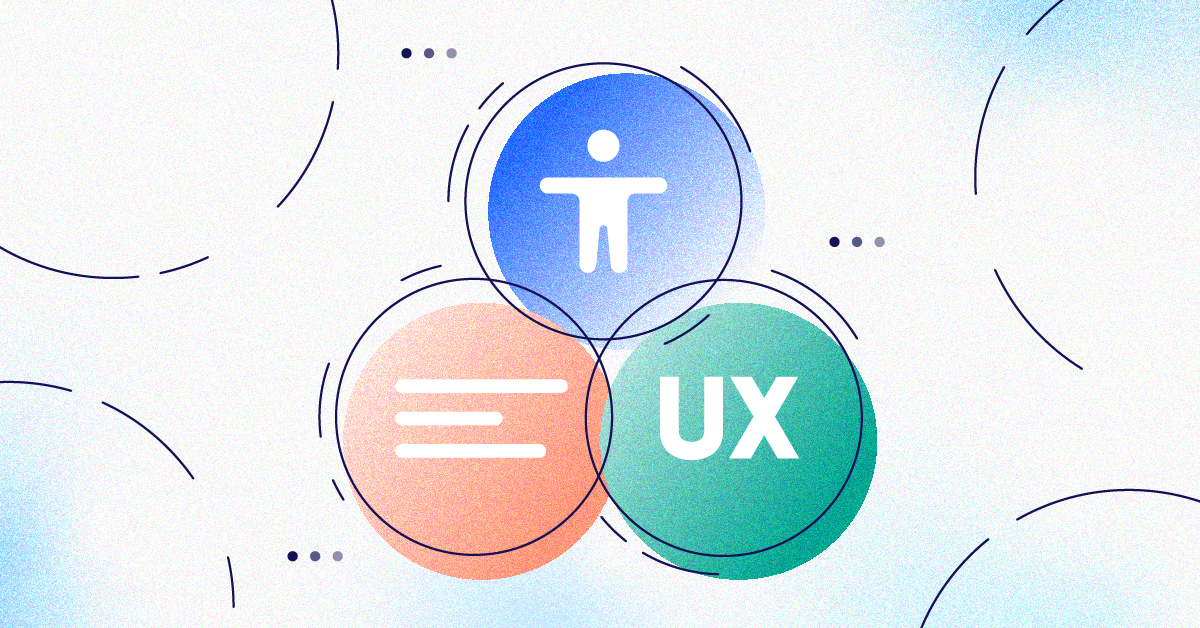 What does enhancing your digital inclusivity mean for your brand? It's a question forward-thinking enterprise marketers grapple with daily. But even the most innovative companies are only beginning to scratch the surface of the potential impacts of accessible content experiences.
Simply put, improving your content experience also elevates your organization's marketing performance – while solving a big enterprise challenges in the process.
Embrace inclusivity as a cornerstone of a successful enterprise digital experience
A successful website strategy requires a three-pronged approach.
Inclusivity:

Welcome new audiences, protect/grow your brand image & improve SEO rankings

Content experience:

Create meaningful interactions and measurable results

Marketing performance:

Maximize content's impact by responding to user influences to boost conversions
Solving enterprise challenges through inclusivity
What else can accessibility do for your organization aside from helping provide the foundation or your brand's digital maturity?
For starters, you can solve complex enterprise-grade business challenges by focusing on accessibility issues across your organization.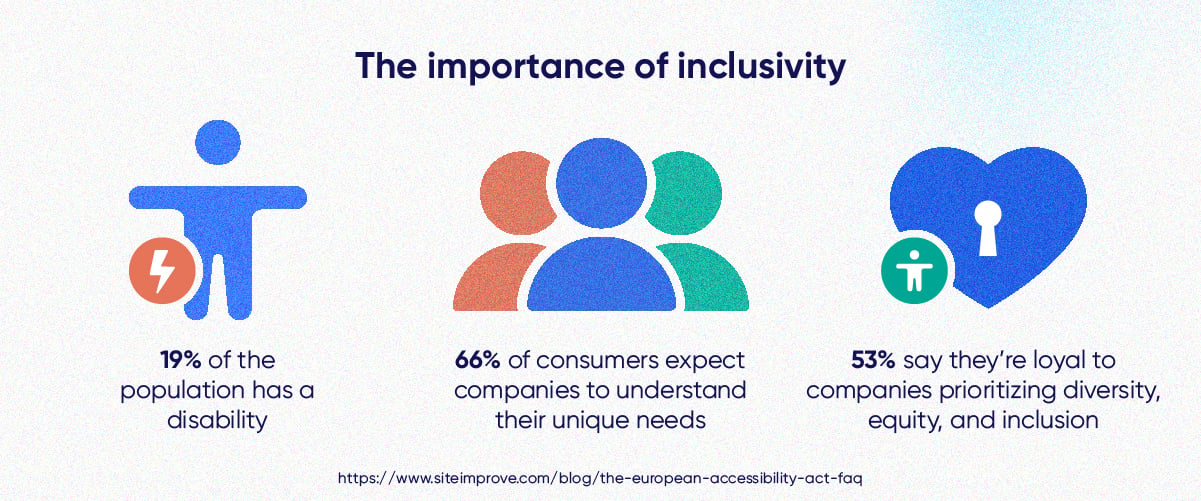 Legal and reputational risks associated with inaccessible web properties
In 2020, the market saw a record-breaking 23% increase in digital accessibility lawsuits by the Americans for Disabilities Act (ADA).
In Europe, the European Accessibility Act requires private businesses that sell products and services deemed essential – think computers, banking services, eCommerce websites/apps, etc. – to adhere to accessibility requirements. By June 2025, all EU member states will be required to apply these accessibility requirements to their national laws.
Solution: Siteimprove Inclusivity provides you a complete overview of your web assets, allowing you to automatically check webpages, PDFs, and content against compliance standards including WCAG 2.0 and 2.1.
Our new Alfa engine was created by Siteimprove and based on our work with W3C, and the EU Commission, puts the standard in automated and manual testing—at your fingertips.
With Siteimprove Inclusivity, you can also scale your automated testing by identifying common issues and make site-wide fixes quickly to reduce the risk of lawsuit.
Lack of domain knowledge
Pursuing accessibility initiatives without the experience to administer them confidently jeopardizes the entire initiative. A lack of domain knowledge prevents your team from effective governance. It also limits your ability to realize the benefits of improving website accessibility identify opportunities for improvement.
Solution: Siteimprove Inclusivity guides your team in breaking down complex accessibility issues by prioritizing the to-do list based on which corrections will make the biggest impact.
Pinpoint and tackle issues: See the exact locations of outstanding issues or use the HTML code view, so your development team can make corrections directly in the tool, improving efficiency
Ensure maximum remediation impact: Organize webpage issues by page section to identify reoccurring issues that can be prioritized to ensure optimal remediation impact while minimizing effort
Empower your team through accessibility: Use built-in help cues to guide your team to compliance while implementing best practices to prevent future issues

Poor visibility into accessibility compliance
As teams work to enhance their accessibility compliance, maintaining cohesion and identifying impactful accessibility adjustments becomes difficult. In fact, 65% of senior marketing leaders report feeling overwhelmed by the need to create personalized content while maintaining accessibility compliance. In addition, continuing to check the entire digital estate each time new content is posted can be a tough practice for marketing teams to maintain.
Solution: You can solve for these challenges by:
Benchmarking against industry standards: Historical graphs and your site's unique Digital Certainty Index (DCI) score benchmark your efforts against industry standards. These goals may be A, AA, or AAA depending on your situation.
Get support on accessibility issues: Siteimprove's intuitive Review Flow will ask you clear, simple questions that guide you through determining whether a detected issue is an accessibility problem, eliminating guesswork
Document accessibility progress: Progress monitoring allows you to stay on top of accessibility issues and document your efforts toward accessibility enhancement with a detailed overview of resolved issues and their impact on your overall accessibility score
Inclusivity alignment is difficult across multiple teams
As teams grow larger and more complex, the risk for misalignment increases, especially for teams that have little-to-no interaction with one another.
Solution: Siteimprove Inclusivity institutes a single source of truth for your inclusivity initiatives. Teams added to this resource can then use Siteimprove to align, prioritize tasks and delegate work in a single system that keeps everyone in the know and working toward the same goals.
[Add Siteimprove benefits graphic here]
Siteimprove Inclusivity in action: First Tech Federal Credit Union
First Tech Federal Credit Union has seen these results firsthand. A Siteimprove customer since 2017, First Tech Federal Credit Union has seen the impacts of accessibility improvements first-hand.
"Siteimprove has made our website more accessible to our members through greatly improved web accessibility, enhanced SEO, fewer broken links, etc., which were clearly outlined in the Siteimprove dashboard," said Sean Wolverton, Senior Manager, Digital Experience Center, First Tech Federal Credit Union. "We recently adopted the inclusivity NextGen tool by Siteimprove, which helped to greatly increase our accessibility score. The tool clearly spelled out accessibility issues, which we resolved in a recent redesign and continue to push more improvements regularly."
Taking the next step
Improving the accessibility of your digital properties is a continuous journey but the rewards are limitless and as you take the next step, know we're always here to help.

In fact, we were recently honored to be named a leader in the Digital Accessibility enterprise category by G2 in their recent Grid Report. This recognition is the result of continuous product improvements we've made based on customer feedback and the latest Accessibility Conformance Testing (ACT) rules incorporated into Siteimprove Inclusivity to create the best possible solution for your enterprise organization.
You can also learn more about G2 by reading the G2 Grid report here and if you have any questions, please contact us today.