Do you use Siteimprove's essential features to their full potential?
- By Conny á Reynatrøð - Mar 15, 2021 Quality Assurance Website Management Digital Certainty
If there's something content and communication teams are notoriously running short on, it's time. Tedious, manual tasks frequently take away valuable resources from content planning and creation, shifting focus from business-critical strategic work to time-robbing maintenance.
Adding to that, a lack of data makes it difficult to obtain a thorough overview of existing content across the digital estate – without these insights at hand, targeted content optimization, reporting, and increasing content impact can easily turn into a considerable challenge.
Catering to the common struggles of content teams, Siteimprove helps free up resources by automating maintenance tasks for uninterrupted content production, while giving full oversight over available content and existing issues through autogenerated inventories, quality checks, and scheduled reports that help teams plan and structure content.
As a content professional working with Siteimprove, you're familiar with the many features the platform offers to manage your daily content operations. But do you know whether you use them to their full potential?
In this article, we'll share our top five tips on how you can get the most out of Siteimprove's essential tools to improve team workflows and enhance content quality across the entire website.
Tip 1: Organize your team with Siteimprove Groups
If you're managing a content team, the best way to get started is to organize your team around a content group. Groups is a team management tool that allows you to display information for specific sections of your website in a clear, comprehensive way, which makes content management less overwhelming.
A single group refers to a selection of pages with a common element in the URL, page title, capture tag (e.g. breadcrumbs), etc. – blog posts or press releases, for example. This is especially handy when content editors are responsible for different parts of the website. To help teams work efficiently, Groups automatically presents each team member with the pages linked to their content group(s) along with a list of issues that need to be addressed.

Our ti
p
Typically, content groups are created using a simple match based on page titles or URLs.
If you're responsible for maintaining the quality of the website's blog articles, you can group the pages together using a URL match /blog/. This makes it easy to view and generate reports for the pages you oversee.
Dive deeper
For a full tutorial on how to create groups, visit the Siteimprove Help Center.  
Tip 2: A
dhere to
content guidelines with
Siteimprove
Policy
Siteimprove Policy is one of the main tools you can use to make certain brand and content guidelines on your website are followed by the wider team.
Policy monitors your content and regularly runs automated checks on the adherence to pre-set policies tailored to your organization's specific branding and content guidelines – helping your team to maintain consistency and compliance across your site.
Policy allows you to easily identify outdated branding elements or incorrect product names, disclaimers, sensitive words, etc. that need to be removed from the website. It also helps ensure your content meets your organization's accessibility and SEO requirements, while taking into account the readability needs of your audience.
You can also use the Policy module more strategically. Use policies to source, plan, and structure your content for various content formats and assets. Our tutorials will help you get started with Siteimprove Policy.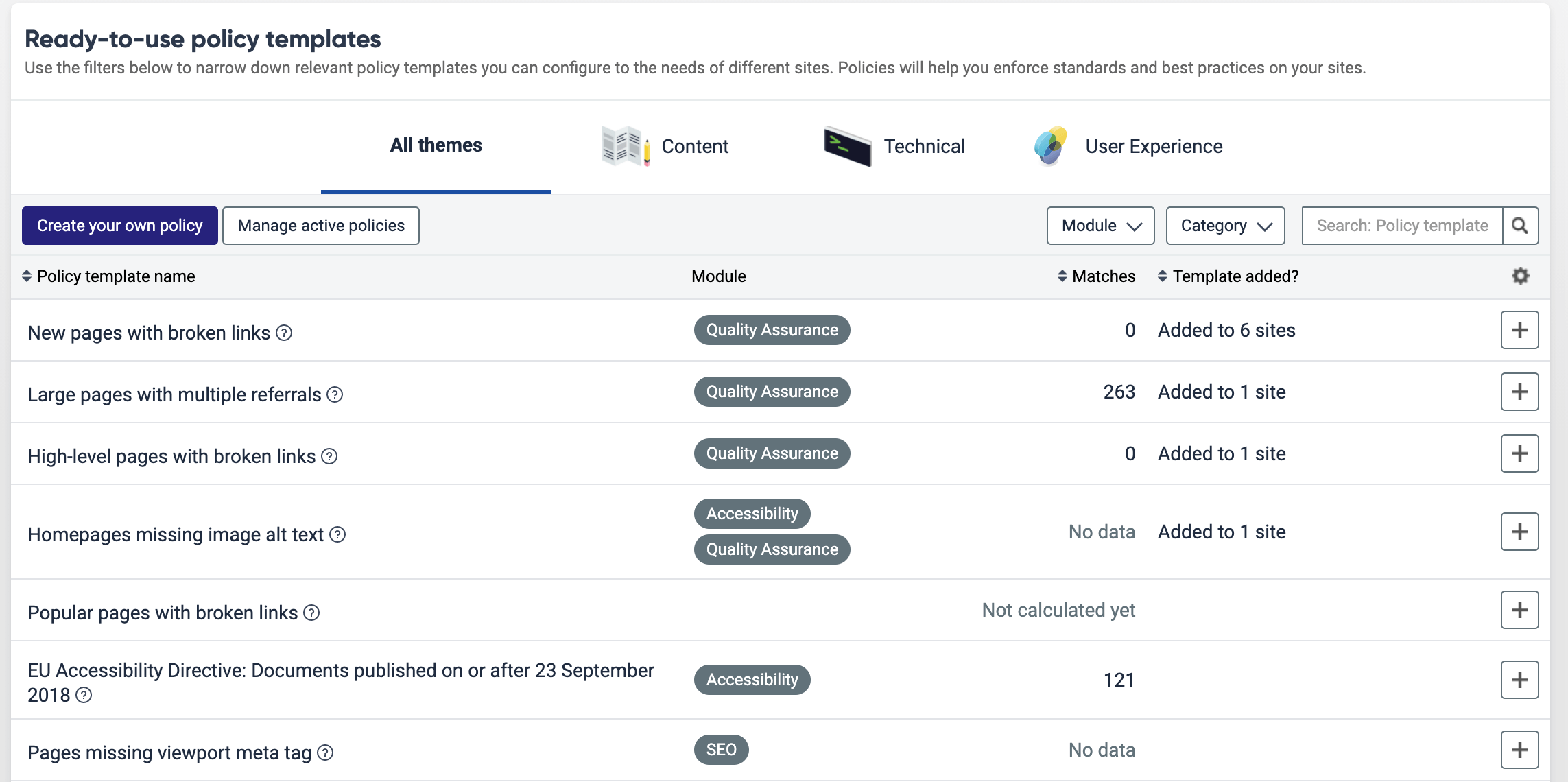 Our tip
The Policy Library gives recommendations on popular templates in your industry so you can easily follow best practices.
Dive deeper
Learn more on how you can leverage Siteimprove Policy to create an optimized user experience.
Tip 3: Pr
ioritize tasks with Siteimprove
Dashboard
Dashboards in Siteimprove serve as an entry point providing a quick, actionable overview of your content in different website areas – depending on the issues that need to be addressed most urgently, you can prioritize tasks directly from there.
To strengthen collaboration across the wider content team, organize your dashboards around shared content goals, which allows you to manage team tasks and projects transparently and monitor progress. Visit our Help Center to learn how you can setup and customize your dashboards.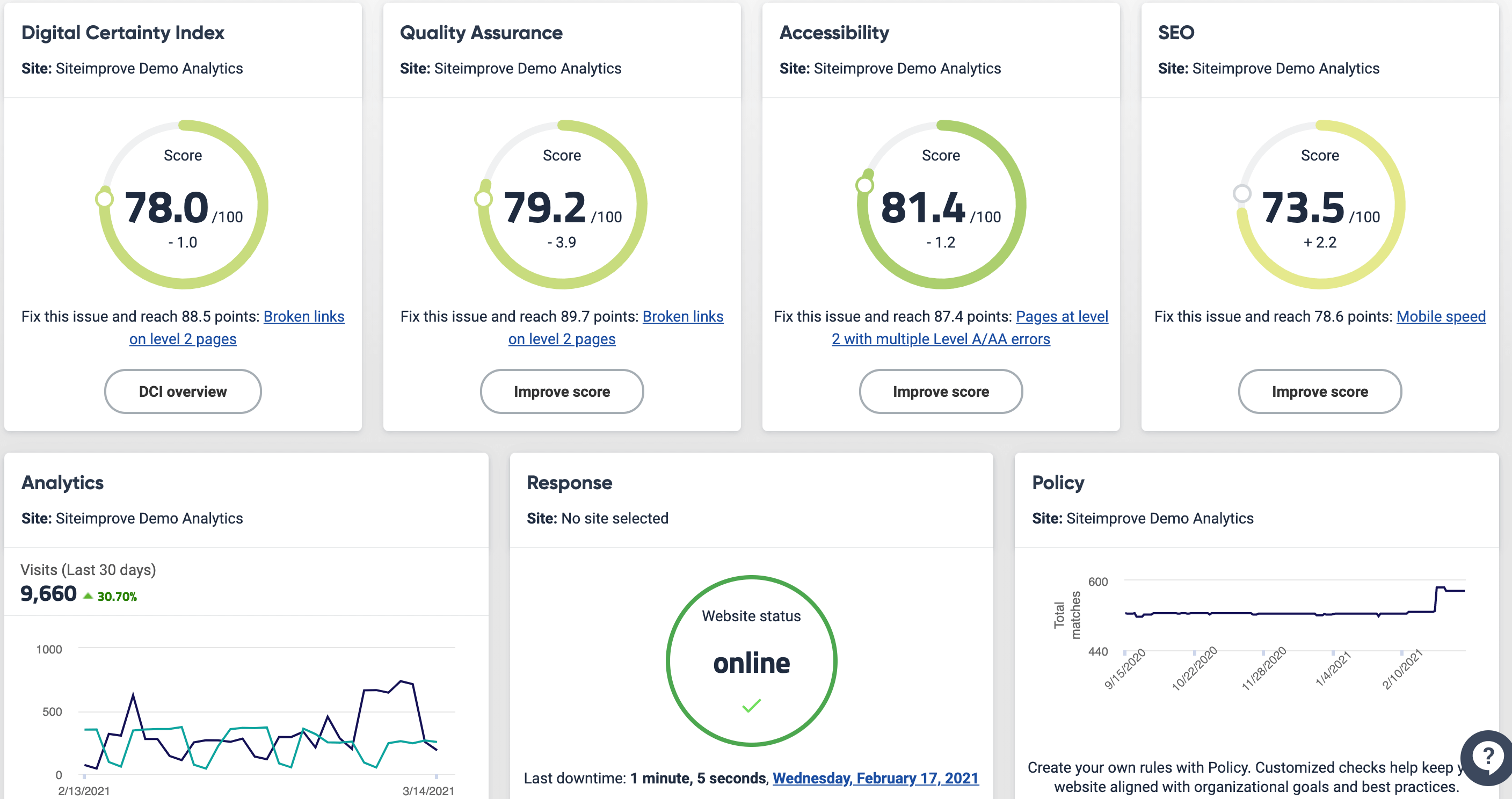 Dive deeper
In uncertain times, learn how you can create a dashboard for your COVID-19 web pages.
Our tip
With a Siteimprove dashboard report you can receive progress updates and can share data-driven insights within your team and inform decision makers.
Schedule reports: This

gives you the opportunity to automatically generate a report following a time

schedule.

Run reports ad-hoc: T

his

generates a one-time report that you can choose to be sent via

email

to key stakeholders

, for example

.
Reports can serve as a steady reminder to improve your content efforts for enhanced user experience. They are a great tool to measure – and prove – the impact of your content initiatives (focusing on the progress of your QA or Accessibility score, for example). To make sure all content editors have "one source of truth," you can set up customized team reports, which is especially savvy when your team works from different geographical locations.
Tip 4: Delegate tasks and manage workflows with Siteimprove Integrations
Not all identified issues can be instantly resolved by content editors – sometimes, you have to involve experts outside your team. That's when Siteimprove Integrations come into play.
Siteimprove Integrations cover a range of task management solutions - such as Atlassian Jira or Microsoft DevOps - that allow your team to log detected issues in your task management system conveniently from within the Siteimprove platform and delegate tasks directly across the entire organization.
Fundamentally, task integration is meant to help you manage your daily to-dos more efficiently by letting you work where you feel most comfortable. In our example below, a customer's Jira account has been connected to the Siteimprove platform, allowing them to leverage Jira's task management capabilities without having to leave Siteimprove.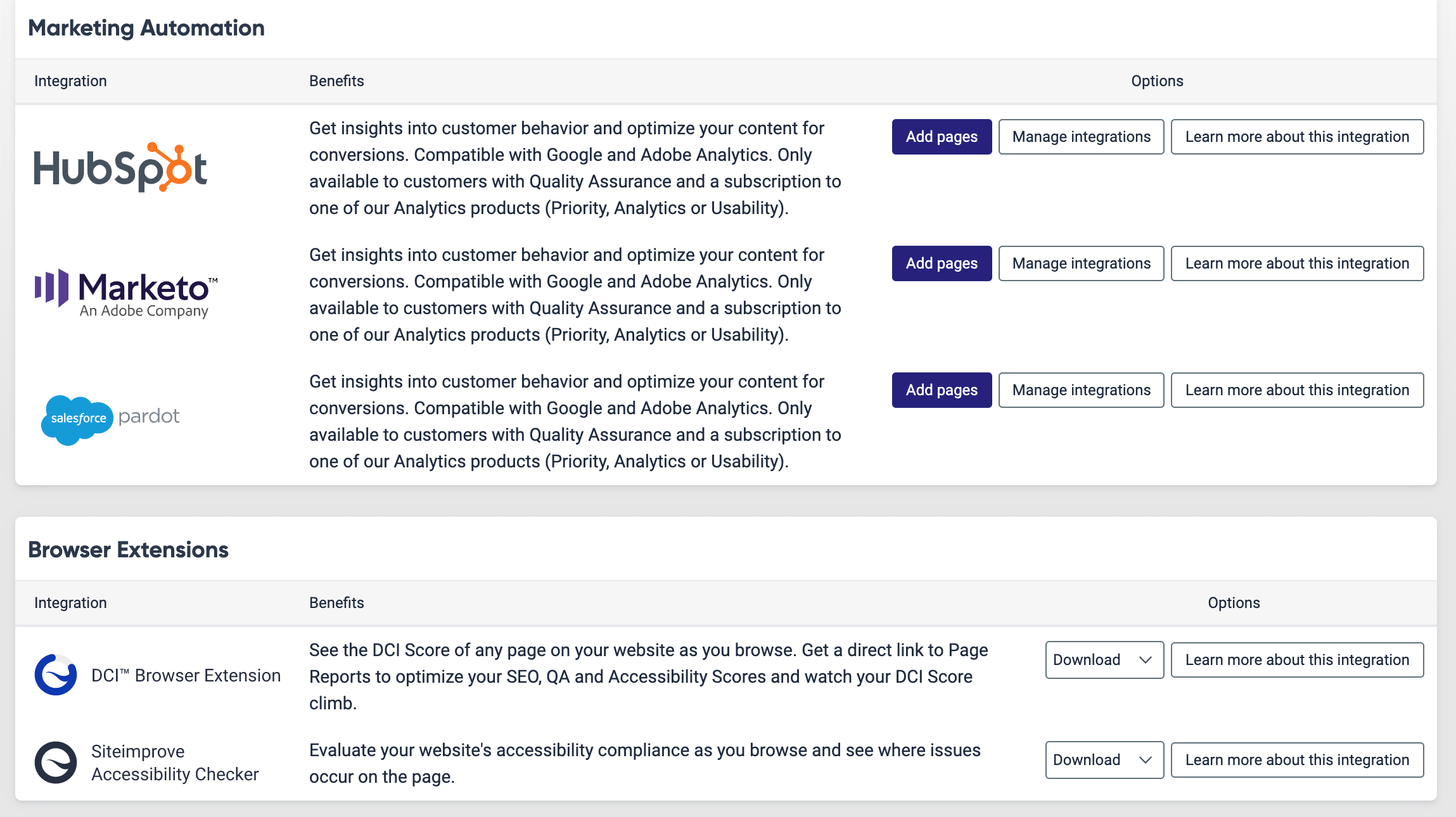 Our tip
Siteimprove Integrations enable your team to transfer data between platforms automatically without having to switch tools or sharing data manually.
Dive deeper
You can get an overview of all our Siteimprove integrations here.
Tip 5: Keep
content
quality
high with the Siteimprove
CMS
P
lugin
The Siteimprove CMS Plugin bridges the gap between your CMS and the Siteimprove suite of services, allowing you to use insights from Siteimprove directly in your CMS for easy content optimization and quality assurance – without having to jump between platforms. This means that your content team can instantly address issues on newly published pages, making sure that the content you publish it consistently high-quality across the digital estate.
Our tip
There are several ways you can leverage the Siteimprove CMS plugin for content quality assurance:
Error-free content the first time:

The Siteimprove CMS Plugin allows you to order an immediate check of newly published content. Editors can fix errors to optimize content as soon as it

'

s been published.

Put analytics data to use straight away:

With the Siteimprove Plugin, analytics insights are readily available to help you improve the user experience on each page.

Re-check pages instantly:

The Siteimprove Plugin allows you to re-check your content immediately, so you can be certain that issues are resolved before you move on to other tasks.

See impact of unpublishing pages: Y

ou can see data relating to pages that you are considering unpublishing. For example, how removing the page will impact your Quality Assurance and SEO.

Check content before you publish: With some of our Siteimprove CMS plugins you can save time and proactively check and identify errors before your team publishes content.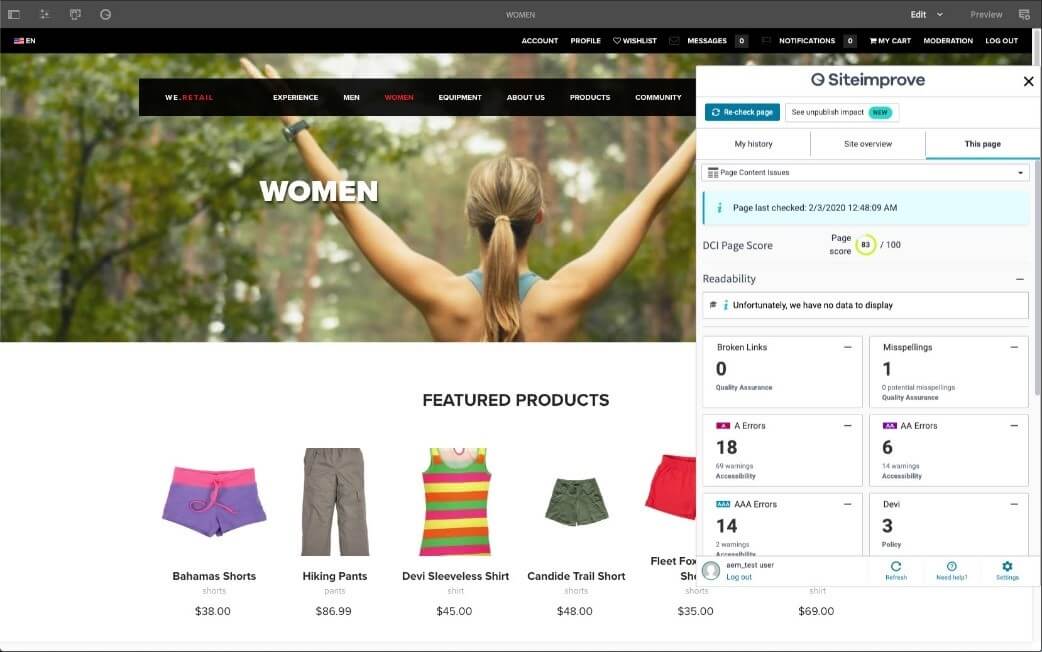 Dive deeper
Get more information on the Siteimprove CMS Plugin here.
Take your content experience to the next level with actionable tips, tricks, content highlights from our blog, on-demand webinars, whitepapers, and more in our monthly Siteimprove Scoop.