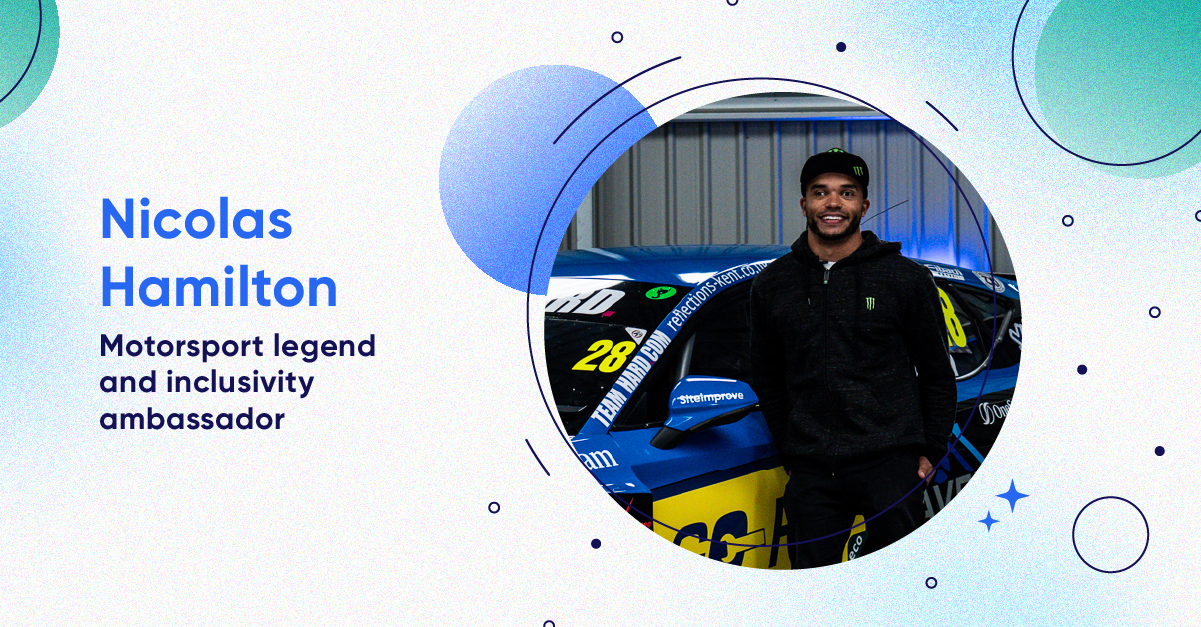 Driven to inspire: My partnership with Siteimprove
- By Nic Hamilton - Apr 12, 2023 Accessibility Web Accessibility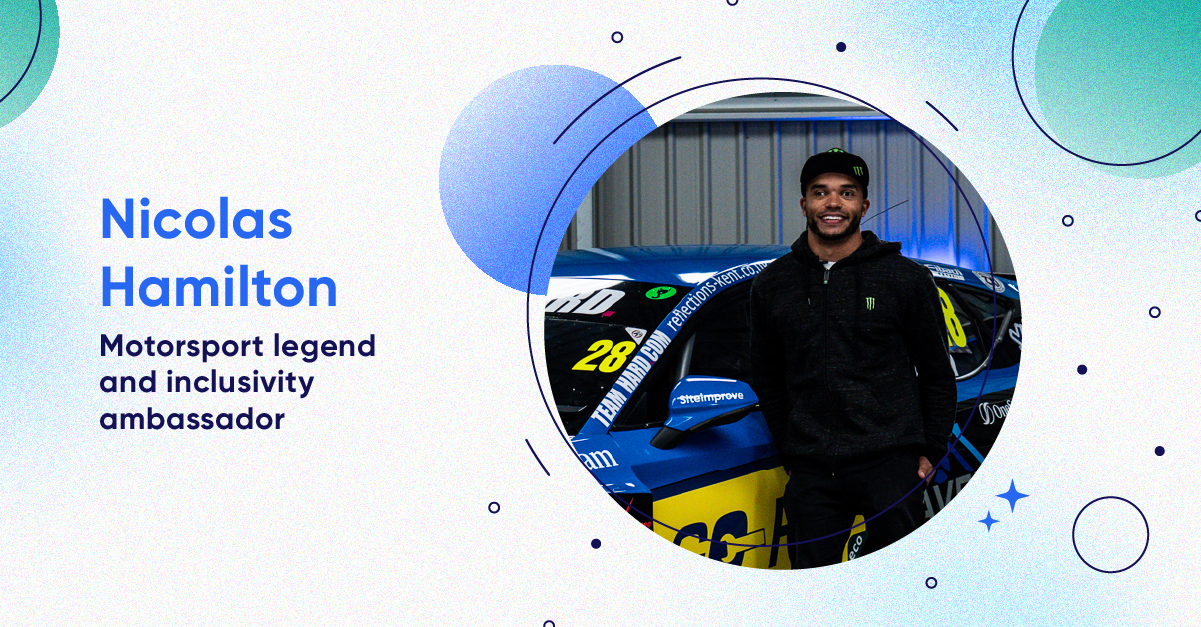 I was born with a condition called cerebral palsy (CP), a lifelong disability affecting my movement and coordination. Or, as I like to put it—my wagon came with three wheels rather than four.
At 18 months old, my doctor told my parents I would never walk. All through adolescence I used a wheelchair, struggling with day-to-day ability and movement, and getting bullied at school for being both disabled and a person of color.
But my family and I refused to accept the prognosis I'd been given, and I pushed through painful physical therapy for years to get out of my wheelchair. By age 17, I was walking completely unaided.
Swapping one set of wheels for another
Racing is a huge part of my family, it's in my blood. With my CP, however, I was struggling with basic movement—let alone operating a vehicle. But it didn't stop me from wanting to drive.
The chance to race didn't come until I was 18, when, at a driving school, I pestered my dad to let me drive a BMW M3. On that first day, I matched the chief driving instructor, knocking the pants off my family (and frankly, myself). And I was hooked.
Grabbing the bull by the horns
For those who don't know much about motorsport, driving a racecar is like riding a bull. You're going 100-160mph with thirty other cars around you. If you make a mistake, you risk damaging the car, losing your budget to repairs and replacements, and, at worst, your life.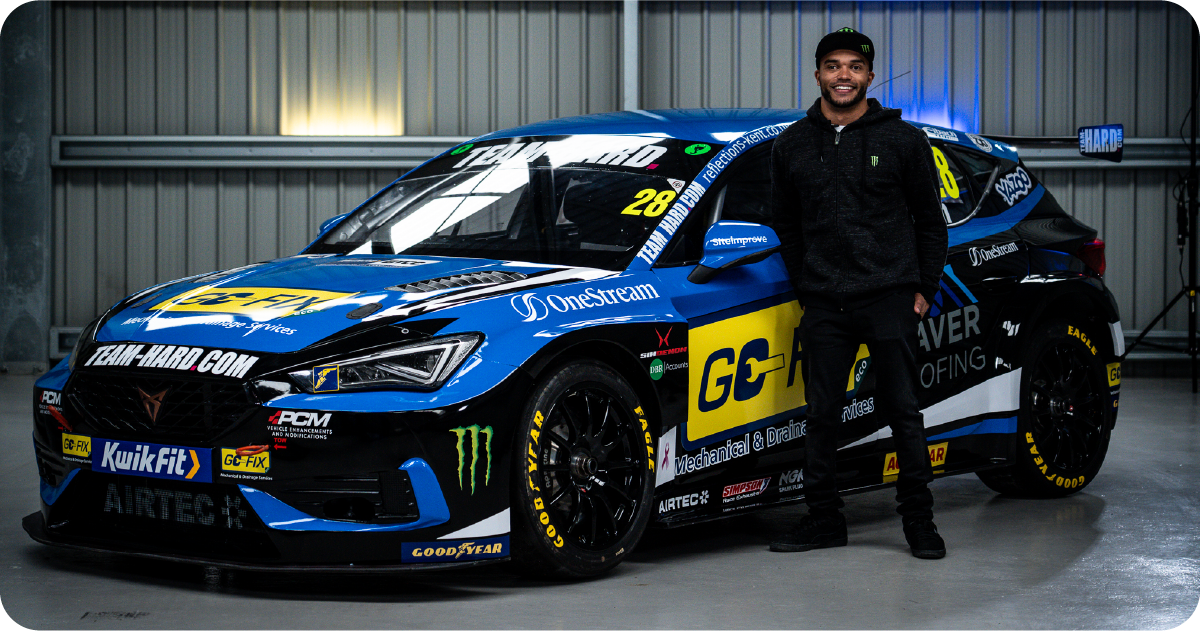 We're chasing for tenths of a second in thermal underwear, a suit, gloves, boots, helmet, and balaclava at temperatures of up to 75°C in the car. It's like you're in ski gear, jumping in a sauna, and doing a workout at 150mph.
You've got mechanics and engineers all trying to make your car go faster, but you're the final piece of the puzzle—they want you to drive it to its limit. The pressure is immense, which is why mental strength is equally as important as physical.
My mental resilience has gotten me to where I am. To be here now—age thirty-one, walking unaided, scoring points in the British Touring Car Championship (BTCC), competing as a figurehead in motorsport, traveling the world giving speeches and inspiring people to reach their full potential, are all beyond what I imagined for myself as a kid sitting in a wheelchair.
I've learned you have to be present for everything that comes in life—negative or positive. And when you get an opportunity, grab it with both hands and run with it.
A new kind of opportunity with Siteimprove
Last year, I was approached by Siteimprove to give a motivational speech at their global company event. On the briefing call, I met Siteimprove's CEO, Shane Paladin. Having disability in his own family and hearing my story, everything I shared really resonated with him. We got on like a house on fire.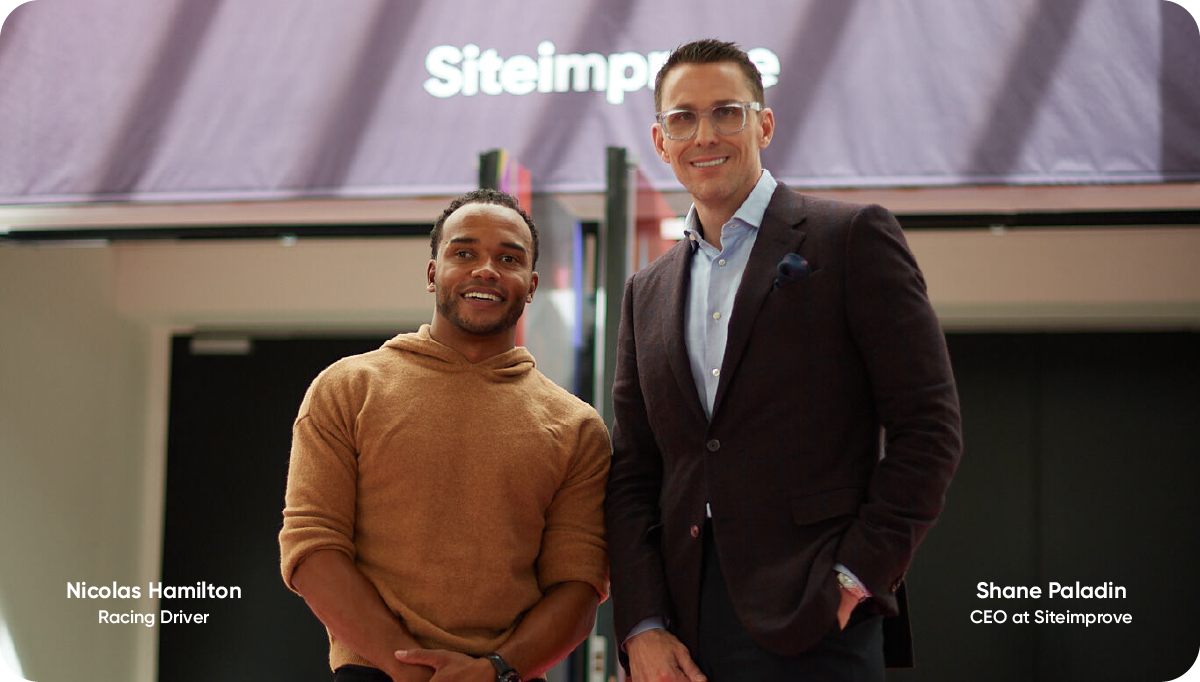 Meeting other Siteimprovers and experiencing the tight-knit culture for myself only deepened my connection to the brand. The company's mission to make the digital world more inclusive and accessible, along with bringing big ideas to market quickly, really speaks to me, my ethos, and my goals for the future.
Accessibility matters in every form—and digital accessibility is no exception. People don't realize they need it until they do. Even if you don't, you have to be empathetic to those out there that are waiting and ready to be a part of your business and your brand. Siteimprove has a fire and desire to do their bit for accessibility, and it's a huge game changer.
Leaving a legacy, on and off the track
I'm not racing for me anymore. I'm here to inspire others. I want to teach people from my experiences, and I want to leave something for those who come after me. In the same way, Siteimprove is helping the next generation—showing them that everything they put their mind to is achievable, because it's now accessible and available to them.
I'm excited to have Siteimprove as a partner because I have the opportunity to make a real impact, and I'm determined to choose the right brands. I want to make motorsport more inclusive so that when I leave, there are athletes of different ethnicities and disabilities that know they belong and are accepted in the sport.
But it goes far beyond BTCC—that's just the tip of the iceberg for where we can go, who we can help, and the lives we can change. It's deeper than racing a car, just like my story. I feel like I've struck gold with Siteimprove and I want to make it as impactful as possible.
My partnership with Siteimprove this year is coming at the perfect time. I've found a brand that has the exact same ethos, direction, desire, and purpose that I do— and that I'm determined to reach in 2023 and beyond.