Siteimprove Integrations: get more out of your data
- By Georgia James - Jul 01, 2020 Ads Performance SEO Quality Assurance Web Accessibility

The marketing technology (MarTech) market has grown significantly over the past few years and shows no sign of slowing, increasing to a record 8,000 services in 2020. In fact, Gartner found that investment in MarTech now trumps labor, paid media, and agencies for budget allocation.
While more and more businesses are leaning into digital engagement and transformation, many are failing to reap the full value promised by their technology stack. Just one third say their MarTech solutions effectively meet business needs. Why? It often boils down to a lack of integration between systems.
Syncing, analyzing, and getting the most out of data stored across disjointed content management systems (CMS), analytics services, task management systems, and other applications and tools is a lot easier with integrations. But inadequate technology integrations are one of the most common barriers to successful MarTech adoption and use.
Fortunately, Siteimprove integrates with many of the most popular MarTech tools on the market today. We've put together this guide on how Siteimprove Integrations seamlessly combine your technologies, applications, and data with the Siteimprove platform - so you can integrate valuable data and knowledge from the Siteimprove platform where it's most beneficial.
Three common MarTech issues - and how Siteimprove Integrations can fix them

1. Too many tools
As the MarTech market continues to explode, organizations must put a greater emphasis on the integration of their technology ecosystem. Yet it's clear that many organizations are struggling to make integration a key priority. It comes as no surprise then, that the average organization loses 21% of their productivity every year due to frequent app switching and damaging information silos.
2. Data silos
The average organization uses 1,427 cloud apps, while the average employee uses an average of 36 different apps at work. Thanks to this surge in usage, organizations now have access to more data than ever before. But simply possessing data and harnessing it effectively are two very different things.

Using multiple technology services, along with the organization's own systems, often means that data is stored in separate platforms and systems, with departments within the same organization routinely relying on data from different sources. The result is siloed, underutilized data.
3. Decoupled systems and workflows
As an organization grows and changes, managing its digital presence becomes increasingly complex. It can involve internal and external teams, all with different roles, responsibilities, and objectives. The outcome is often decoupled systems and workflows.
Connecting, optimizing, and automating these processes with integrations is the best way to avoid chaos wrought by too many tools. Integrations are a great way to end manual switching between tools and data, make data-driven decisions though combining insights from your favorite technologies, and break down troublesome work silos by using the same data across your organization.
Siteimprove Integrations
HubSpot defines integration as "the process of combining two pieces of software in order to solve the problem of isolated data." In a nutshell, integrations make different systems work together.
Integrating disparate technologies and tools is one the most common challenges faced by marketers today. Fortunately, Siteimprove can be quickly and easily integrated with the most popular CMS, web browsers, project management tools, and business applications, enhancing the value you receive from Siteimprove's services. Even better, Siteimprove's pre-built extensions, plugins, and connectors are available for no extra cost and require no lengthy settling-in phase.
So, where are they? All our integrations are easily accessed by clicking on Integrations > Integrations Overview, in the main menu within the Siteimprove platform.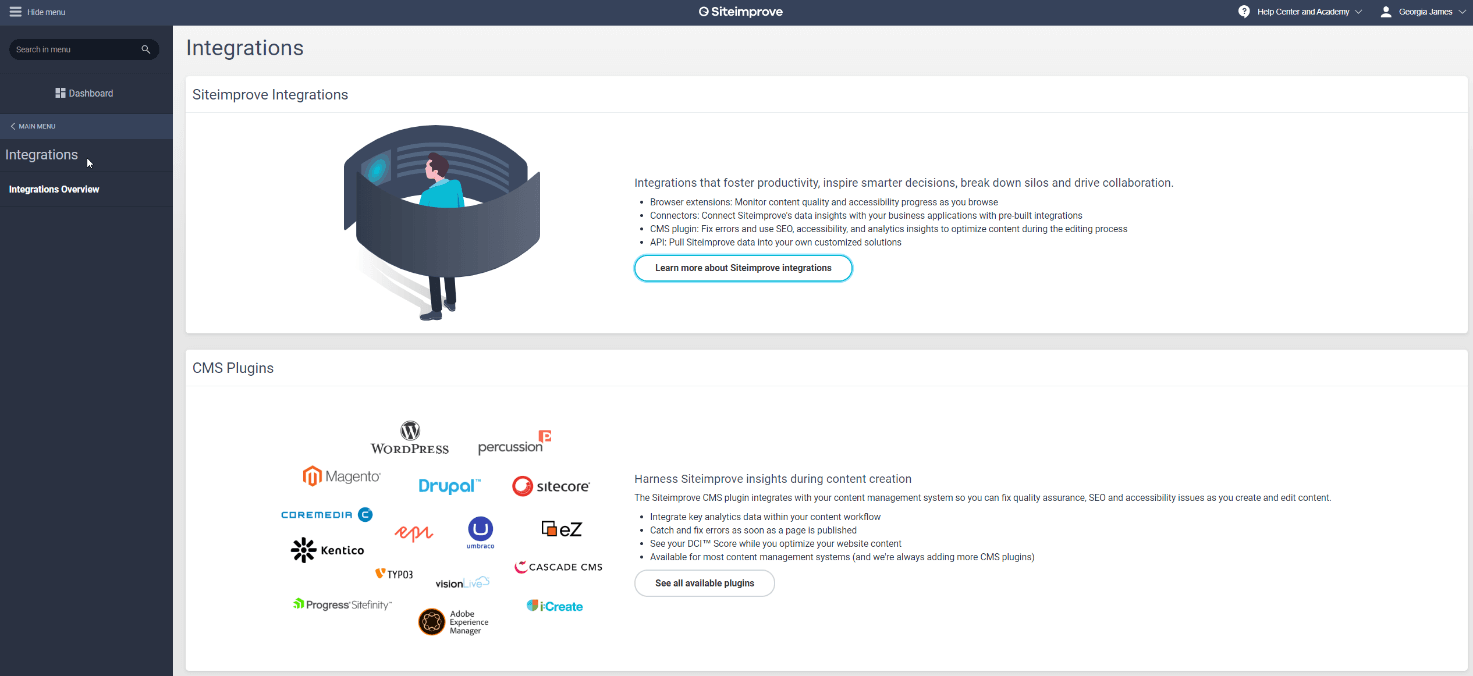 Let's find out how Siteimprove Integrations can help you get the most value out of your data.
Task management
Siteimprove's task management integrations enable you to identify and delegate issues within the applications you use every day, speeding up remediation and fostering collaboration. This works by transferring Siteimprove data into a range of leading project management solutions, including Jira and Azure DevOps, for end-to-end project management.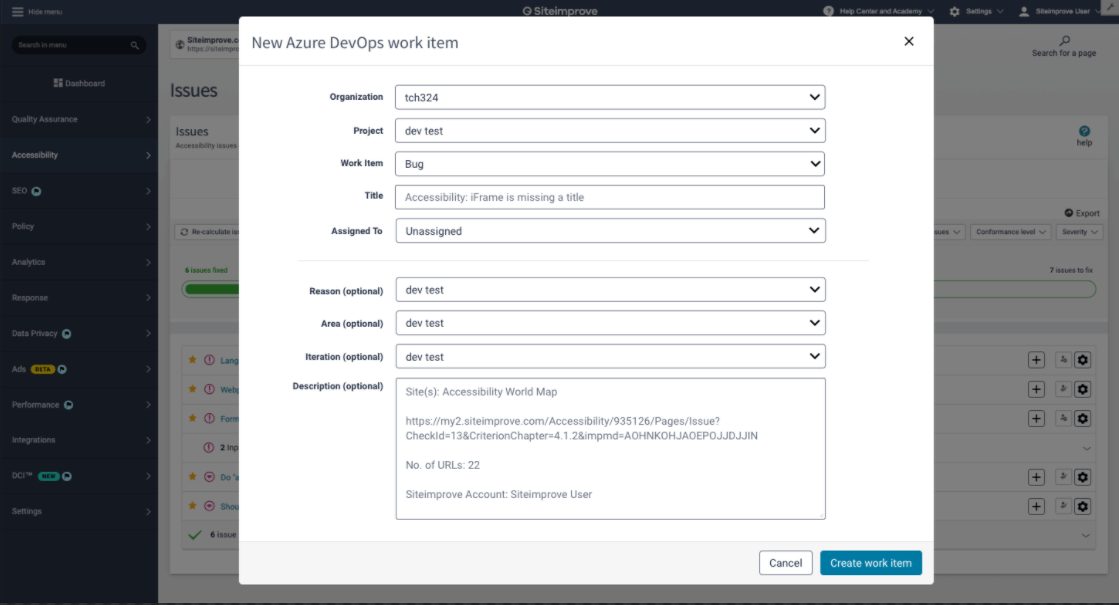 How they help you
Create tasks directly from the platform
Accessibility, SEO, performance, and analytics are often shared responsibilities. Banish the bottlenecks and delays working across departments can trigger by creating and assigning tasks and projects directly from your Siteimprove account. This way, everyone knows exactly what they need to do, where to do it, and when, adding an extra layer of transparency and accountability to your process.
Sync data across systems
Not being able to fix identified bugs and issues with ease is a pain point for any organization. With our task management integrations, you can go directly to any problem that requires fixing within the Siteimprove platform. And because keeping an overview of ongoing and completed tasks is vital for an effective workflow, you can monitor each issue's status.
Customized data mapping
Fed up with unactionable data being recorded in tasks? Our integrations enable you to map and profile the Siteimprove datapoints in your task template with the data your team needs – without all the filler.
Marketing automation
Why manage scattered landing page content across different systems when you can do it all from one place? Our marketing automation integrations enable you to add marketing landing pages to your Siteimprove account so you can effortlessly monitor your pages for performance and brand compliance, glean valuable insights on customer behavior, and optimize your content for conversions.

We offer integrations for the following marketing automation tools:
Business intelligence
Our business intelligence integrations enable you to conveniently integrate, export, and share crucial business intelligence and Siteimprove data with key stakeholders across your organization in an easy, interactive way, using your familiar business intelligence tools.
How they help you
Visualize results and achievements
Connecting to your favorite business intelligence software allows you to see Siteimprove data in a whole new light. Instead of spending time deciphering and analyzing numbers, data visualization presents your insights and progress in a simple, engaging way, through custom dashboards and display options that can be easily understood by everyone within your organization.
Uncover new insights
Combine your Siteimprove insights with other business-critical data to discover trends and effects across channels and initiatives.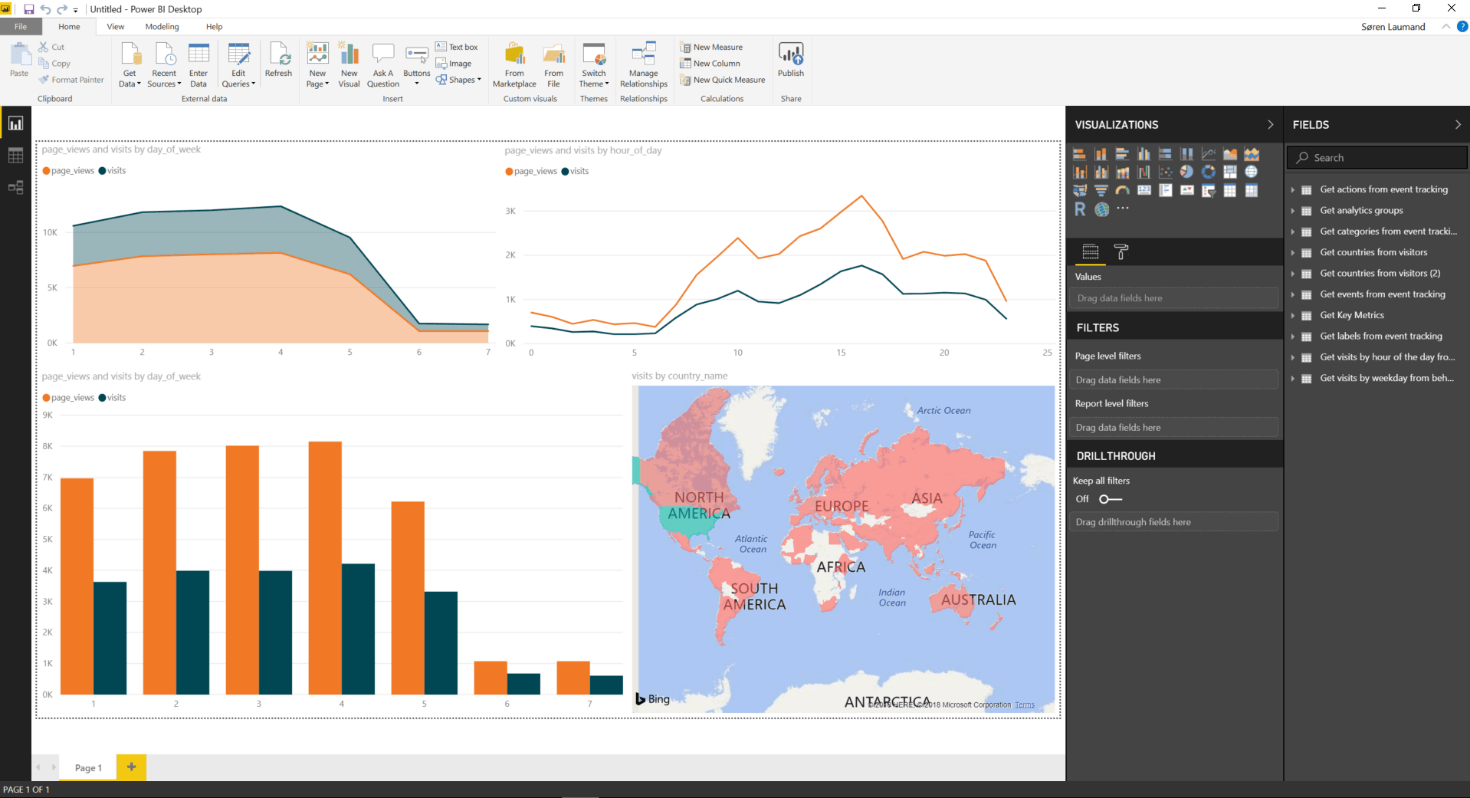 We offer the following business intelligence integrations:
Analytics
Our analytics integrations enable you to use data from your favorite analytics tool to make informed, data-driven decisions. Besides Siteimprove Analytics, you will soon be able to integrate and enable data from other leading analytics platforms, including Adobe Analytics and Google Analytics, within the Siteimprove platform.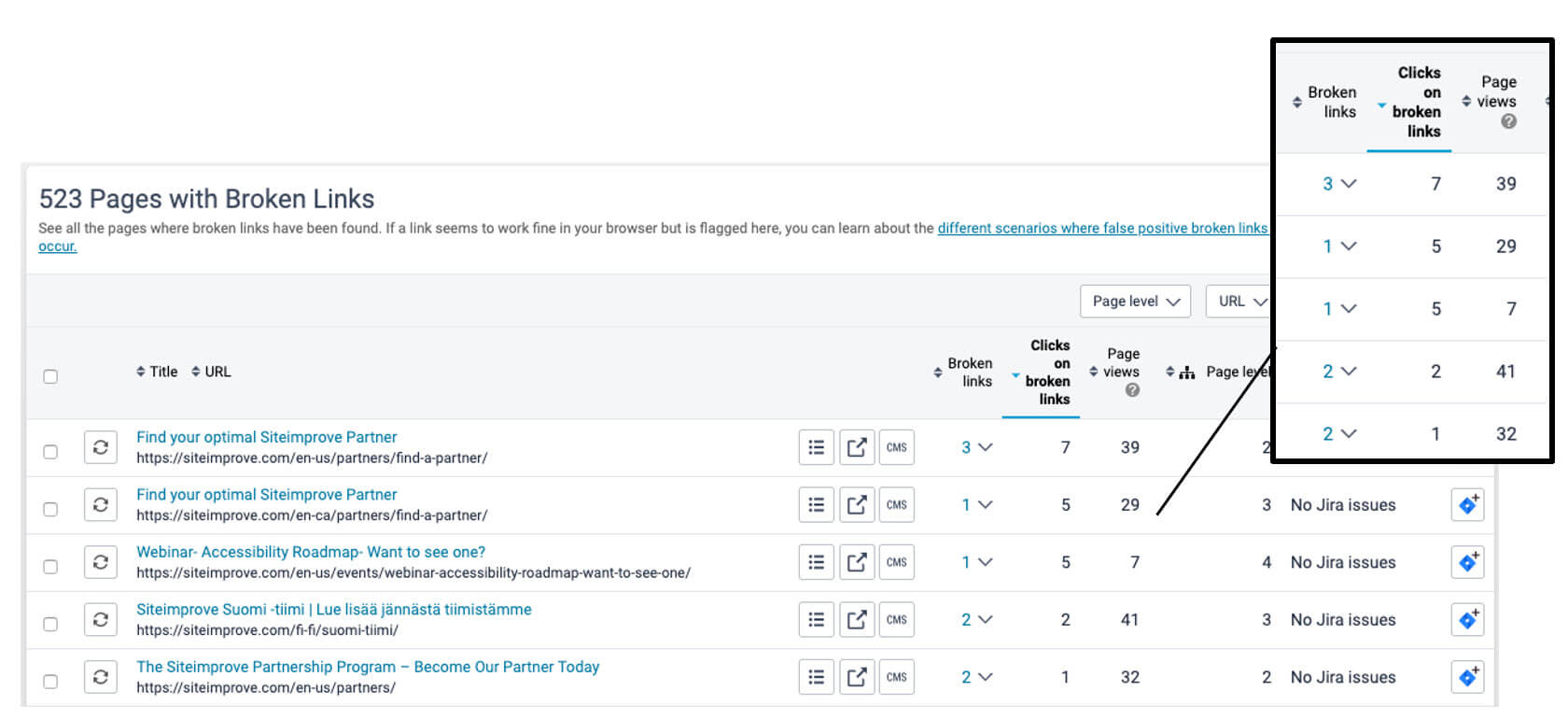 How they help you
Focus resources where they matter most
Use analytics data to determine which issues should be prioritized.
Break down data silos
A common issue faced by marketers is analytics data that is spread out across different systems, and consequently, doesn't provide useful insights. This integration introduces analytics to your content process to ensure actionable analytics insights are available directly in the Siteimprove platform.
CMS plugins
Our CMS plugins enable you to use Siteimprove insights when editing content, bridging the gap between your CMS and the Siteimprove Platform. With valuable content insights at hand, you can reduce the amount of time and resources spent on cumbersome remediation tasks by getting it right from the very start.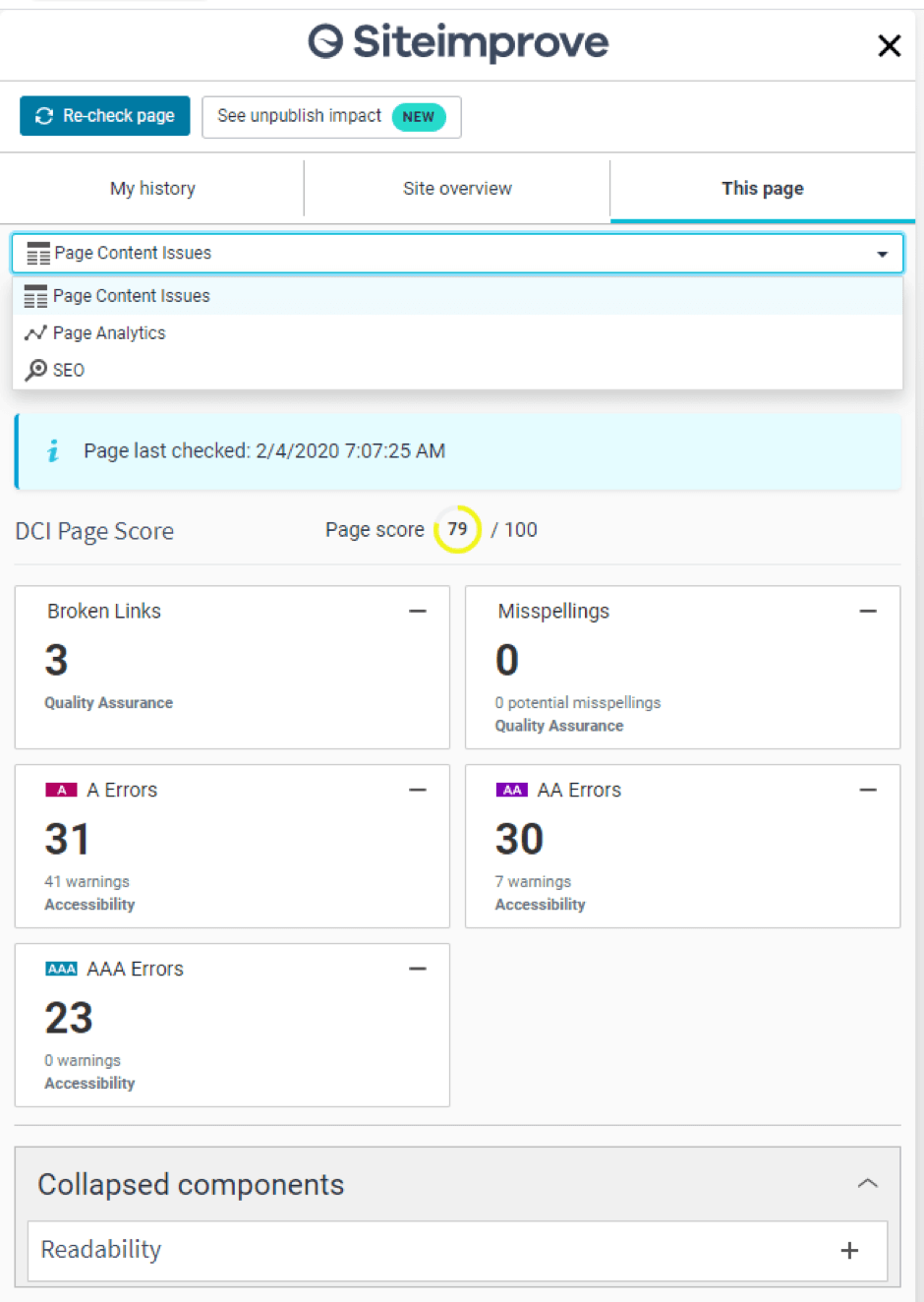 How do CMS plugins work?
The Siteimprove CMS plugins deliver Siteimprove insights directly inside of your CMS platform based on the last crawl of the page. You can see how your pages perform in areas including Quality Assurance, Accessibility, SEO, and custom policies. Data on the impact of unpublishing or deleting a live page is another helpful feature. You can see the impact of unpublishing for documents that only exist on a specific page, or a page that contains valuable backlinks. Many of our plugins also trigger an immediate (re-)crawl of a page when it is published, giving the editor fast feedback on the changes or new additions to their site.
Our CMS plugins are available for most content management systems (and we're always adding more!).
Learn more about the CMS Plugins on the Siteimprove website.
Bonus: Adobe Experience Manager integration
As one of only 12 exclusive Premier Level Partners in the global Adobe Exchange Partner Program, we are proud to integrate with Adobe Experience Manager, which allows you to analyze your website for accessibility and content errors from within your CMS.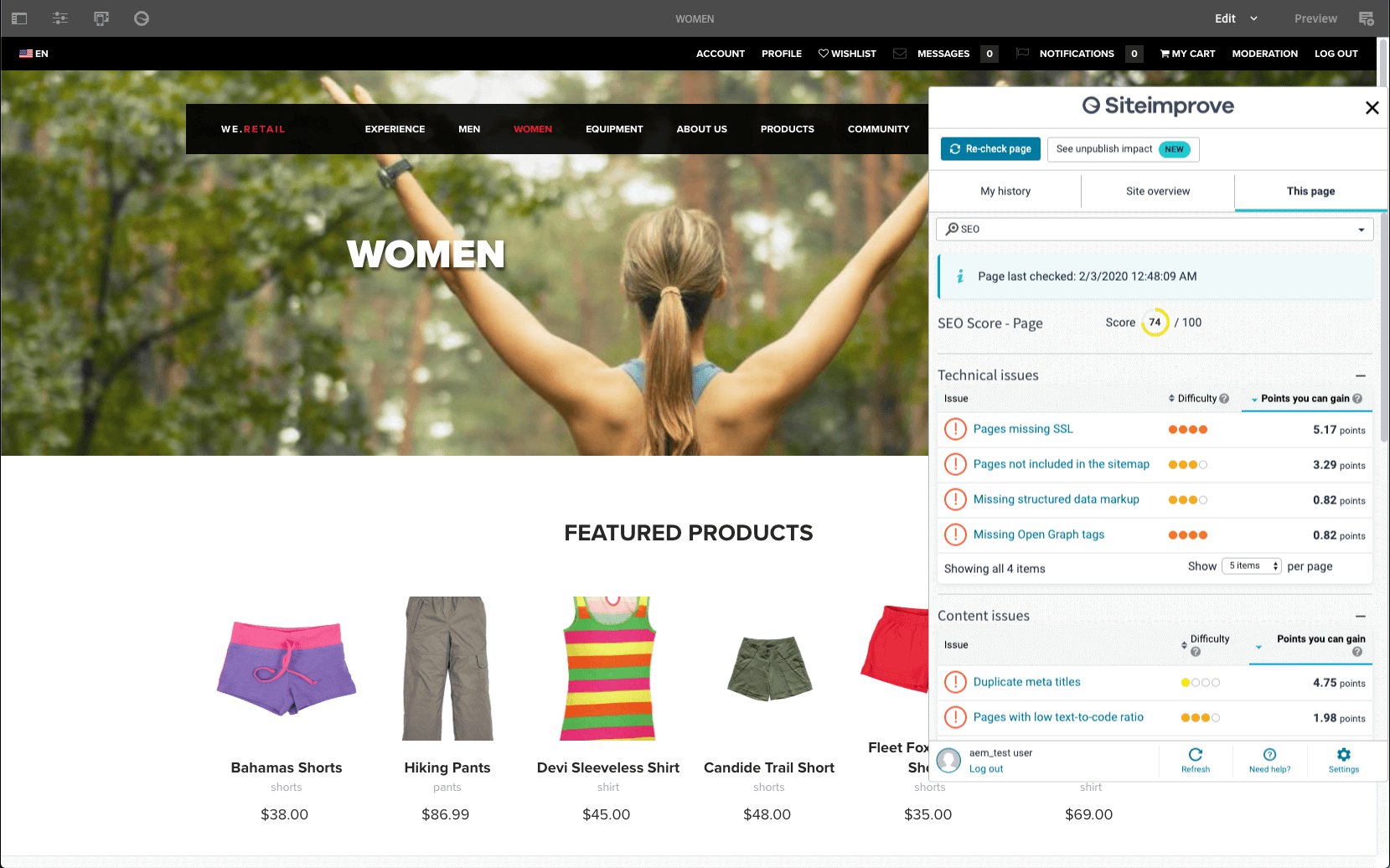 How it helps
Prepublish checks
Catching content issues before publication is always better than having them pointed out once they're live for everyone to see. The Adobe Experience Manager integration has the added advantage of Siteimprove's Prepublish check functionality, to make sure your content complies with quality standards and policies before you hit publish.
Workflow integration
Improve cross-team collaboration by integrating Siteimprove checks into your Adobe Experience Manager workflows to delegate Adobe Experience Manager tasks and notify project stakeholders.
Other useful Siteimprove integrations
URL shorteners
Our URL shortener integrations provide you with a comprehensive overview of your digital content assets and their dependencies. Using Siteimprove's CMS plugin, you get a bird's eye view of all landing pages with short URLs, how they are connected, and the potential impact changes could have, so you don't run the risk of deleting or altering critical content.
Siteimprove API
The Siteimprove Application Programming Interface (API) enables developers to build custom solutions that fit their team's needs using Siteimprove data.
Using the Siteimprove API enables you to access and use Siteimprove data where it's most valuable to you, for example, if you want to leverage data in a custom-built solution that is unique to your organizational set-up.
You can learn more about the Siteimprove API on our developer site.
Browser extensions
Siteimprove's browser extensions allow you to monitor content quality and accessibility progress at a glance for any page, directly in your browser, with a handy link to Page Reports for a deeper dive.
Siteimprove DCI Browser Extension: lets you see the DCI Score of any page on your website and gives a direct link to Page Reports to optimize your SEO, Quality Assurance, and Accessibility Scores.
Siteimprove Accessibility Checker: evaluate your website's accessibility compliance as you browse and identify where issues occur on the page.

Adding them to your browser takes less than a minute and provides an instant view into how a particular page is performing with a single click.
For further information about Siteimprove Browser Extensions, visit our Help Center article.
How do I start integrating?
Siteimprove integrations aren't just another piece of software to add to your MarTech stack, they feed into everything you already have, from your CMS, to your analytics tool, to your project management system, providing you with valuable insights from the Siteimprove platform where you need them most - with no extra development work needed.
Speak to your customer success manager today to start integrating your favorite tools and your Siteimprove account.