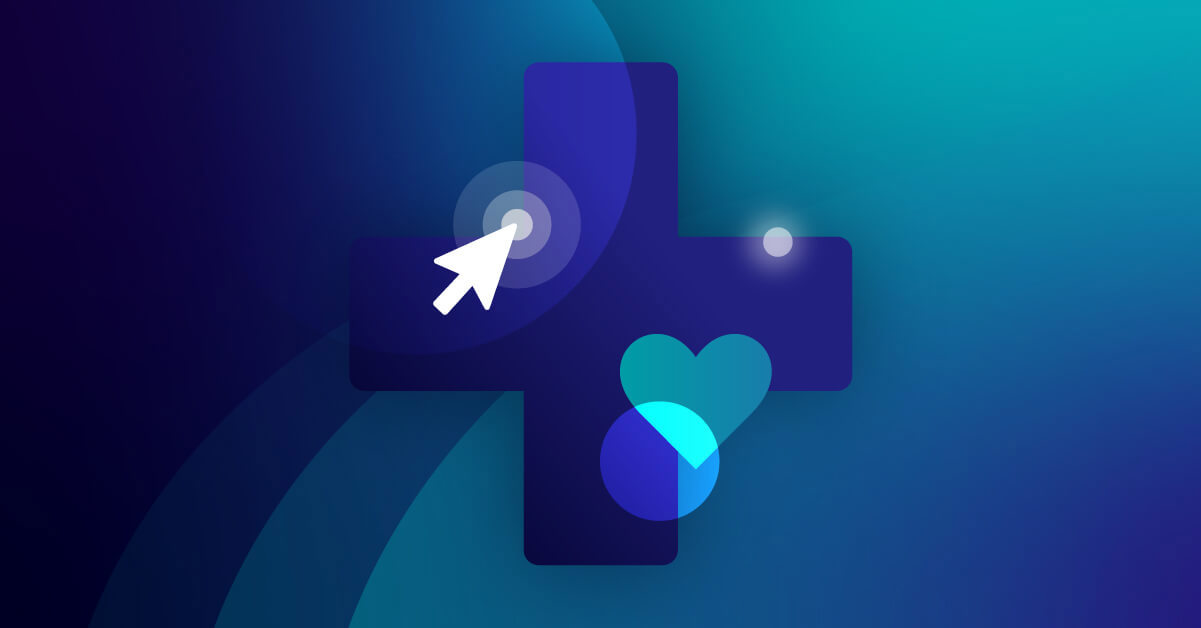 Understand consumer needs for digital ROI | Siteimprove
- By Christopher Schafer - Mar 29, 2021 SEO Web Accessibility Web Analytics Performance Web Governance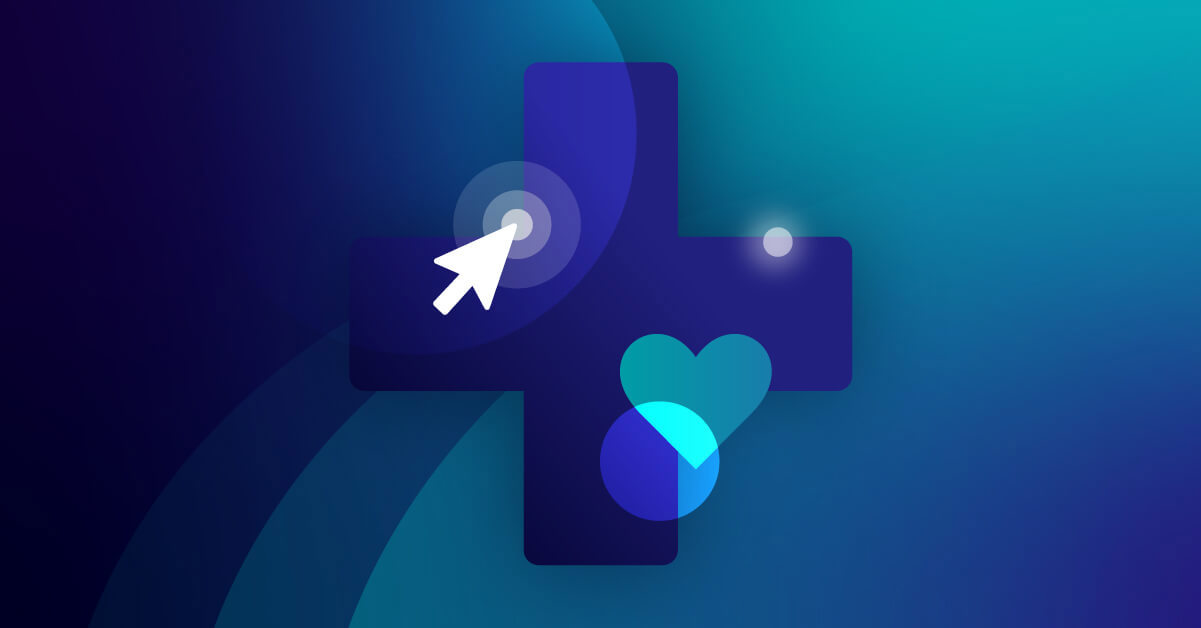 There is no such thing as a standard healthcare consumer. From retail care to considered care, every segment is unique and reaching your audience effectively requires precise digital strategies.
But how do you fine-tune your initiatives to match your audience and garner real ROI from your website? To answer these questions, we sat down with our friends, the healthcare experts from Abundant Health Acquisition (aha!) to uncover actionable initiatives marketers can apply today to create a marketing strategy as unique as their business's place in the world of healthcare.
First, differences in intent and behavior must be reflected across the consumers' healthcare experience
If you're a retail provider offering transactional and point of care services, your digital strategy will differ from a considered care services provider. Considered care might include those specializing in oncology, bariatric, non-acute, or other services for life-threatening conditions in which customers have time to evaluate their options.
For marketers, the conversion goals and metrics used to evaluate successful ROI should reflect these differences as well. This is true both for the business KPIs, such as appointments booked and email opt-ins collected, as well as the customer performance indicators (CPIs), such as fast and efficient appointment creation and high-value content received. The distinction between your own KPIs and your CPIs is subtle but it is a vital point of focus.
Here's how to get the most from both in the retail and considered care spaces.
Delivering on your KPIs and CPIs in the retail care space
To meet your goals as a retail healthcare provider, follow these five strategies.
Be clear on service offering distinctions
What's the difference between "Urgent Care" and "Fast Care"? Your customers won't know so it's up to you to be clear on the scope of service offerings available. Too often, consumers are left unsure of what services are offered at a given location. Clearly defining them is an effective way to direct would-be customers to your business.
Showcase all your capabilities
COVID-19 has put digital offerings like telehealth at the forefront, yet many practices fail to showcase these offerings on their websites. Digital tools like online registration, digital care, and remote test results should all be stressed on the website to draw customers seeking these solutions.
Remember brand loyalty is fleeting
The retail market is much more price competitive and discriminating than its considered care counterpart. This means your business must be able to clearly set insurance and payment option expectations during the discovery phase of the customer journey. If you can't, customers will move on. According to Paul Dain, President and Chief Experience Officer at aha!, "This is a critical area where your common sense is generally right. Think about your personal experience buying groceries or purchasing gas for your car. Retail health services increasingly fall into the same category and are still competitively maturing."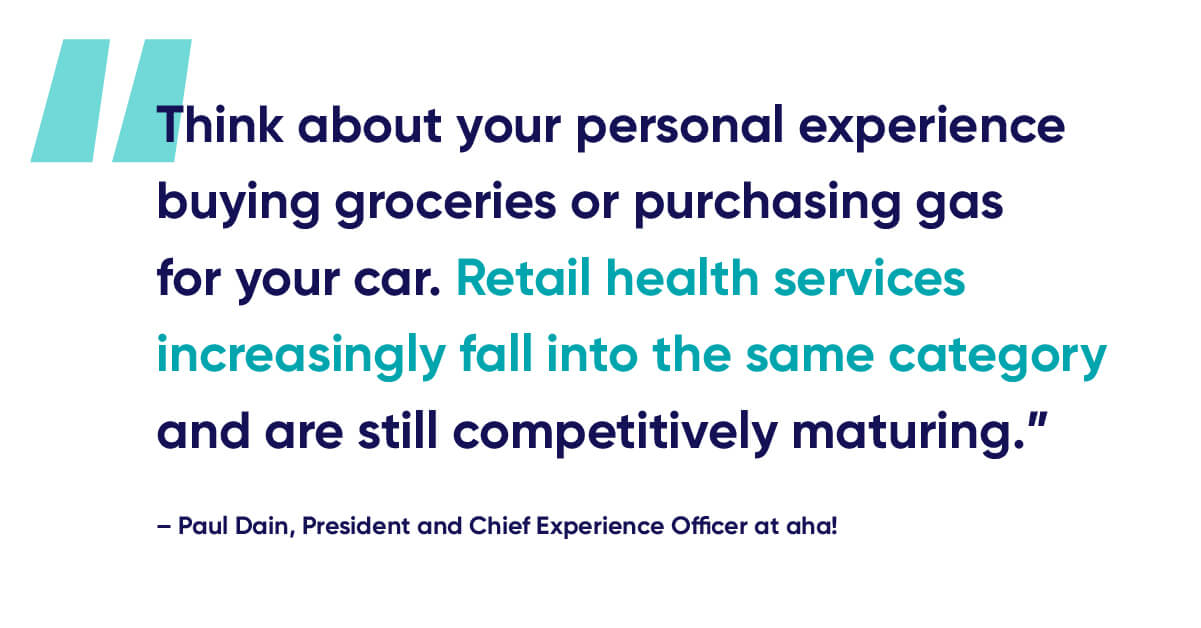 Tactical discoverability is key
Every customer provides your business information that goes beyond their immediate need. It's up to marketers to connect the dots and share stories with would-be customers on related conditions, treatments, or services provided. You should also be mindful of geolocation and its impact on your customers and your business. A little extra work here could create future opportunities.
Set times and manage them well
Consumers never want to wait for services but they're more amenable if those wait times are clearly defined. Be accurate and transparent with your wait times, adhere to them, and make sure those times are easily accessible on your website. Remember consumers may choose your location based solely on the estimated wait time they find online.
Exceeding your considered care KPI and CPI expectations
Considered care involves a longer consideration cycle but these strategies from aha! can keep customers engaged with your business every step of the way.
Identify search patterns and full journey education
Understand the full consumer journey when conducting a care search and adapt your content to suit it and its long-tail queries. Patience and persistence are key, and you should be constantly striving to deliver a web experience that is as personalized as a visit to any of your locations. Sam Spicer, Senior Director of Experience Design at aha! pointed out that, "Too often, healthcare focuses on measuring the patient experience through the lens of a single care episode, focused on a particular service line or experience. As we work to better understand the consumer experience with the brand, we have to connect insights from across the organization and across multiple touch points."
Remember conditions and care specialties aren't monolithic
Osteoarthritis is very different from rheumatoid arthritis and many marketers fail to recognize that the education and conversion paths for both can lead to different SEO choices. Take a holistic approach to your digital properties and recognize that while conditions vary, they are all part of the same web of service you are trying to provide. It's up to you to link them together.
Authority is paramount
Customers naturally want to work with experts and proving your expertise takes work in this healthcare channel. Creating engaging, insightful content is one of the best ways to nurture that authority at the top of the sales funnel. Generate fresh content around the subjects your customers are seeking answers to and use interlinking and credentials to drive these discussions further.
Identify repeat users quickly
Would-be customers returning to your digital properties provide the perfect opportunity for personalization. Refine your messaging and content to meet their unique needs and show your business understands them and is equipped to deliver on their goals.
Be clear on your "reasons to believe"
This is more than just authority and expertise. Your "reasons to believe" should illustrate your culture and the unique approach to care you provide. Showing consumers how they will be cared for can be just as important as indicating how well they will be cared for. Craft your care story and never doubt its importance.
Apply comprehensive care to your unique digital strategy
Whether you are marketing for a retail or considered care healthcare experience, the focus on KPIs and CPIs remains the same. Apply the respective tips above and remember improvements to your digital properties are an ongoing mission. Commit to continually improving your digital service offerings and your customers will take notice.
Looking to learn more? Check out our new eBook Building a better digital healthcare presence.