User experience should be front and center in 2021
- By Conny á Reynatrøð - Mar 02, 2021 SEO Website Management Web Analytics
The pandemic has shaken up the world in ways we couldn't have possibly imagined just a short while ago.
Since the COVID-19 outbreak, there's been an incredible disruption forcing businesses to innovate how they interact with customers. The new reality has changed the playing field and moved many customer touchpoints online – almost overnight, the digital-first landscape has become the new stomping ground for businesses of all kinds to grow their bottom line.
In the new normal, everything starts with either a click, tap, or swipe. Now more than ever, businesses need to make the digital customer experience at all stages of the sales funnel – from brand awareness to customer engagement to advocacy – a priority in order to stay relevant and keep doors open.
Even if it hasn't been a major focus for your business so far, don't neglect to make UX front and center in 2021 when page experience will become critical with Google's Core Web Vitals search algorithm update set to go live in May.
Digital c
ustomer
experience is your biggest
competitive advantage
As the pandemic forces your customers into a digital-first way of life, it's mandatory for your business to infuse customer experiences with a human touch.
If you had to explain what user experience is, you would probably say it's tied to what you traditionally associate with graphic design and branding – intriguing logos, colors that pop, visuals that catch eyeballs, and compelling buttons on a screen. Naturally, all of this is important. But how your customers experience your website extends far beyond that – it's about creating positive experiences by leveraging a thorough understanding of your customers' unique needs, challenges, and motivations. At its core, digital customer experience is about inclusion and accessibility.
Great online user experience requires well-orchestrated web flows and interactions that transition between customer touchpoints and provide a seamless experience.
It's this understanding of customer expectations that will set your brand apart from your competitors. The biggest difference between the most profitable businesses and the ones that lag behind despite their digital efforts lies in whether they own their niche and manage to deliver the best possible user experience – or get it terribly wrong.
In other words, you simply can't afford the opportunity cost tied to poor user experiences.
The link between digital customer experience and profitability is clear. Salesforce research found that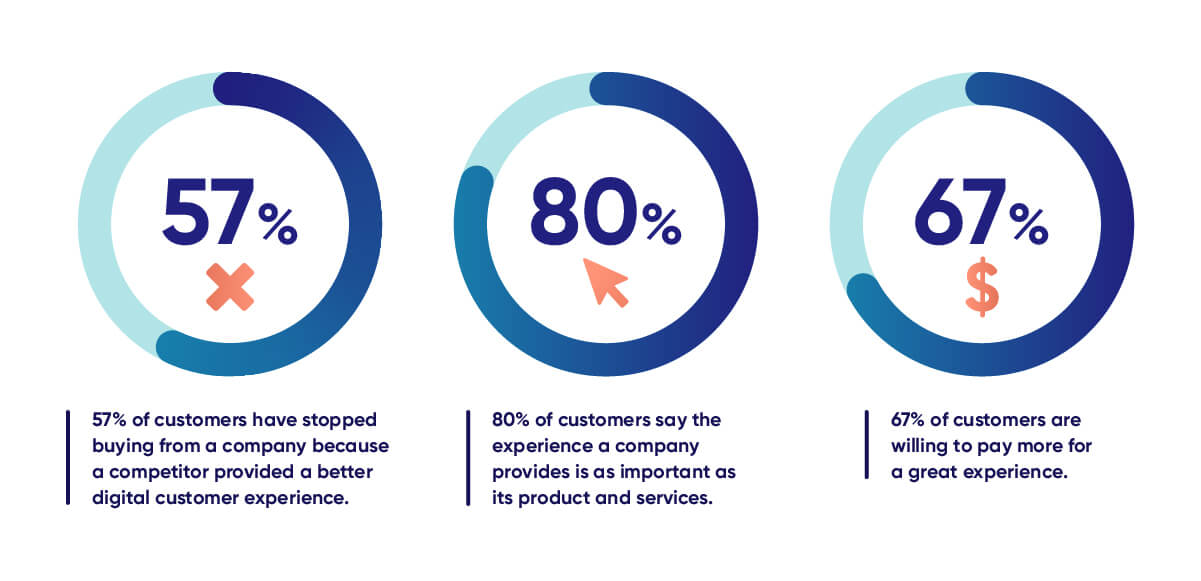 Google mak
es
page experience
part of
the
ranking equation
In the summer of 2020, Google announced that page experience will become part of its ranking algorithm alongside other search metrics to measure and rank the overall responsiveness and experience of websites showing up in its search results.
It's quite rare that Google gives advance warning about algorithm updates. Due to COVID-19 and its challenging implications for businesses globally, Google even promised a heads-up six months in advance before rolling out the new page experience metric. This gives your business time to prepare for what stands to be a game-changer to website rankings in 2021.
You might say that user behavior – and experience – has always had an impact on page ranking. And indirectly, it's true – if customers have a negative experience when visiting your website, they bounce and move on to the next (that is, your competition). All that negatively affects how you rank on Google in a roundabout way.
What's new with Google's latest search algorithm update is that page experience will become a direct ranking factor to match user experience and rank websites that are most popular with customers. This way, Google aims to ensure that businesses that create great user experiences rank higher irrespective of their size and volume of brand search queries.
What's page experience?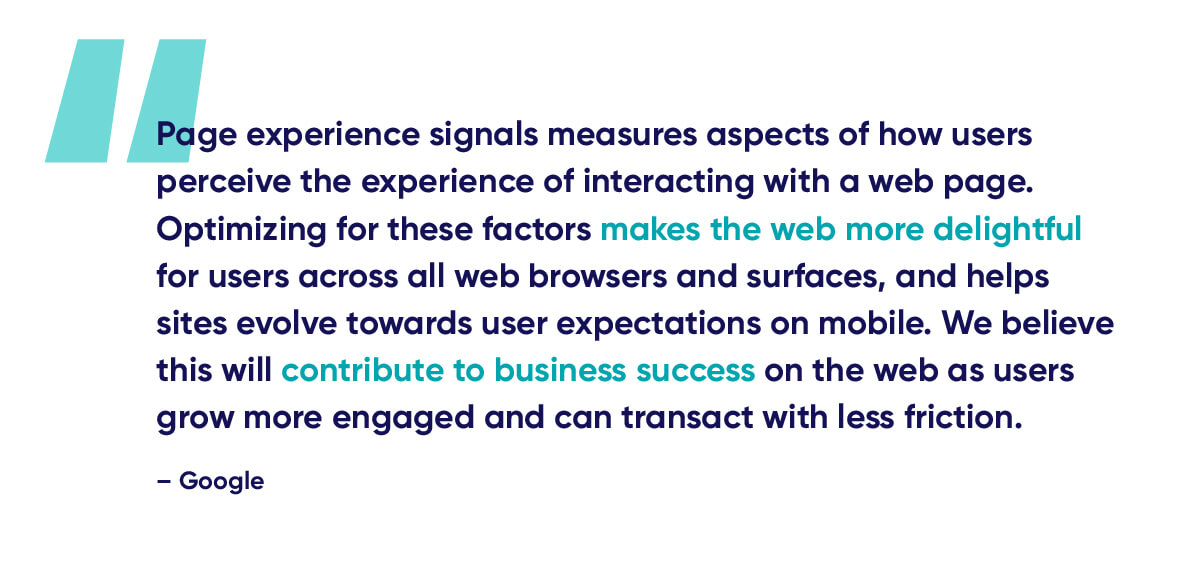 Let's break it down.
Google dominates the search engine landscape with a market share of 92.74%, which means that more than 9 out of 10 internet users search for information on Google. Naturally, the search giant is strict with its algorithms to guarantee its users have the best possible browsing experience. Think about it like this: Would you stay on a website that takes minutes to load or doesn't respond to your clicks? Probably not, and Google knows it.
Last summer Google announced their search algorithm update with the introduction of the Core Web Vitals, a set of three new metrics that measure how users experience the speed, responsiveness, and visual stability of a website. With the update taking full force in May 2021, the Core Web Vitals will become search ranking factors alongside other existing usability metrics to create a seamless online user experience both on mobile and desktop. Hand-in-hand, these benchmarks will be used to assess page experience overall and cast a final vote of whether a website is worth ranking based on a page experience score.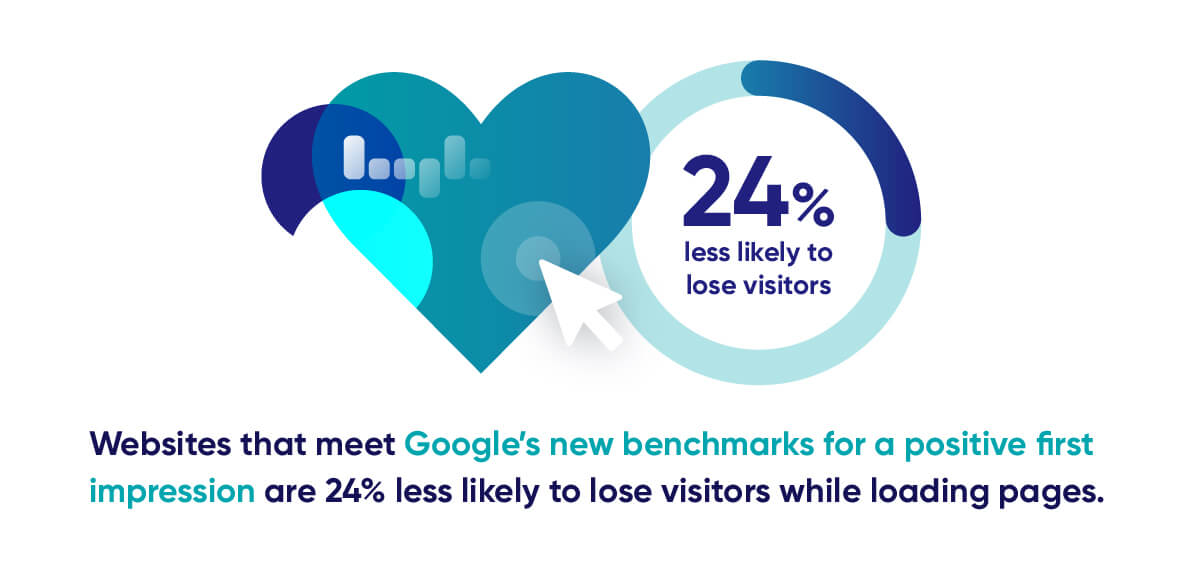 More than ever before, page experience will be front and center in the race for the top spot in Google's search engine results. If you fail to keep up, your business will fall behind.
Why is Google's page experience update important for your business?
Google's increasing emphasis on users means website experience begins to affect your business even before customers visit your site.
The simplest way to think about the update is that user-friendly websites with the most relevant content will rank higher than websites that aren't as user-friendly. We've all had terrible online experiences trying to find information as efficiently as possible - Google adjusts its search algorithm to minimize this risk by showing sites users love the most first. A positive page experience will directly improve your ranking, a negative score will cause your page rank to drop, resulting in a decline in traffic – and, ultimately, loss of influence and revenue.

Page experience will become a deciding ranking factor between similar pages. This means that Google will push page A further up the search rankings than page B if page A receives a higher page experience score. No matter if you are a B2B SaaS company or an e-retailer, if your website is otherwise indistinguishable from your competitors' sites, page experience will become the decisive factor you can exploit to gain a competitive edge in the search rankings.
Websites that fall behind Google's benchmarks will drop in rankings. Google's goal is to provide the most relevant, highest-quality content to users. If your website doesn't cater to Google's ranking factors, your content – which means your products or services – is considered only marginally useful. Google will push your website to the lower end of search results, resulting in significantly less exposure for your business and even lost sales.

Page experience
will ride the wave of user-focused
SEO
Just a few years ago, many digital marketing professionals considered it revolutionary that user experience could be a driving force of SEO. Optimization wasn't simply about keywords anymore - suddenly, businesses needed to turn the spotlight to user experience to drive conversions.
Fast forward to 2021, the relationship between SEO and UX has grown even closer. And the trend continues: Google has made it clear that user experience will become an increasingly powerful ranking factor, which will serve as a constant reminder to always put your audience first by ensuring your content caters to user preferences and is digitally inclusive.
Use Google's
page experience
update to commit
to great digital customer experience
Google has given advance notice for businesses to prepare for the algorithm update. Savvy organizations will use this opportunity to take a long view of their website's overall user experience and act accordingly.
What will you do?
As the trend toward digital customer experience increases, the most successful brands will be the ones that take a holistic end-to-end approach to user experience – from increasing organic traffic by meeting Google's benchmarks, all the way to optimizing the entire website experience to satisfy customer needs. You may think you have a fantastic digital customer experience, but how does it compare to your competition? Take Google's new page experience metric as a call to action to revisit and master your website experience fundamentals. Customer loyalty and, ultimately, your business' bottom-line are determined by having your customers' best interest at heart.
Take your website experience to the next level with actionable tips, tricks, content highlights from our blog, on-demand webinars, whitepapers, and more in our monthly Siteimprove scoop.