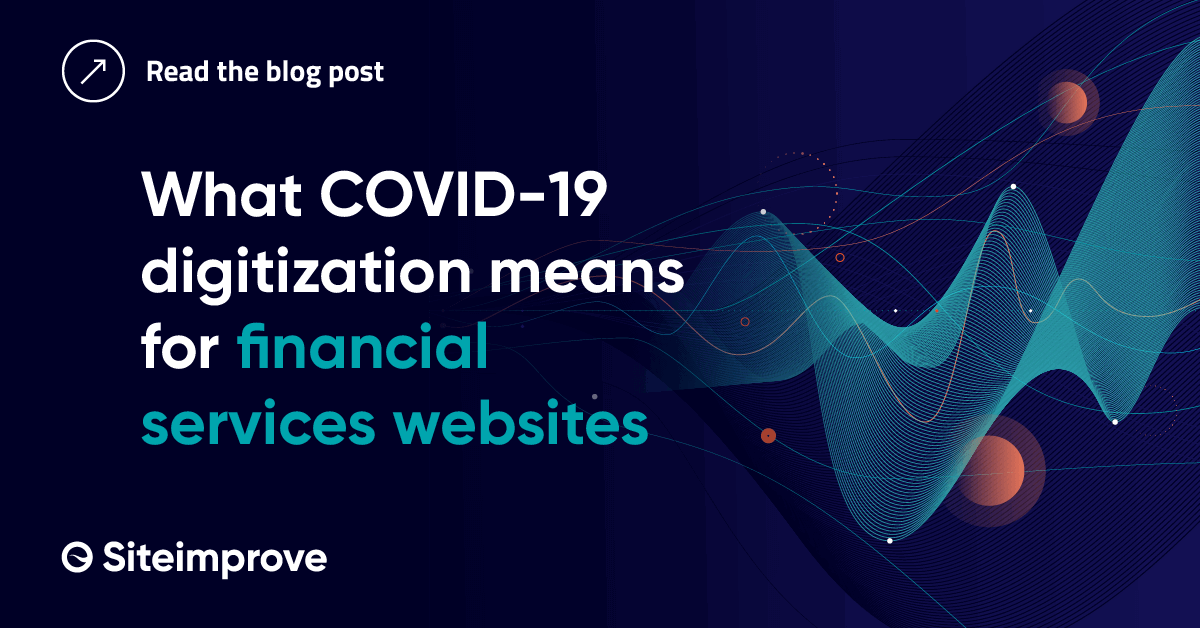 What COVID-19 means for financial services websites
- By Kyra Kuik - Dec 16, 2020 Digital Certainty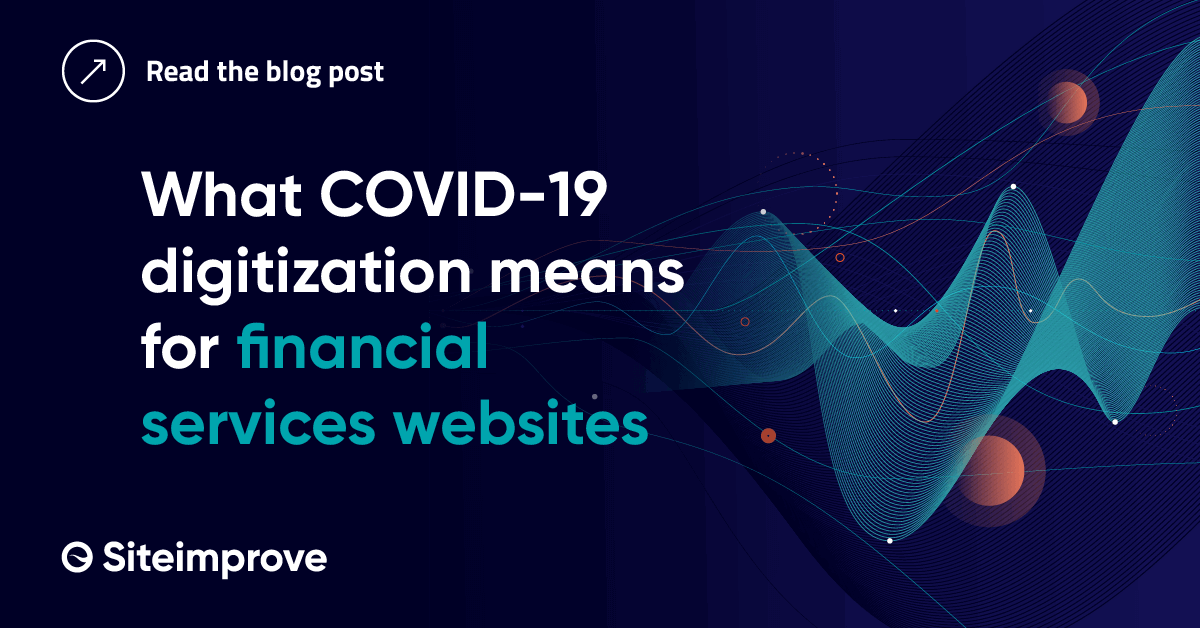 The coronavirus pandemic has forced all industries to digitize at a shockingly fast pace. Unfortunately, the financial services sector had a longer way to go than other industries. A 2019 report published by The Financial Brand revealed that fewer than half of financial institutions had either fully or partially deployed digital transformation projects.
Without a comprehensive digitization strategy and technological roadmap, financial institutions and service providers risk losing market share to fintech startups and nontraditional banks with more forward-thinking mindsets.
COVID-19 is speeding up digitization
During the pandemic, Deloitte surveyed 1,500 banking customers to find that 16% of them took out a loan digitally for the first time, while 15% took out a mortgage digitally, and the same number got advice on a bank product digitally for the first time. The authors of the study write,
"Once customers have started to use online banking services, they are likely to continue to do so."
On top of that, based on McKinsey's analysis of European banks during the pandemic, they identified three digitization actions banks can take to propel growth:
Innovate new products and propositions
Lock in the shift to digital sales and service and reshape physical distribution
Reset the organization and technology for speed
With the current shift toward online banking, embracing digitization needs to happen as soon as possible to maintain service delivery standards and meet customer expectations.
Financial services need to adopt a digital-first strategy that prioritizes online services and digital banking in order to keep up with customer preferences and industry trends. According to research by RFi Group, the financial services insights provider, 70% of consumers globally are now using digital banking channels weekly.
Digitization efforts don't need to stop at supporting online banking — full-scale digital transformation should permeate every corner of the business, fundamentally changing how financial institutions operate.
In particular, banks and other financial services providers need to extend digitization to their marketing strategies, supporting their core digital platforms to reach their target audience, bring in more customers, and generate more revenue.
Make your website the center of your financial services business
With more people using online financial services as their primary channel, an organization's website is just as important as any local branch or office. Many customers will rarely step foot in a physical location. Potential customers may make the decision to switch providers, apply for loans, or take advantage of other financial services directly through online channels.
Below, we'll focus on two key roles your financial services website plays: 1) a channel for growth, and 2) the digital customer experience.
Growth through your website
Given the increased importance of websites in today's environment, financial institutions need to leverage the many digital and online channels at their disposal to drive traffic back to those sites. Here, we'll discuss organic and paid search as a means to drive growth through your website.
Organic search
With marketing budgets being cut because of the coronavirus pandemic and an uptick in consumers shifting to online transactions, SEO – a cost-effective, long-term results method of getting your message, products, and services out there – matters more than ever.
But if you think traffic is all your SEO strategy should deliver, then you're underutilizing it. Set up correctly, SEO can become your most efficient digital marketing channel in 2021. It can be leveraged to achieve your most important business goals, including increased revenue, a bigger market share, and higher marketing ROI.
Search engine optimization (SEO) covers a wide range of on-page, off-page, and technical factors to help determine where — and even if — your web pages appear in relevant search queries. According to a 2018 Search Engine Journal survey, organic search provides more ROI than any other digital channel.
Focus initial SEO efforts on these key areas to deliver immediate results:
Update meta descriptions, title tags, image alt text, and other page elements with targeted keywords relevant to your audience and your business
Remove broken links, 404s, and duplicate content that might prevent Google and other search engines from crawling and indexing your site
Redesign web pages according to responsive design practices to make them more mobile-friendly and reach a wider audience
Audit website performance factors such as page load speed to find opportunities to improve the user experience
Analyze existing website content to see which pages are performing and which ones should be updated and re-optimized
It's important that marketers build out a long-term SEO strategy to make the most of organic traffic and generate more leads.
Paid search
If you've done any googling lately, you've probably noticed that less real estate is given to organic results. Often times, users need to scroll to see any organic search results at all, since the top results are often paid ads.
Since it's now more difficult to appear at the top of Google search results organically, an effective paid search strategy is becoming necessary for many organizations as a way to supplement their SEO strategy—and rightly so, between the fact that PPC traffic converts 50% higher than organic traffic and 65% of customers click on ads when purchasing, paid search can be a powerful business generator.
Investing in a PPC strategy is a good first step, but financial services need to continually optimize and refine their paid search strategy to generate more leads, conversions, and sales opportunities.
Underperforming PPC campaigns are a drain on budgets, so it's important to review paid search ads at regular intervals and ensure they deliver tangible results.
Auditing paid search strategies covers several key areas:
Optimize paid search strategies to spend less on marketing campaigns while delivering better ROI that directly impacts the business.
Create a simpler, smoother customer experience
Financial service organizations need to better understand digital-first users if they want to create a customer experience that meets their expectations.
As Anirban Bose, CEO of Capgemini's Financial Services, points out,
"Consumers expect a seamless digital experience from their financial providers… Traditional banks are being challenged to meet these expectations given that digitally native new entrants focus on customer experience from day one."
Before the coronavirus pandemic, customers who preferred online and digital channels over in-person banking did so largely out of convenience—but now preferences for online transactions include safety and convenience. According to the 2020 World Retail Banking Report, 57% of consumers prefer internet banking, which is up from 49% pre-COVID-19. John Berry, CEO of Efma, comments on this trend saying,
"COVID-19 has put a spotlight on the digital banking experience."
If a bank can't deliver that level of convenience, rest assured another financial service provider will. Financial institutions can't rely on brand loyalty alone to keep customers in the fold. According to a MuleSoft survey of 9,000 consumers, nearly a third (27%) would consider switching to a different bank in order to receive a better digital banking experience (that number is 49% among younger people).
By providing a better online experience, banks can boost customer retention, reduce churn, and increase revenue. There are several important factors that impact user experience and customer experience on digital platforms:
Accessibility
Banking websites need to be accessible to all customers, including those who have disabilities. There are numerous accessibility standards that financial institutions need to conform with, depending on where their customers are located. For instance, parts of Canada, the EU, and the US have all passed legislation that establish website accessibility guidelines.
Worldwide, people with disabilities represent a large and under-served minority group. This is pushing disability policy into the spotlight in political campaigns and financial services are increasingly recognizing this enormous market segment.
That said, most organizations still fall short of expectations for a digitally accessible user experience— in effect, leaving the door shut on an enormous market segment. Globally, this population has a spending power of more than $6 trillion, but many businesses miss out on capturing the potential of this segment, as 80% of people with a disability will take their business elsewhere because of poor accessibility.
Adhering to accessibility legislation and their respective deadlines, as well as more standard guidelines, such as the Web Content Accessibility Guidelines ensures that financial services follow the latest best practices and continue to meet all customers' needs.
Page experience
As many as 66% of online customers said website performance affects their impression of a company, and 33% of these customers have a negative impression of companies with slow websites.
If your customers have to wait for a page to load, they can't perform a meaningful action on that page. If the page does load, but customers experience friction in trying to interact with the page, they will perceive it as interruption that prevents them from accomplishing their goal.
Website performance is important for both SEO and user experience. Faster, more responsive web pages are more likely to keep visitors on your website and minimize bounce rates. Customers can have vastly different site experiences depending on their network, device, location, and other factors.
Secure browsing
Web security is quickly emerging as a key competitive differentiator in today's website experience. In fact, 73% of leading organizations now view strong cybersecurity as a key contributor to business success. Financial service organizations of all shapes and sizes are beginning to understand that if they don't adequately protect their websites, they risk consequences from regulators and backlash from security-minded customers. 
Financial services face immense cybersecurity pressure. As PWC aptly puts it,
"Criminals target financial firms because that's where the money is."
As with most other sectors, financial services are facing increased threats from coronavirus. New research claims there's been a 238% surge in cyber-attacks against banks due to the pandemic.
But coronavirus has only increased an already very high number of threats facing the industry: The 2020 X-Force Threat Intelligence Index by IBM found that the financial services and insurance industry was the most attacked vertical for the last four years.
Consumers who perceive your site as secure are more likely to do business with you – and that gives you a competitive advantage over other, more security-lax organizations. 78% of respondents in The Harris Poll survey said a company's ability to keep their data private is 'extremely important'. Despite this, just 20% said that they 'completely trust' organizations to maintain the privacy of their data.
That's a customer experience gap that security-savvy financial services should be looking to fill.
Take the next step with your website optimization efforts
Digital transformation needs to extend to a financial institution's marketing departments in order to resonate with today's discerning banking customers. A multi-pronged digital marketing strategy will help banks and other financial firms drive new customers to their websites, increasing qualified leads, conversions, and ultimately revenue. Those digital marketing efforts should strike the right message that appeals to today's customers while providing an excellent user experience that encourages engagement with all target audiences.
Learn more
Siteimprove works with some of world's leading financial institutions. Start reaching your digital marketing goals with an all-in-one solution to enhance your website, improve accessibility, and enhance your online presence