Why your organization should use an all-in-one SEO tool
- By Georgia James - May 28, 2020 SEO

While some businesses continue to completely outsource their search engine optimization (SEO) strategy to agencies, more than half (54%) of marketers now manage their search efforts wholly in-house.

But SEO can no longer exist in a silo. In-house SEO campaigns require cross-business support, and for larger and enterprise-level organizations it is a combined effort that encompasses digital marketers, content creators, graphic designers, IT, brand managers, and other key stakeholders. These participants play an important role in the success of your SEO campaigns and need support to bring your search strategy to life. But coordinating these functions can be a real challenge. If they're not on the same page, the success of your search strategy is at risk.
Effective SEO requires seamless coordination, not siloed teams. But many organizations struggle with managing the SEO process across stakeholders. Fortunately, banishing silos and establishing a structured SEO strategy is easier with an all-in-one SEO tool. Read on to learn how using the right SEO tool can automate workflows and unite stakeholders – quite literally – onto the same page.
Why an all-in-one SEO tool is best for larger businesses
Organic search has never been more important – or more challenging. Marketers need to understand how their site is performing, deliver high-quality discoverable content, conduct keyword research, perform technical SEO site audits, unite stakeholders, and prove ROI. So, it's no small wonder that they are turning to SEO tools for help.
But there is a dizzying array of SEO vendors and tools to choose from, all differing in terms of size and the capabilities that they offer. With SEO being the most important factor for a site's ranking, the type of SEO tool you select for your business could determine the success of your entire marketing campaign – and even your business.
So, it is essential that businesses choose the right tool based on their organization type. For large and enterprise-level organizations with thousands of pages to optimize, it's recommended to use a comprehensive enterprise SEO platform.
Why? Crucially, all-in-one SEO tools are a useful way for larger businesses to automate their SEO processes and integrate all stakeholders onto one platform – a benefit not offered by single point solutions. Single point solutions focus on optimizing a single element of organic search, for example, keyword discovery, rather than a broader SEO solution.
There are many different steps in the SEO process, and the tasks may be owned by stakeholders in different departments. These teams may include editorial staff, IT, web design, web developers, programmers, marketing, and branding. External agencies, contractors or partners might also be involved in the process.
In an organization with hundreds or even thousands of employees, perhaps spread across different offices, locations, or countries, it's vital to find a way to communicate important concepts, tasks, objectives, and results to each stakeholder in a structured manner – without all being in the same room. That's where an all-in-one enterprise SEO platform comes into play.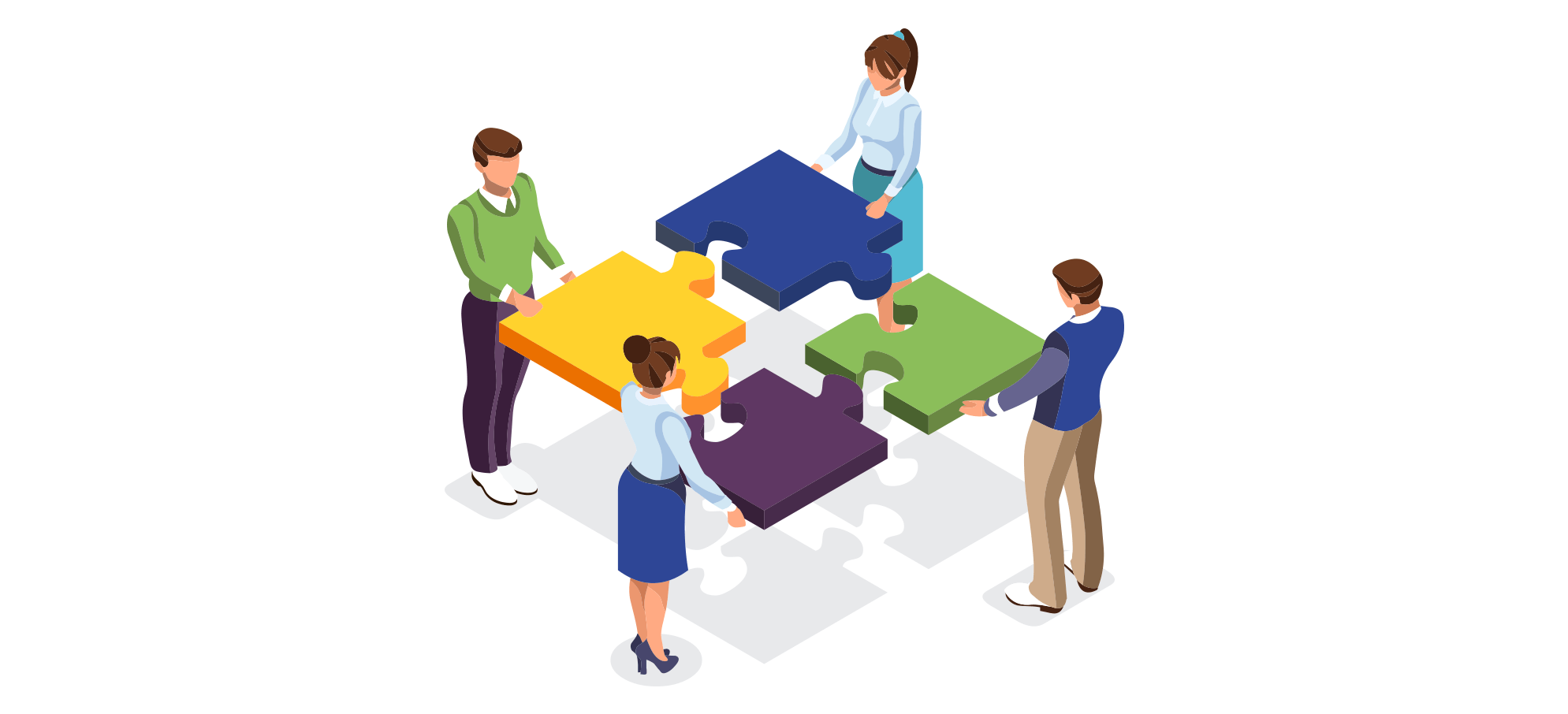 How do all-in-one SEO tools work?
A major advantage of using an all-in-one tool is that they combine multiple SEO features on a single platform, reducing the total cost of ownership through tool consolidation. Some key features include:
Monitoring SERP rankings and trends
Competitor analysis
Content optimization
Finding duplicate content
Technical site audits
Backlinks
Keyword research and monitoring
Tracking share of voice
Reporting
You can expect this type of tool to also include workflow automation and campaign management tools. Some tools provide an analytics integration for an end-to-end workflow. Customizable dashboards, prioritization of tasks, and user permissions are also a benefit for larger, dispersed organizations.
Let's take a deeper dive into the value you can expect from using all-in-one SEO tool as part of your organic search strategy.
Why an all-in-one SEO tool should be part of your process
1. Bring stakeholders together onto a single platform
All-in-one SEO tools make it easier to execute on key projects, collaborate, and ensure accountability across departments and teams.
Getting relevant stakeholders aligned and incentivizing them to make the changes needed to enhance search visibility for your site can be a challenge. Especially in larger organizations, keeping track of scattered tools, processes, and dividing up and prioritizing tasks requires a highly structured process. Enterprise SEO platforms address this problem with built-in workflow management that gets key stakeholders onto a single platform and coordinates task assignment, management, and completion.
Siteimprove SEO centralizes digital optimization by consolidating diverse teams and processes into one place. It makes it easier to prioritize work by making the issues that affect your SEO transparent, and importantly, providing a prioritized list of recommendations for fixing them – sortable by impact, quick wins, and number of occurrences.
Difficulty-level rankings are also on-hand to help you assign the appropriate time and resources to each fix. For example, which issues require advanced technical knowledge – or even sign off by senior management, such as domain changes or URL structure, and which can be easily made by a web editor via a CMS, like misspellings and broken links.

These issues are further split by category, helping you assign each issue to the relevant team with ease.
The tool also lists resolved issues, so you're able to keep track of your overall SEO progress. With just a glance your stakeholders can see what's been completed, and how difficult that fix was. Of course, it's possible to export the data from the platform to share with other stakeholders, in HTML, PDF, and Excel form.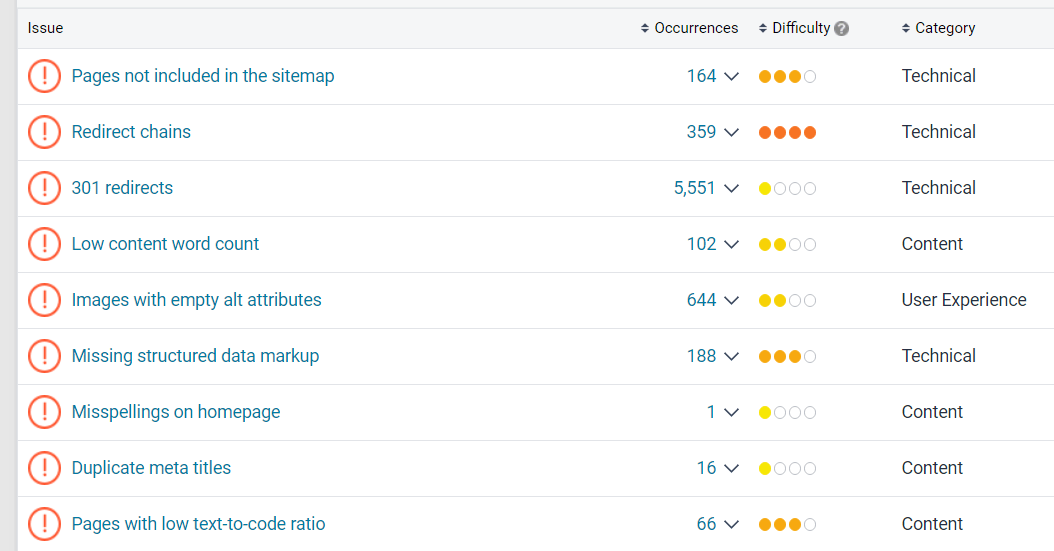 2. Manage global operations centrally
Enterprise SEO tools have built-in diagnostics that can be invaluable on a global scale to identify site-wide issues across languages, regions, or countries.
Siteimprove SEO pinpoints 'site-wide' issues which impact your whole web presence, such as slow desktop and mobile speed.

3. Track SEO progress at a glance
It is crucial to know what you want your SEO strategy to achieve – and how exactly you will measure that success. Many organizations designate SERP rankings as their KPI. But there are other valuable metrics that should be taken into account, such as organic traffic and conversions. These can be tricky to calculate. Fortunately, using an SEO tool makes it simple to track and measure your SEO progress and wins through a range of metrics.
Some of the most useful metrics are:
Keyword rankings
Domain authority
Backlinks
Organic traffic
Form fill submissions
Downloads
Time on site
Sales
Shares
Clicks
Siteimprove SEO Advanced enables you to track these metrics with ease. For example, with Keyword Monitoring, you can monitor relevant keywords and get the vital data, such as estimated traffic, rankings, featured snippets achieved, and search volume, on how well your pages are performing in search engine results.

4. Simplify reporting
Not everyone in your organization is an SEO guru – or a numbers person. SEO tools break down the barrier between SEO experts and the wider organization by making sense of complex data through data visualization and simple user interfaces. The bigger the organization, the more likely it is that employees who aren't familiar with SEO will need to understand the information.
Instead of spending time on deciphering and analyzing numbers, data visualization presents important data in a simple, engaging way, for example, through a graph or chart, that can be easily understood by anyone within your organization.
Automated reporting also streamlines your SEO process by giving stakeholders the data they need to execute their tasks in one place, removing the need for regular check-ins.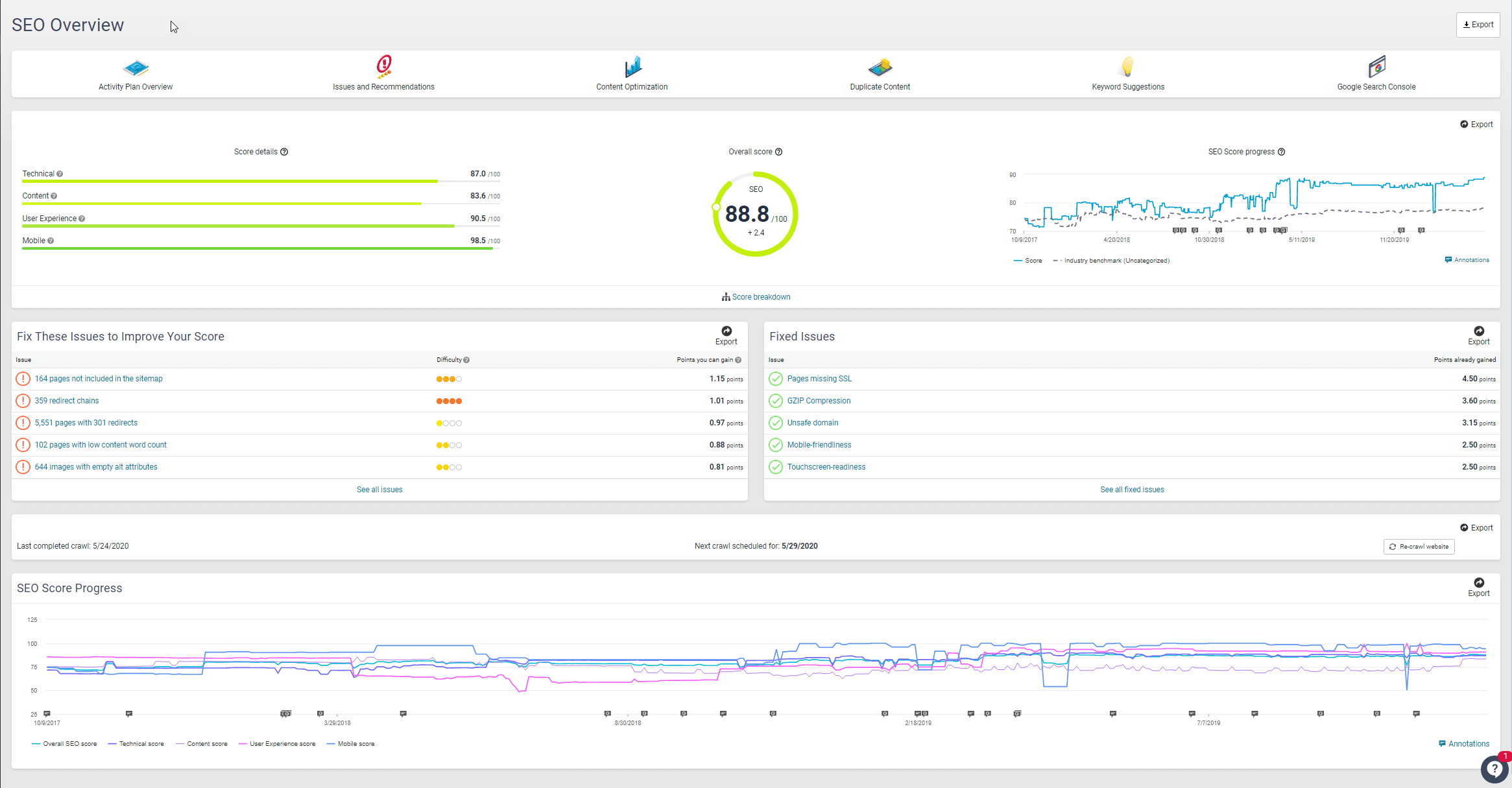 Siteimprove SEO's dashboard merges all relevant search insights into one place and includes a helpful SEO Score to quickly gauge your SEO performance with a single number that anyone can understand.
5. Automate time-consuming processes
Using the right SEO tool can simplify and automate resource-intensive SEO processes and prioritize the most important tasks, making employees more efficient. For example, a routine task like manually locating broken links or duplicate content is a slow and tedious job that swallows up valuable resources. A quick technical site audit can provide you with more accurate data and free up workers for more analytical and innovative work.
Siteimprove SEO's Duplicate Content Finder is an example of a feature that does the SEO heavy lifting for you. It detects duplicate content in seconds using a machine-learning algorithm, along with page view statistics, so you can focus your efforts on editing or removing the most harmful duplicates first.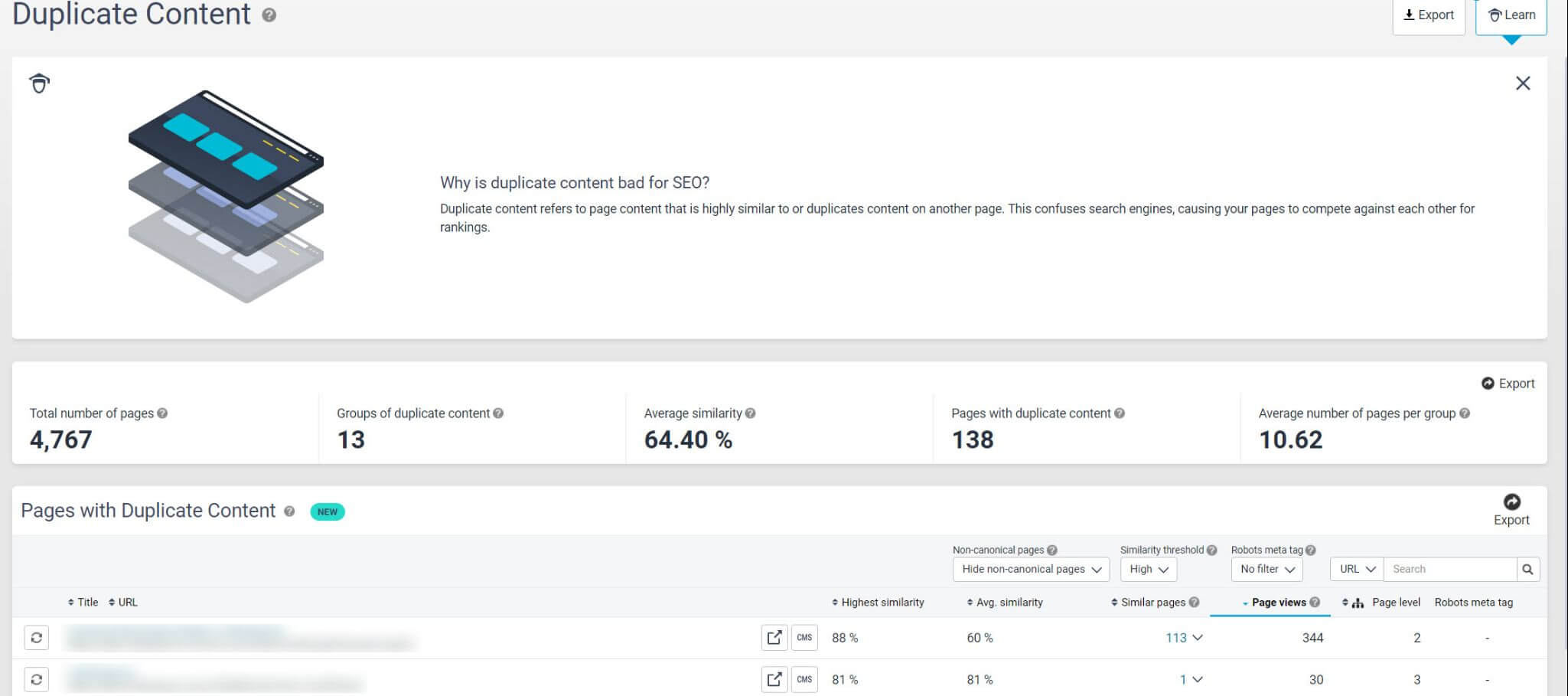 6. Keep up with SEO trends
SEO never stands still. Algorithms and rules are constantly changing – which means you need to evolve too. By choosing an all-in-one tool that has a history of innovation and releasing new features that adapt to new trends and search engine fluctuations, you ensure your organization stays on top of its SEO game.
At Siteimprove we never stop innovating. You can see all the details of our latest SEO features and platform updates in our Help Center.
7. Communicate­­­ clear ROI
SEO tools make it easier to showcase results to your organization – whether that's increased sales, conversions, or page views. Organizations want to see not only an increase in traffic, but also in engagement and conversions. The analytical capabilities of SEO tools can help link the impact of SEO campaigns on the business's bottom line.
If you have a Siteimprove Analytics subscription, you can integrate it into SEO Advanced to get targeted insights about the way organic search visitors interact with your pages, to see whether your SEO is driving conversion rates. This enables you to accurately measure ROI by attaching a monetary value to each effort.
You can also integrate with your organization's favorite external tools, from leading content management systems to Google Search Console.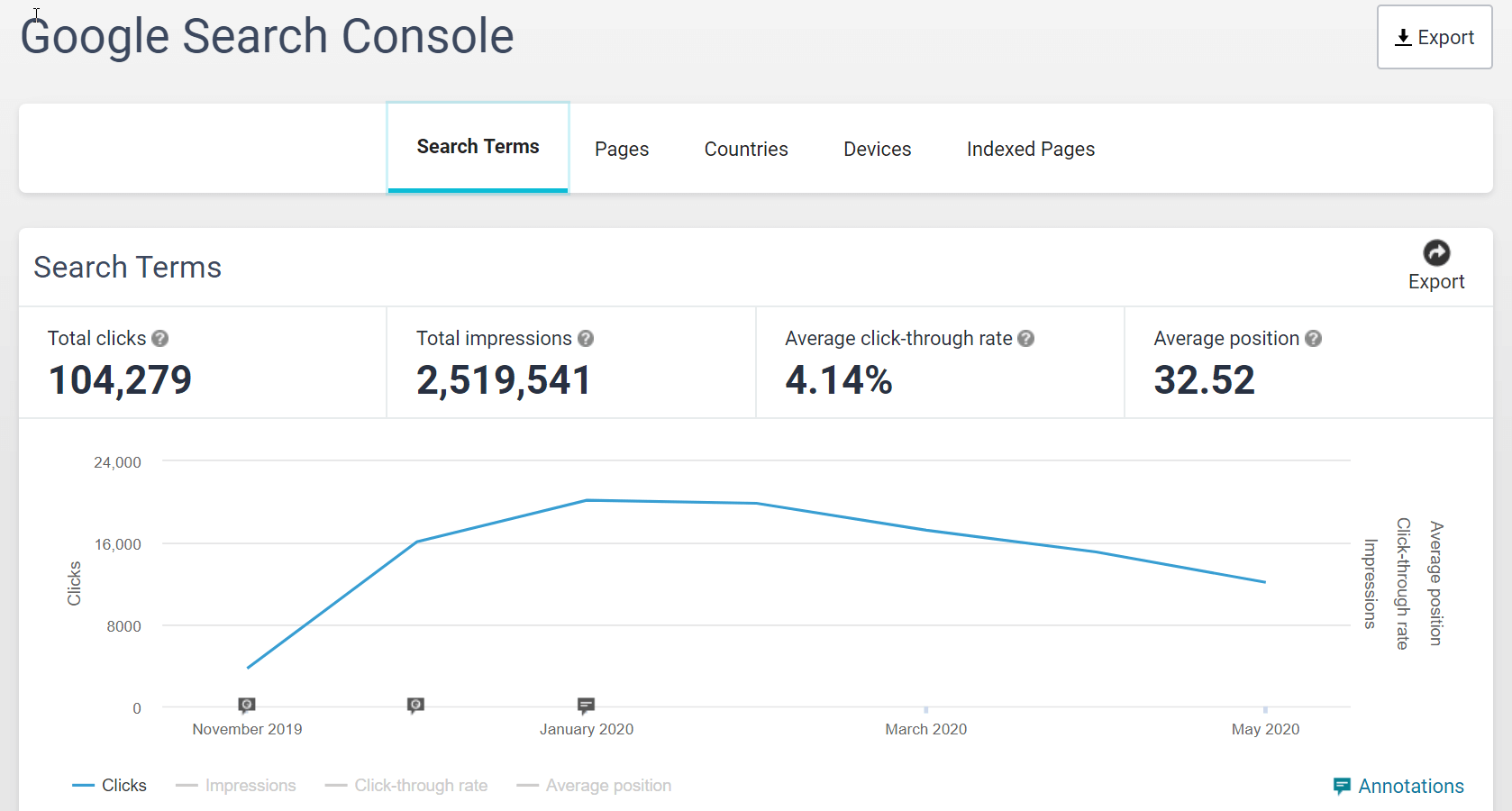 How Siteimprove SEO can help your business's SEO strategy
Leading research firm Forrester recently listed Siteimprove as a Comprehensive Enterprise SEO solution in their 2020 report on leading SEO technologies.