A Strong Performer in the Forrester Wave Report™
Forrester recently invited Siteimprove to participate in their debut Wave report on Digital Accessibility Platforms, ultimately ranking us as a Strong Performer! See how we received this title and discover what, to us, makes the Siteimprove difference.
Did you catch the Wave?
The Forrester Wave™, that is! Siteimprove was recently ranked as a Strong Performer in The Forrester Wave™: Digital Accessibility Platforms, Q4 2023 report. This is Forrester's first ever Wave report that evaluates Digital Accessibility Platforms, and we're proud to have been ranked so highly, especially from a crowd of so many reputable vendors.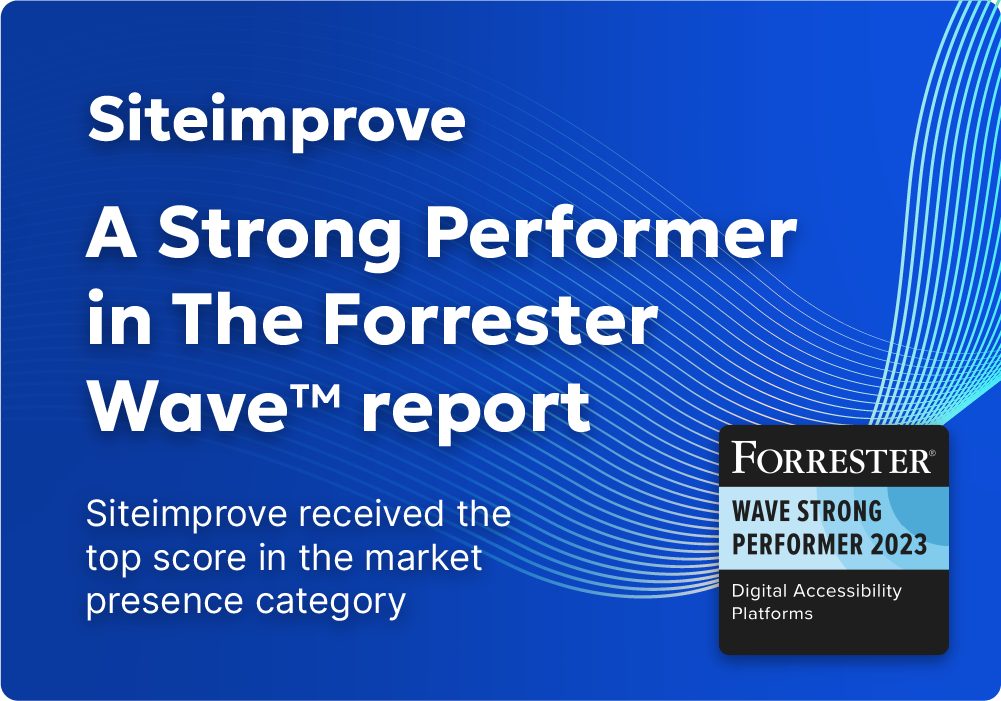 Report findings
Here are some takeaways from the analysis, so you can get a quick peek at the results:
"Siteimprove has a strong customer community; it offers an online forum, customer meetups, monthly challenges to spark discussion, and one-on-one peer connects to promote knowledge sharing and learning"

"[Siteimprove] has also made significant contributions to shaping the future of WCAG testing methods in its role chairing the ACT Rules Community Group"

"For optimizing content accessibility, the sky is the limit with the Siteimprove platform. It provides the most extensive library of policies for users to add and customize, covering areas like readability and inclusive language. It has many prebuilt integrations with enterprise CMS platforms"

"Reporting functionality is outstanding, enabling creation of executive-ready reports on the compliance of specific properties"

"Reference customers find the platform easy to use and rave about the platform reporting features and the company's manual testing reports"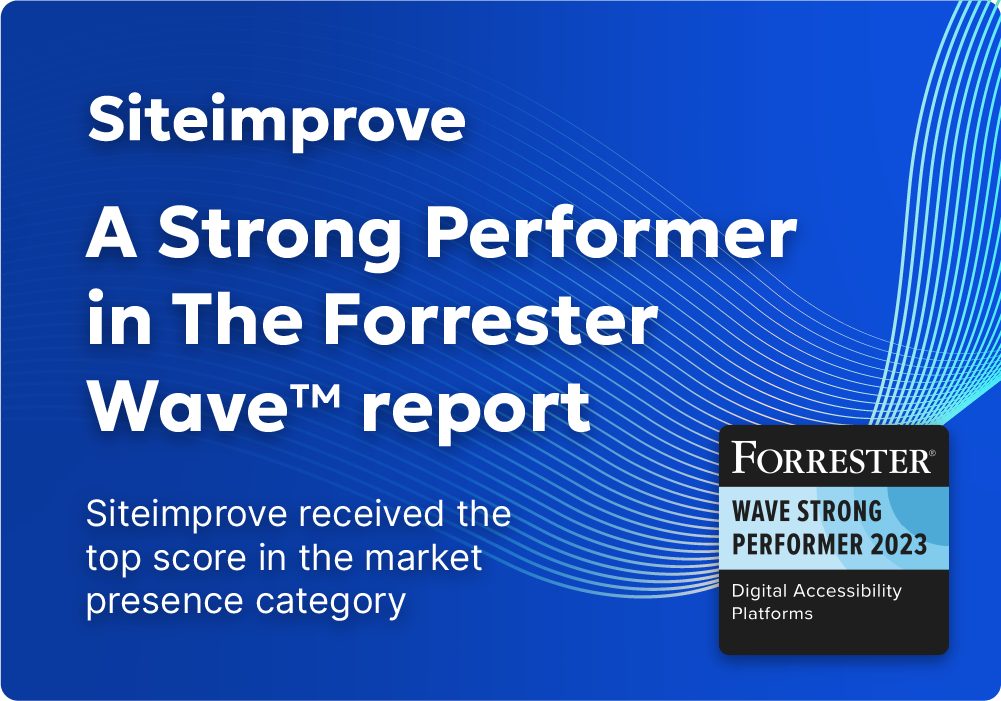 To

inclusiv

ity, and beyond
What's more? The Forrester evaluation described Siteimprove as "the best fit for marketing teams focused on scaling inclusive content creation as part of a broader content optimization effort"
We believe this quote demonstrates that Siteimprove not only supports your accessibility efforts, but brings all your digital marketing needs like SEO, Analytics, or Ads under one roof. Forrester also gave us the highest rating in the Monitoring and Reporting criterion, also giving us the highest possible score in the Issue Presentation criterion. In our opinion, The Forrester Wave™ report recognizes the idea that Siteimprove not only helps you see and remediate all your marketing issues in one place, but also embeds learning opportunities to strengthen your skills and progress, then gives you the tools to report on all that progress you've earned.
For these reasons and more, our solution is consistently granted the marketer seal of approval.
Hats off to Forrester
We were thrilled to receive the invitation from Forrester to participate in this report. We're humbled to not only see our strengths, but also our weaknesses. Huge thanks to Forrester and their analysts for considering and choosing to evaluate Siteimprove among top vendors—and, of course, to our users for helping us reach this milestone.