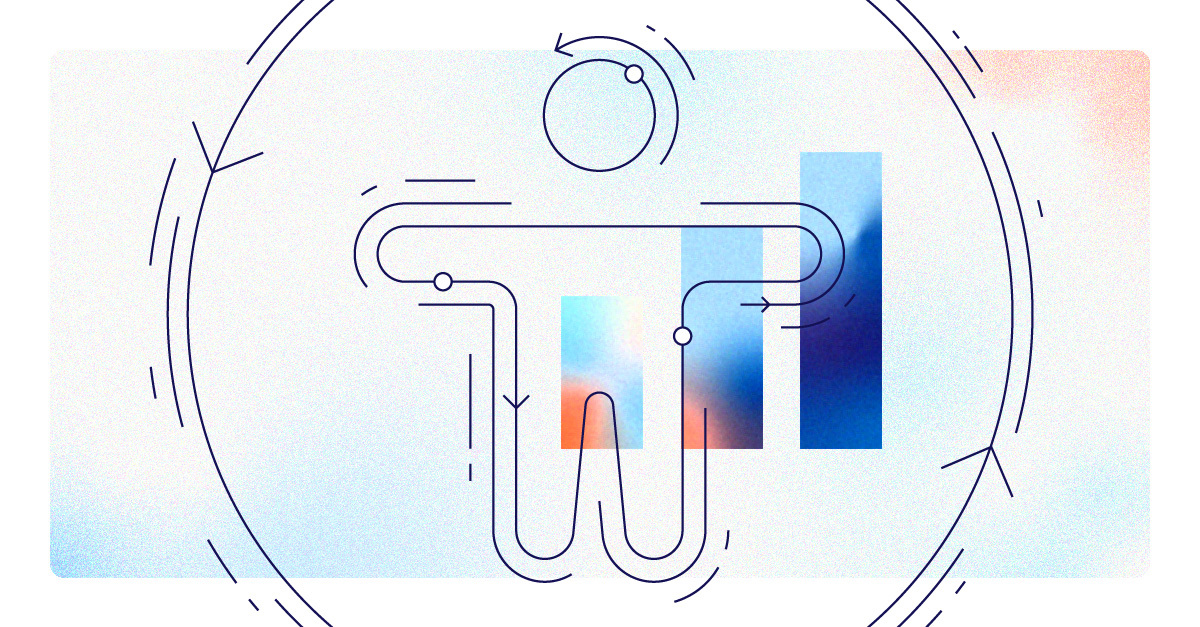 How web accessibility really pays off
- By Jessica Navarro - Apr 08, 2022 Accessibility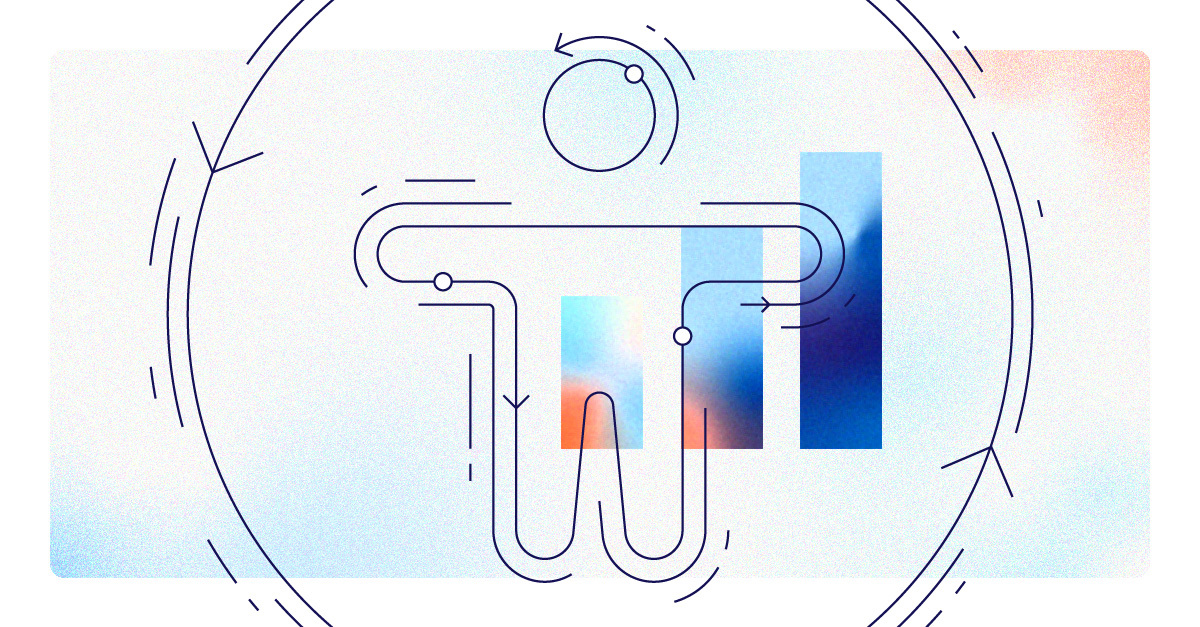 The numbers are in. If accessibility is not a part of your digital strategy, you are missing out on a significant opportunity for growth, revenue, and a chance to strengthen your brand image in a value and trust-oriented market.
Forrester's 2022 Predictions predicts accessibility will become a major customer experience priority for business. This is in part because of the growing number of lawsuits related to digital accessibility, but also because more organizations are creating diversity and inclusion programs, including 26% of companies who started their own programs for the first time in 2021.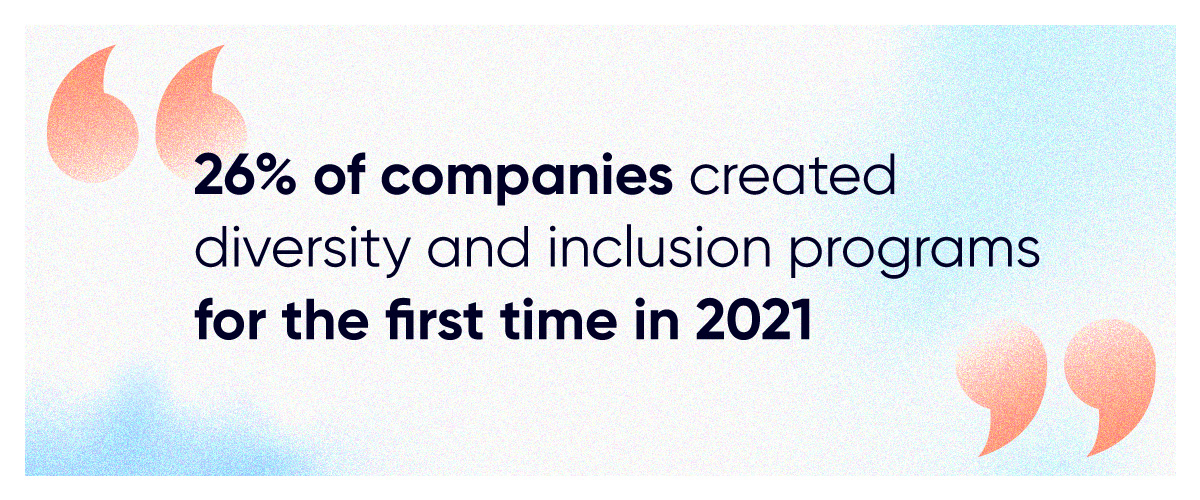 This timeline matches up with an earlier 2020 projection by Gartner, "By 2023, digital products in full WCAG Level 2 compliance will outperform their market competitors by 50%." (For those not in the know, WCAG stands for Web Content Accessibility Guidelines, the international standard for web accessibility).
Organizations are realizing accessibility matters on every level, from the top executives to the bottom line. Accessibility is a key topic of conversation at the highest levels of management because it both supports ESG and inclusion initiatives, as well as adds profitable value to the customer experience.
The business benefits of accessibility are something we've known about for a while here at Siteimprove, but it's not until recently that we have concrete numbers to share on just how much you can get in return by investing in accessible digital experiences.
The context behind the numbers
In a Total Economic Impact™ (TEI) study commissioned by Siteimprove, Forrester Consulting interviewed our customers to gather information on the potential return on investment (ROI) of using the Siteimprove platform.
The study found that our platform helps our customers widen their market reach and increase profit by offering five overall benefits, two of which were related to digital accessibility.
Let's dive into some of the results of the TEI study to see how digital accessibility can truly pay off for your business.
It pays to be accessible
There are two values to keep in mind when it comes to the ROI of accessible experiences - the profit you gain and the costs you avoid.
The first payoff is incremental profit you gain from improved accessibility. In a 3-year period, the TEI study calculated that a composite Siteimprove customer realizes almost $179,000 in risk-adjusted present value.
So where does this value come from and what does accessibility have to do with it? When you create digital customer experiences that are accessible to people with vision and hearing impairments, you create a direct positive effect on your bottom line by widening your market reach.
The TEI study assumes that the composite organization using Siteimprove can count on 5% of their target customers with vision and hearing impairments having purchase influence.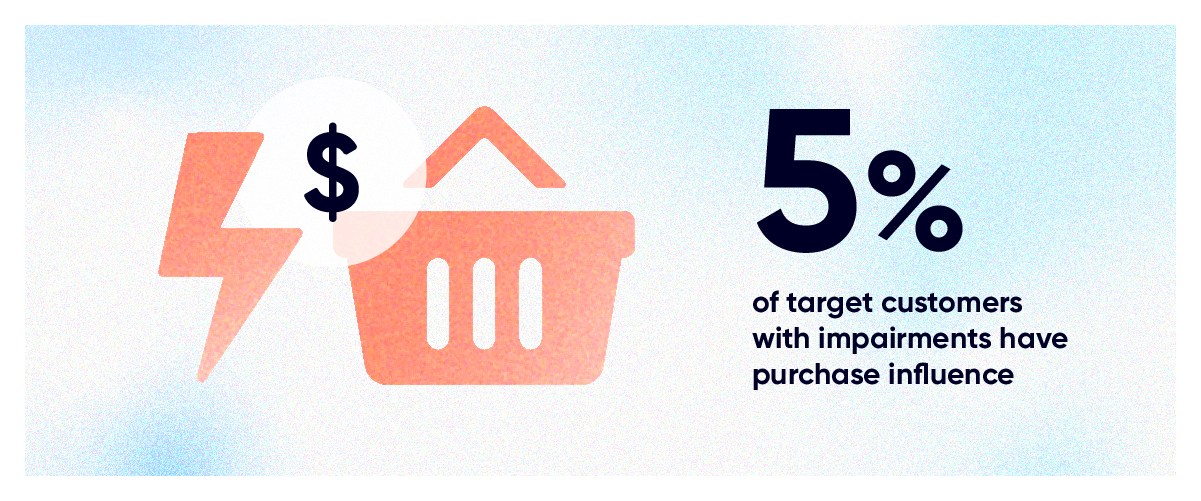 And these numbers only account for those with vision and hearing impairments. When you consider the whole range of disabilities, including cognitive disabilities, you're looking at 1.85 billion people with disabilities worldwide. If you widen your scope even more, the friends and family of this market make up an estimated 3.3 billion. These are friends and family who understand the reality of living with disabilities and the challenges caused by inaccessible digital experiences.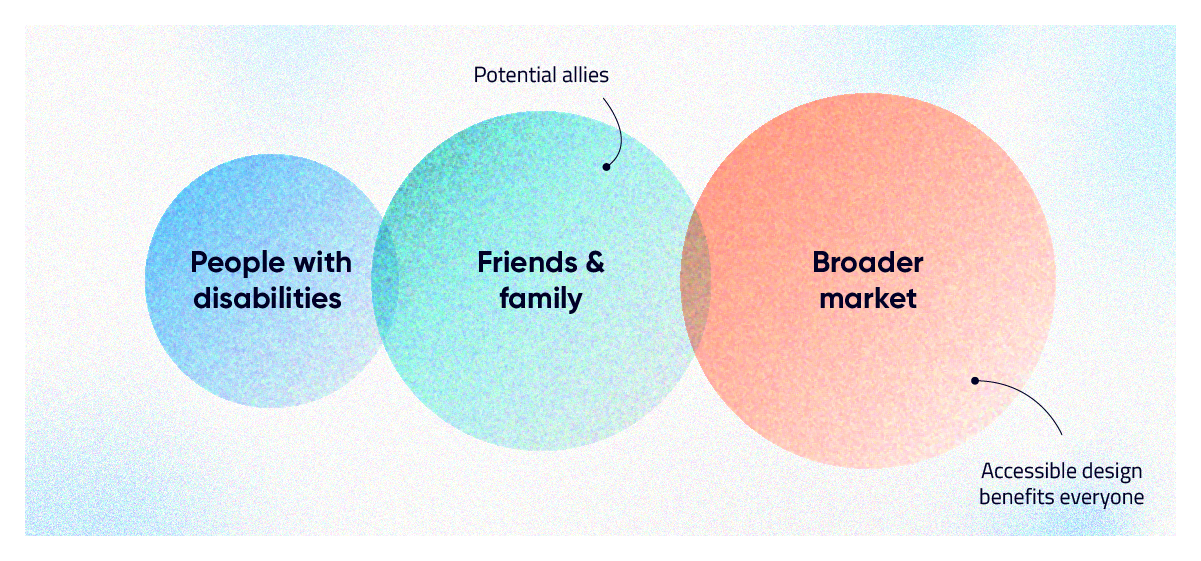 In the US, for example, Baby Boomers control more than 70% of the nation's wealth, according to a report from Fona International. And despite stereotypes that Boomers are not digitally savvy, the AARP reported in 2020 that smartphone adoption was "86 percent among Americans aged 50 to 59 and 81 percent for those 60 to 69. Meanwhile, 62 percent of those 70 and older use smartphones". In short, this demographic holds considerable spending power and needs digital experiences optimized as they age.
The second payoff of accessibility as part of your digital strategy is the cost you save by lowering your risk of litigation. By now, the media has covered digital accessibility lawsuits involving some big names, like Beyonce's company Parkwood Entertainment and Scandinavian Airlines who was fined $200,000. These are also the worst-case scenarios with some big names attached to them.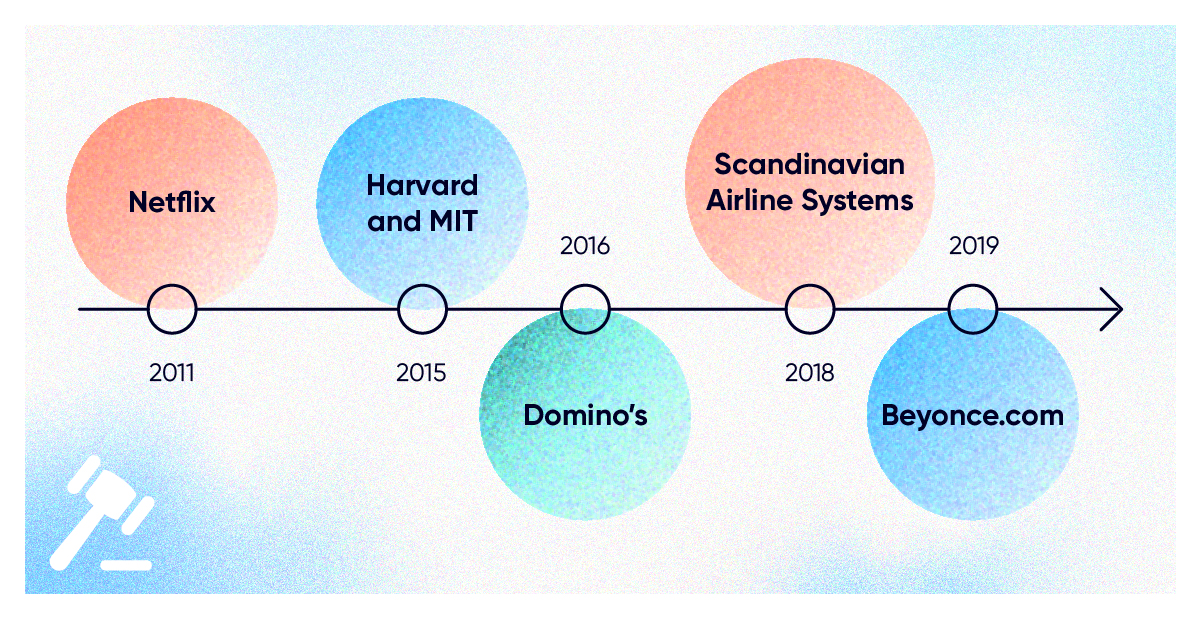 So, what are the real costs for the average business? The Forrester TEI study estimates that the average cost of a lawsuit for a large company is $100,000, which includes legal fees, settlement fees, and reparation costs to change the website in line with accessibility legislation.
In short, if you get hit by an accessibility lawsuit, it's going to hurt. Can you afford not to offer accessible experiences?
Accessibility pays off in so many other ways that indirectly affect your bottom line. But just because they don't gain you immediate profit, doesn't mean you should ignore these benefits.
The not-so-tangible but just as business-critical benefits
Customers demand exceptional, authentic brand experiences both online and offline, which explains why businesses are prioritizing inclusion and diversity like never before. Customers expect you to walk the walk if you commit to inclusion and what better way to showcase your commitment than a website that everyone can use, regardless of ability.
63% of customers prefer to buy from socially responsible companies, while 54% want to buy from companies that prioritize diversity, equity, and inclusion in their workplaces, according to Zendesk's 2021 Customer Experience Trends Report.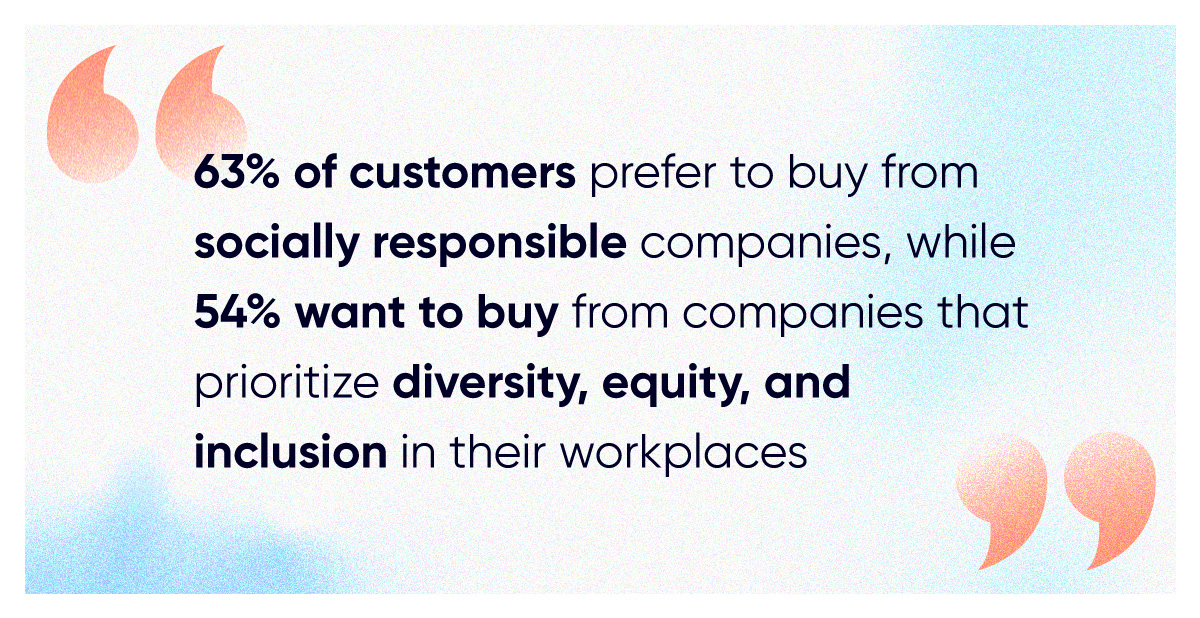 We can see in our own user data from the Siteimprove platform that 72% of sites meeting at least WCAG Level A compliance also boast high quality content and 66% have high SEO scores.
This goes to show better website experience is a combined effort between accessibility, content quality, UX design, and SEO performance.
At the heart of all these areas lies ease of use for the customer. Accessibility, like UX design, is about uncovering problems or obstacles in the user journey. The benefits of removing these obstacles are two-fold.
For one, you create an experience that lets your customer find what they're looking for with ease. This creates a clear path to the end goal you want your customers to reach, whether that's to purchase, book a demo, or sign up for your newsletter.
Boosting your SEO performance is the other benefit. With Google's Page Experience algorithm update, which Google plans to fully roll out to mobile and desktop by end of March 2022, the major search engine evaluates your website value in part by how accessible the content is to the user.
Automation sparks innovation
Let's not kid ourselves. A commitment to accessibility is intimidating without the right tools and processes to keep you on track. Using software to automate certain accessibility tasks frees you and your team up to work on more creative and strategic tasks.
It's the same thinking behind the 20% rule made famous by Google. Setting aside time for brainstorming and experimenting can lead to exciting innovations. Google News, one of Google's first services beyond text searches and now used by millions (last estimated at 280 million users), is an example of what can come out of having the freedom to tinker with ideas.
Without automated checkers and tools, teams would waste valuable time on simple tasks like checking for broken links or outdated content.
But even then, automation is not a set it and forget it process. Forrester's 2022 Predictions also predicts, "75% of [B2B marketers'] efforts to create automated, personalized engagement won't meet ROI goals because of inadequate buyer insight."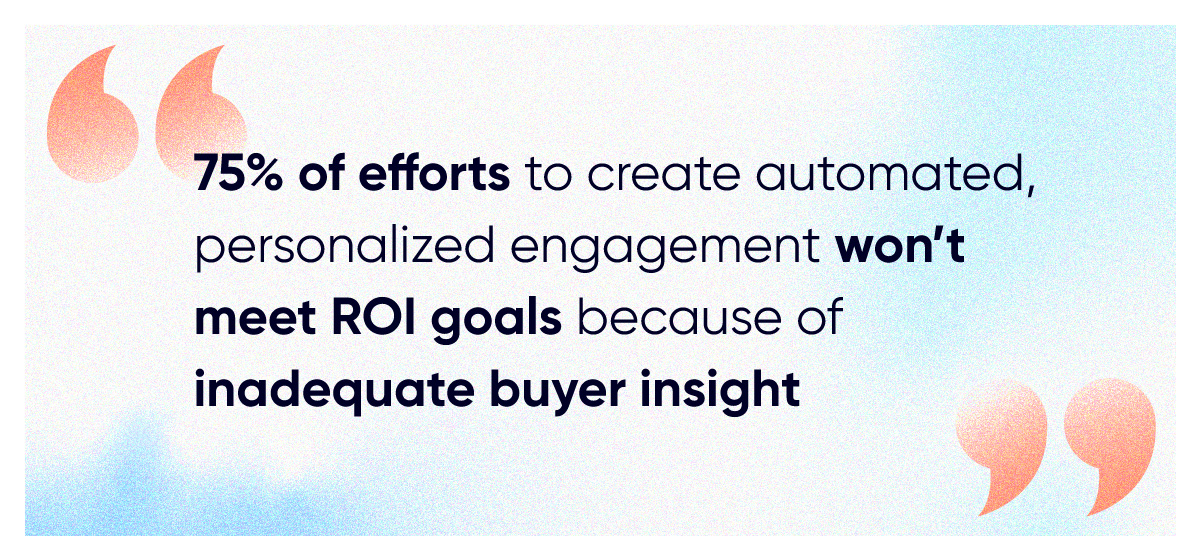 And it's no wonder this is the case. The market is flooded with software, browser extensions, plugins, and other tech. Meanwhile, companies are overwhelmed with increasing amounts of data. We've heard the challenges from our own customers who came to us looking for a way to get one clear view over all their digital assets.
And here's a secret we want to share with you. You don't have too much data or too many assets. You just need a better tool to help you manage and optimize. And this is how you can meet the demand for high-quality, inclusive digital experiences.
The future is accessible
A few years ago, accessibility was a nice-to-have project based mainly on the fear of litigation. But now, marketers recognize the wide-reaching impact of accessible experiences across all levels of your organization, both internally and on customer-facing fronts.
It's undeniable. Accessibility is an essential part of a successful holistic digital marketing strategy. If you're not jumping on board now, then you risk getting left behind.
But you don't have to do it alone. As the Total Economic Impact study shows, the Siteimprove platform significantly increases the rate of success for our users by making sure all the moving parts of your website, whether that's accessibility, SEO performance, or analytics, are all working in sync.
Curious to see the full study? Download the Total Economic Impact™ study.
Or if you're short on time, check out our infographic with the essential highlights from the study.