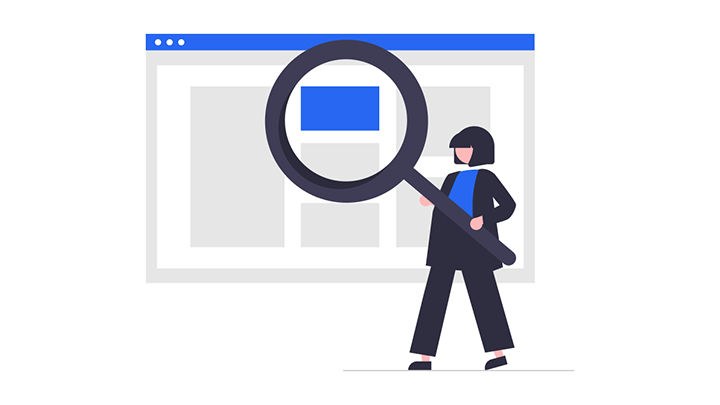 How to conduct a complete SEO competitor analysis
An SEO competitor analysis is the act of checking out your industry's competitive landscape online, evaluating your SEO competition, and analyzing the information you uncover to boost your own website SEO and climb up the rankings.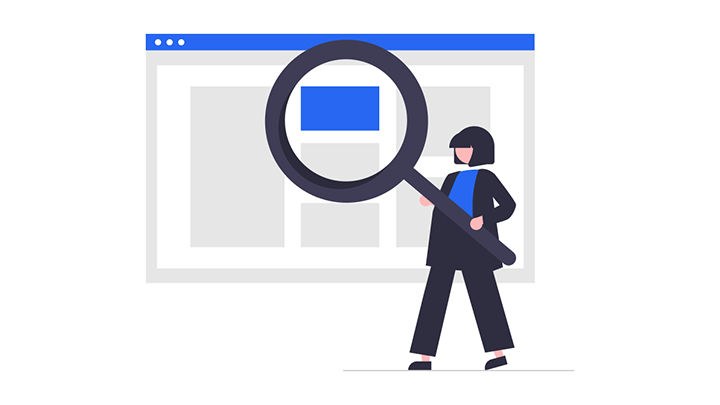 What is an SEO competitor analysis?
With two-thirds of all clicks going to the first five organic search results on Google, developing an SEO strategy, creating great content, and performing technical SEO audits still isn't a guarantee that your content will get the attention it deserves. In fact, 90% of web pages get no search traffic from Google at all! But if you're not getting that traffic, who is? Your SEO competitors.
The fact is, you will struggle to gain visibility in the search results if your competitors are doing all these things – and doing them better than you. That's where an SEO competitor analysis comes in.
There are two ways of looking at your competitors – as a pain – or as a rich source of information. To tap into this treasure-trove of data, your organic search strategy needs to include SEO competitor analysis. When done correctly, it will help you create better, more targeted content, move up the search engine rankings, and attract more relevant traffic to your website.
Before you can begin beating the competition, you need to first know:
Who your 'real' search competitors are; clue, it's not always who you might think
Which keywords they are ranking and receiving organic traffic for
How to find your SEO competitors
The first thing you should know about your SEO competitors is that they are not necessarily the same players as your direct business competitors.
So, what is an SEO competitor? Your SEO competitors are websites that rank for the organic search queries you are also competing for. This means your SEO competitors will differ from topic to topic. It's important to know exactly who you are competing with – and for what – before publishing or optimizing any pages aimed at ranking for a specific keyword. That is where the first step of competitor analysis comes into play; finding search competitors that you may not be aware of. If different parts of your website focus on different business areas and so have multiple competitors across industries, this is a hugely important action to take.
Guesswork is not the right way to approach this initial step. You might think you know who your competitors are, but the most accurate method of uncovering your SEO competitors is by looking at the data. Because you might be analyzing thousands – or even tens of thousands – of web pages and keywords, you should consider using an enterprise SEO platform, like Siteimprove SEO, to automate this step.
Siteimprove SEO makes locating your most relevant competitors easy with competitor-surfacing metrics like "Discover competitors" and "Top-ranking pages by keyword". Use the insights from these features to lift the lid on search competitors based on the keywords you are monitoring and for your best-performing pages. From here, you can keep a watchful eye on your competition – existing and emerging – and discover what about their content means they're topping the search engine rankings.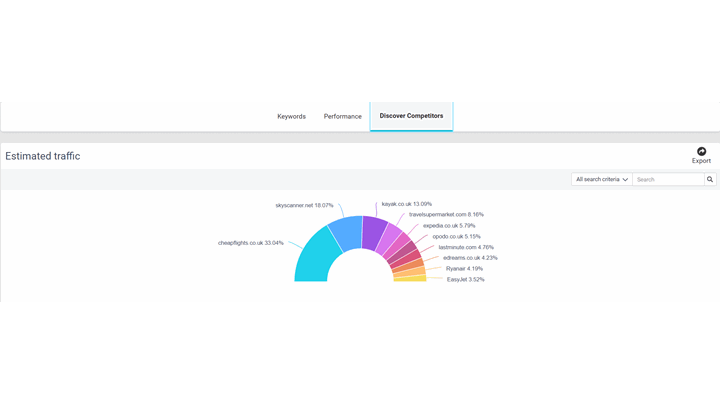 Once you know who your actual SEO competition is, you can begin your analysis in earnest.
When should you conduct an SEO competitor analysis?
Your SEO performance doesn't work in a silo – it is always relative to your competition. Nor is it static. With search engine algorithm changes, new competitors launching, and the other side's digital marketers tirelessly working to outperform you, you can't take your foot off the gas when it comes to SEO. Regularly analyzing your competitors to understand where you stand (compared to them) will help you detect areas with room for improvement before they negatively impact your rankings.
Here are some key processes and events that should always see you carry out an SEO competitor analysis.
Writing content: This will ensure your page answers user search intent in a better and more thorough way than your competitors.
Planning content: Checking out what your competitors are doing well – then putting your own unique spin on it – is a great way to gain relevant search engine visibility. You can also use SEO competitor analysis to calculate how much effort is required to outrank competitors for a specific topic.
After a sudden ranking drop: To determine what your search competition is doing to suddenly outrank you and what is currently working and not working in your industry.
If your page is stagnating in the SERPs: If your page is stagnating and it's not one of the top search results, competitive analysis can help you spot gaps for optimization.
If the SERPs have changed: If another website has overtaken you for the top position for a specific search term, you should use SEO competitor analysis to discover its strengths – and then emulate them.
SEO competitor keyword analysis
Competitor keyword analysis is the process of finding valuable keywords that your search competitors are ranking highly for that your website isn't – and then using that intel to direct their traffic to your web pages instead.
What keywords should I consider in my competitor analysis?
Not all keywords are worth putting equal effort into. Keywords that are relevant to your business, have a high search volume, and are not too difficult to rank for, are where you should focus your efforts.
Still, that will leave you with many, many options to pick from. In Siteimprove SEO, filtering by "Top keywords by domain" is a good way to narrow down the shortlist. Search for a specific domain to reveal the top 100 keywords by search volume a competitor ranks for. Use this information to strategically work out which keywords you should be actively monitoring and optimizing for. From there, you can list all the content topics that you are able to put your own unique spin on, and preferably, outrank them for.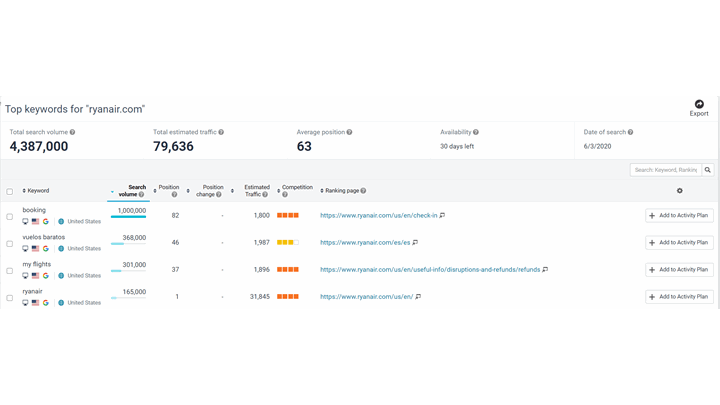 Focus on search intent instead of search volume
Just because a keyword has a high search volume does not mean that ranking highly for it will bring about a large increase in search traffic. Instead, it's recommended to focus on satisfying search intent – also known as user intent.
Search intent is the main objective a user has in mind when they're carrying out a search. This search might be informational, for example, "Opening hours Woodford Reserve distillery", transactional, such as "purchase 1000-piece jigsaw puzzle", or navigational, when a user might search for "Washington Post" rather than entering the URL into the navigation bar. Whichever type of search your user is conducting, your web pages need to meet their search intent with high-quality, optimized content that provides a valuable and relevant answer to their query.
Google prioritizes websites that provide a relevant and positive user experience – and that includes boosting search results that deliver a great user experience by fulfilling their search needs. So, if you can answer the user's search intent in a better and more detailed way than your search competitors, your content is likely to be rewarded with a ranking increase. And there's a sizeable incentive for doing so – almost one in 10 searches see the user bouncing back to the search results page to select a different result. These are the users whose search intent you want to answer more comprehensively by optimizing your content.
Creating – or optimizing – your content to make it more suited to answering user search intent might include:
Creating valuable content that clearly fits the user's search intent, rather than just the keywords they use.
Adding more varied and engaging content formats to your pages, such as a step-by-step guide, infographic, or video.
Spying opportunities for missing content types and answers with Google's "People Also Ask" feature.
Improving on their existing content. If your competitor has a list of the top 10 historical sites in your state, you could expand on their offering with a top 50 best sites list.
Position yourself as a more authoritative, trustworthy source of information. If you're an expert in your field, make sure your reader knows about it! Consider getting one of your subject matter experts to write a blog post full of tips that would be useful for your prospective customers.
Remember, when you focus on fulfilling the user's search intent rather than focusing solely on search volumes for the keywords you're targeting, you will drive more relevant traffic to your page, climb up the search rankings, and gain more qualified leads.
Explore long-tail keywords opportunities in your keyword competitor analysis
What if your website is smaller or less established than your search competition? With 60% of the pages ranking in the top 10 Google results three or more years old, it's a good idea to shift your focus from the most competitive keywords to more winnable long-tail keywords variations. In fact, most Google searches tend to be of this type – clocking in at around 70% of all web searches.
With 50% of search queries also containing four or more words, it's a good idea to venture beyond the basics. For example, the keyword difficulty for popular, one-word keywords like "headphones" is high, returning more than 778,000,000 search results. Try using a more specific term to stand out from the crowd, like "noise-cancelling headphones", "budget wireless headphones", or "headphones for sleeping", which are more descriptive options with less search competition.
Identifying long-tail keyword variations can seem endless. Fortunately, conducting an SEO competitor analysis with an SEO tool does much of the groundwork for you. Make sure you're analyzing your competitors not just for the most popular, short keywords they're competing for, but also for their longer, more niche ones. While the search volume for long-tail variations tend to be lower, they typically drive more specific, relevant traffic to your website, and generally require less effort to rank for.
Keep an eye on your SEO competitors' paid listings
While organic search and paid search are often considered as separate entities, examining your competitors' PPC keywords can give you very useful insights into which keywords they consider valuable and even which ones are profitable.
If your search competitors are willing to pay to appear in the PPC listings section of the search results, it's safe to conclude that they value this keyword – and the traffic it drives – highly. What you're looking for in particular are low-difficulty, high-converting keywords.
Monitor your keyword rankings
Carrying out these SEO competitor analysis actions is just the beginning, and as we know, SEO is a long game. Over time, rankings wax and wane, so it's important to continuously monitor both your rankings – and your search competition's rankings – for your targeted keywords.
However, with hundreds or even thousands of keywords to stay on top of, manual monitoring isn't a good use of resources. Keep up-to-date with the latest search engine rankings by using an automated keyword monitoring tool instead. Regular, automated monitoring will enable you to spot and quickly react to fluctuations in website rankings before your search traffic takes a dive. At the same time, you'll be able to measure the performance of your optimization efforts when it comes to keywords and easily demonstrate the success of your SEO strategy to management.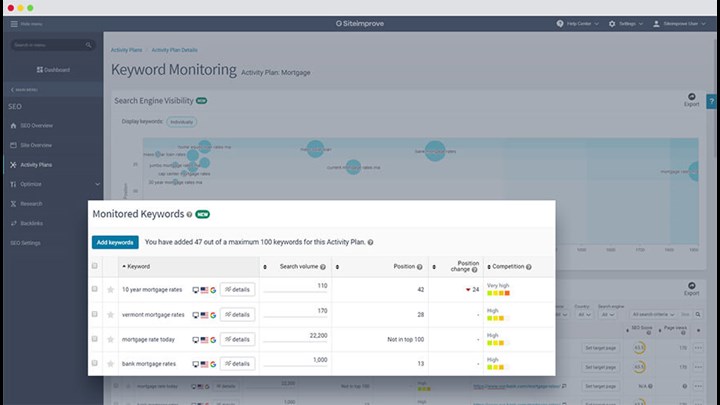 Competitor SEO content analysis
Keywords are undoubtedly a vital part of any SEO competitor analysis. But your assessment doesn't start and end with them. You should also be boosting your SEO by taking inspiration from your competitors' best-performing content.
The idea is to discover your competitors' most popular content – and then use it to improve your own. This saves time and effort, as you already know these pages are ranking in the SERPs and effectively driving traffic to their website. Mirroring – and then rivaling – their approach will help you to more closely match the user search intent and provide a better content experience for users who land on your web pages. In the long-term, this could see your content leapfrogging theirs in the SERPs.
Once you've worked out which content you're competing with, there are two key methods you can use to outrank them.
Locate and fill content gaps: This method involves spotting and exploiting weaknesses in your competitors' content. For example, if they're only providing content in one type of format, you might consider reconfiguring it into a more popular content format.
The 'Skyscraper' technique: This method is simpler but requires more work. It revolves around using your competitors' content as a baseline for creating a similar – but superior – piece of content. From there, it's a matter of approaching websites that link to a competitor's content and asking them to update their link to your own, more advanced content.
Content elements you should pay close attention to when optimizing your content to outrank a competitor on a particular topic are:
Content format
Titles
Placement of keywords on the web page
Meta titles and meta descriptions
Word count. Studies show that organic search results that rank on page one of Google contain an average of 1,447 words.
Content readability
Page structure, for example, the information architecture and headings
Use of supporting images, videos, and other media files
Format of the answer to the query. Do they use bullet points? Infographics? Q&As?
The presence of structured data
Frequency of publishing
Competitor backlink profile analysis
While content remains a major ranking factor, gaining high-quality, credible backlinks is an integral part of any successful SEO strategy. Backlinks – also known as inbound links – are links on other websites that 'point' to your site. Search engines use backlinks to discern how trustworthy a site is; the more important and trusted your site, the higher your ranking in search results, and the more organic traffic it will typically receive. Despite their importance, studies show that 66% of web pages have no backlinks at all.
Backlinks are still a top three Google ranking factor. That means that if your competitors have a stronger list of backlinks than you do, you will struggle to outrank them. Firming up your backlinks profile is therefore a top priority for your website. Helpfully, researching your competitors' existing backlinks can shorten this process and help you hone your own backlinks strategy. This is sometimes called SEO link gap analysis.
The "Backlinks" feature in Siteimprove SEO makes conducting your backlinks analysis much easier. Use it to discover which high-quality, relevant industry websites your competitors are receiving backlinks from and then develop a winning strategy for bridging that gap. It's also important to note that not all links are considered equal. Bad backlinks can actually damage your SEO performance, so it's essential that you minimize their presence.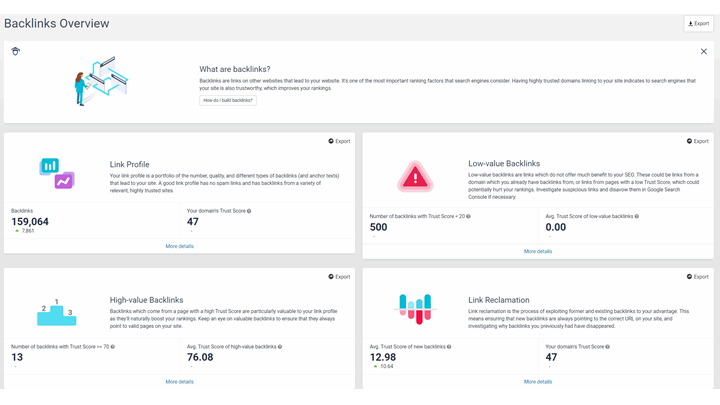 Good ways to catch up with your competition and bolster your backlinks profile include:
Monitoring your competitors for ongoing, aggressive link-building activity so you can match their approach and build similar – but better – content.
Building reputable links to your page by proactively outreaching your superior content – such as using the Skyscraper technique described in the Content Analysis section of this article. Pay close attention to domains that have linked to a number of your competitors; these sites can be a great target for snatching up low-hanging backlinks fruit.
Claiming unlinked mentions to your brand by reaching out to site managers to insert a link to your website.
Ensuring new backlinks to your website link to the most relevant content on your website – not just a homepage or contact us page.
Technical SEO competitor analysis
Keywords, content, and technical SEO are the three core elements of any SEO competitor analysis process. Keywords and content have already been covered, so now it's time to turn your attention to technical SEO auditing. Essentially, this means reviewing the technical details of your site compared to your competition and ensuring you plug any technical SEO gaps that could see your rankings slip.
Key technical SEO elements that you'll want to analyze your competitors for include:
Internal linking: Internal links help search engines find, index, and make sense of the pages on a site. It's Google best practice to use distinguishable, descriptive anchor text for internal links. A robust internal linking structure helps users and search engines navigate your site better. It's also recommended to link to important pages that you want to rank for on your site to give that page additional link authority.
Website structure: Site structure influences both the user experience and how easily it can be crawled by search engines. A good site should have a simple, clean structure that allows for unimpeded, easy crawling. It's also useful to examine how deep your key target pages are in the site architecture. Ideally, an important page should be no more than four clicks away from the homepage.
Page speed: With the May 2021 Google Page Experience update, site speed will become an even more important ranking factor. Your pages should take no longer than three seconds to load – with 47% of visitors expecting them to load within two seconds.
SSL certifications: Is the website HTTPS-protected? Search engines place a strong emphasis on providing a safe browsing experience for their users. Having an HTTPS secure encryption is a Google ranking factor and will prevent a website from getting a 'Not Secure' label attached next to their name in the search results.
Mobile-friendliness: How well optimized is the site for seamless mobile browsing? With Google's mobile-first indexing approach and more than half (58%) of all Google searches now conducted using a mobile device, any business that's serious about being online should ensure their pages are sufficiently mobile-friendly.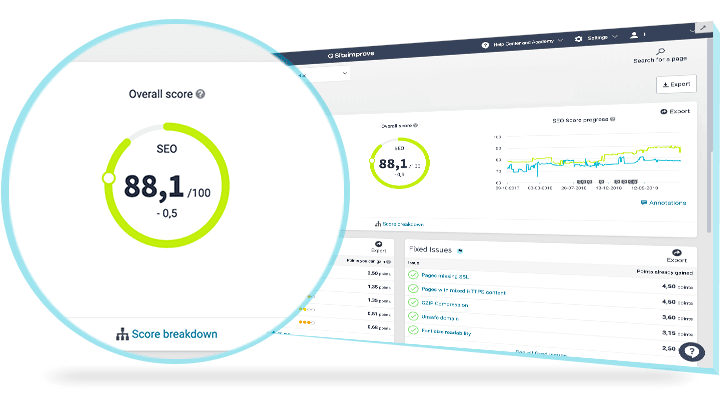 Siteimprove helps you analyze your search competition
Using an all-in-one SEO tool like Siteimprove SEO make it faster and easier to carry out SEO competitor analysis by integrating it into your organic search workflow and automating routine monitoring tasks.
Siteimprove SEO also helps you benchmark your website's SEO performance compared to industry averages with a clear-cut SEO score for your website and individual pages. Coupled with detailed recommendations on how to make the most impactful changes to your site's content and technical SEO, you can use Siteimprove SEO to assist with the following SEO competitor analysis tasks:
Reveal unknown search competitors with the Discover Competitors feature
Monitor your competitors' keyword rankings
Discover new keywords with the Keywords Suggestions feature
Find keywords that you are already ranking for in the Keyword Discovery feature
Join-up your Google Search Console to the tool to get a broader understanding of which keywords are driving your traffic to your website over time
Identify your top rankings per keyword and the top keywords per domain
Stay on top of your backlinks profile and identify link-building opportunities with the Backlinks feature
Create customizable Activity Plans that are unique to your website's search needs. You can even incorporate competitor SEO analysis into your progress tracking and KPIs
Learn more about how to get the most out of Siteimprove SEO in this blog post.
Handpicked resources for you