Overview of UK website accessibility laws
In the UK, one in five people have a disability – with many more living with a temporary disability. Under UK law, organizations have a legal responsibility to ensure their website is accessible to this audience. If it isn't, you could be breaking the law and losing out on a bigger online market share.
Use our free Website Accessibility Checker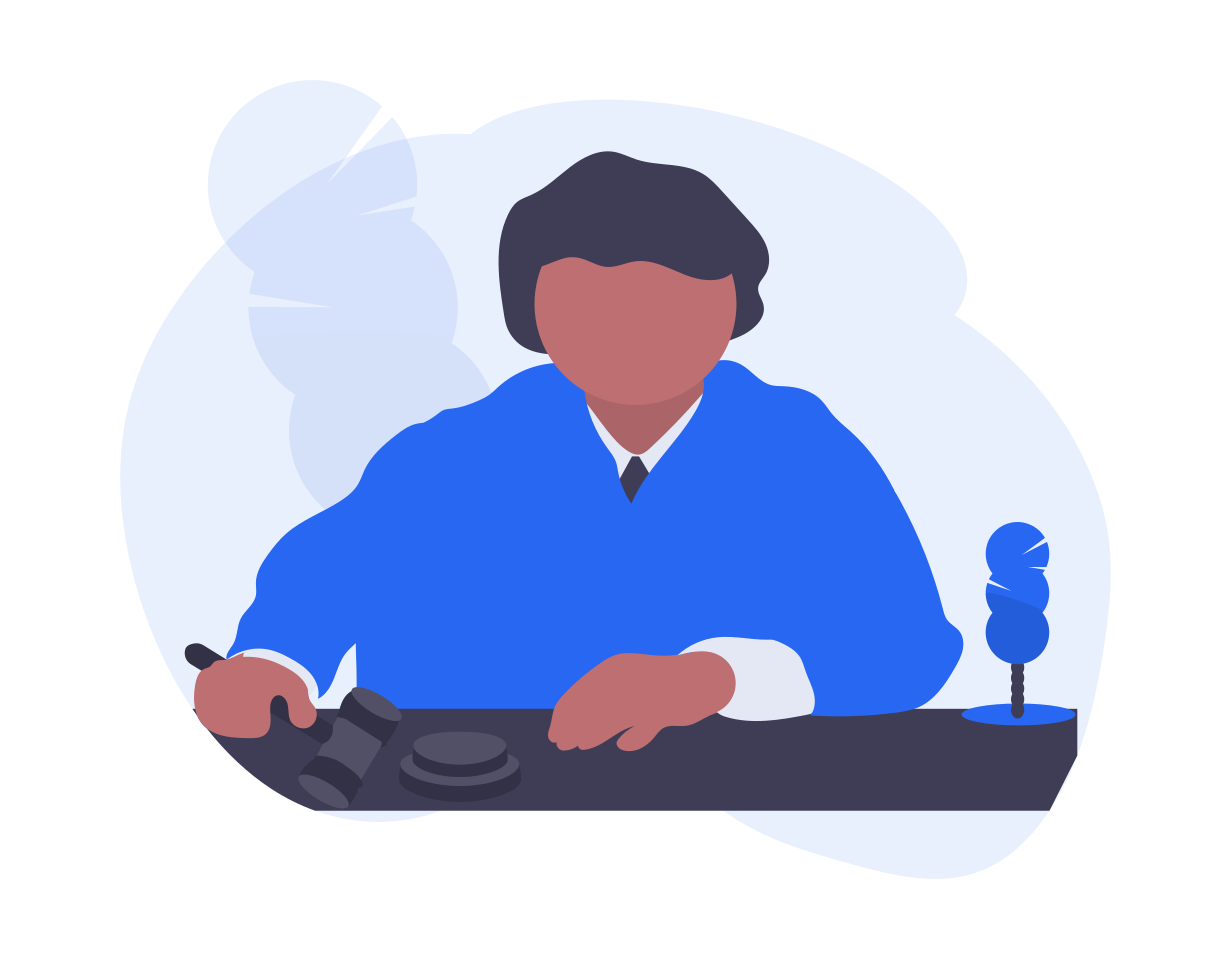 What is website accessibility?
An accessible website is one that people with permanent and temporary disabilities, such as sight loss, speech and motor difficulties, hearing loss, cognitive impairments or even a broken arm, can use without encountering barriers that disrupt the task they're trying to complete. They may rely on assistive technologies, like a screen reader, to complete these actions. That can include filling out a form, accessing a PDF, reading text or consuming multimedia content. In a nutshell, web accessibility means designing a website so that disabled people can access the same information and do the same things that a non-disabled person can.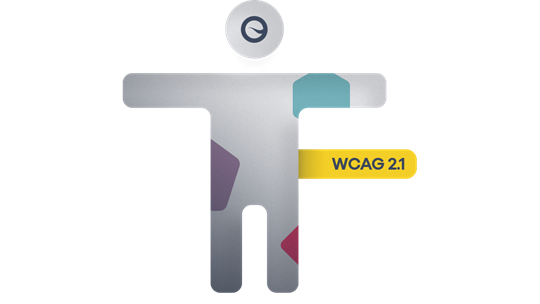 Examples of common web accessibility barriers include websites that aren't compatible with screen readers, content that cannot be navigated using a keyboard, inaccessible PDF files, missing alternative text for images, multimedia without alternatives, like transcripts, audio descriptions or captions, missing form input labels and low color contrast that makes text hard to perceive.
While it's easy to think about accessibility in black and white terms with a limited aim and scope, it has additional benefits for organizations besides inclusivity. Accessibility actually benefits all website users, not just people with disabilities. For example, older users, users with a poor internet connection and those trying to access content in different mediums because of their surroundings, like reading video captions rather than listening to the sound in a noisy environment. Accessible websites tend to provide a better user experience and rank higher in search engine results too.
Website accessibility is not just a nice to have in the UK – it's a legal requirement for both public and private sector organizations. While countries have different laws for accessibility, many – including the UK – base their legislation on the international golden standard for web accessibility, the Web Content Accessibility Guidelines (WCAG). WCAG explains how to make your website more accessible to people with disabilities. Measuring your website against WCAG compliance standards is a good indicator of whether your website would be considered accessible to disabled people in a court case.
To be as accessible as possible to all users and comply with UK web accessibility laws, UK websites should be coded and designed to meet WCAG's web accessibility principles. There are four of these, often referred to as POUR:
Perceivable: All users should be able to accurately see and read your website content. That means content must not exclude people with vision loss, hearing loss and other disabilities.
Operable: Website content should be responsive and simple to navigate for all users, for example, using keyboard only commands to navigate a website rather than a mouse.
Understandable: Website interfaces and information should be organized in a way that makes them easy to use, predictable to navigate and contain language that is understandable to all users.
Robust: Websites should be compatible wide a wide range of technology, including assistive technology tools that are commonly used by users with disabilities.
To help website managers follow these principles, WCAG also outlines specific technical standards to measure a website's level of accessibility. These standards are split into three levels (A, AA and AAA, with level A being the minimum level of accessibility). There are also different versions of WCAG, with WCAG 2.1 being the most current edition and WCAG 2.2 due to be released in late 2021.
Knowing how WCAG works is important because it is the standard that UK accessibility laws use to determine if a website is accessible. The two key pieces of web accessibility legislation that organizations need to be familiar with are:
The Equality Act (2010)
The Public Sector Bodies (Websites and Mobile Applications) (No. 2) Accessibility Regulations (2018)
Overview of the Equality Act (EQA)
One of the key pieces of web accessibility legislation in the UK is the Equality Act 2010 (EQA). The EQA replaced the 1995 Disability Discrimination Act across the UK, with the exception of Northern Ireland.
Under the wide-ranging EQA, UK goods and service providers (this includes both public and private sector organizations) have a legal obligation not to discriminate against people based on a number of protected characteristics – including disability. This covers people with visual, motor, hearing, cognitive and learning disabilities.
But the EQA demands more of organizations than non-discrimination. It also requires website owners to actively provide an equal website experience to all their users. The requirements of the law are crystal clear in this respect. The Equality and Human Rights Commission published a statutory code of practice to clarify goods and service providers' responsibilities under the law. It states that the:
"…duty to make reasonable adjustments requires service providers to take positive steps to ensure that disabled people can access services. This goes beyond simply avoiding discrimination. It requires service providers to anticipate the needs of potential disabled customers for reasonable adjustments."
To comply with the law, UK website owners must therefore make 'reasonable adjustments' so that their web content is accessible to people with disabilities – not wait for disabled people to tell them their site in inaccessible. The EQA itself does not outline the technical accessibility standards it requires of websites. So, in practice, the safest bet for organizations is to ensure their web content adheres to WCAG 2.1 Level AA standards.
Overview of the Public Sector Bodies (Websites and Mobile Applications) Accessibility Regulations
While the EQA set a baseline for web accessibility legislation in the UK, digital accessibility protection was beefed up for the public sector in September 2018 with the introduction of the Public Sector Bodies (Websites and Mobile Applications) Accessibility Regulations.
The regulations aim to ensure that services provided by public sector bodies are accessible to people with disabilities. The law sets a clear accessibility threshold for public sector bodies; their website must align with WCAG 2.1 Level AA. They must also publish an accessibility statement listing any areas of their site that do not meet WCAG 2.1 Level AA standards.
All public sector bodies should have become compliant with this law by September 2020. If they haven't, they may be subject to legal action.
Who is required to follow the Public Sector Bodies Accessibility regulations?
As the name suggests, the Public Sector Bodies Accessibility Regulations are applicable to all UK public sector organizations – with a few exemptions and partial exemptions. Public sector bodies that must comply with the law include:
Central government organizations
Local government organizations
Some charities
Some non-government organizations
Public sector organizations that are exempt from the law include:
Non-government organizations. This includes organizations like charities - unless they are mostly financed by public funding, provide services that are essential to the public or aimed at disabled people
Public sector broadcasters and their subsidiaries
Public sector organizations that are partially exempt from the law include:
Primary and secondary schools and nurseries – with the exception of web content that people need to access in order to use their services.
It's important to note that partially exempt organizations still need to publish an accessibility statement on their website.
There is also a caveat to the law that says some non-exempt organizations do not have to fully comply with the accessibility regulations. This kicks in when an organization would be facing a 'disproportionate burden' if they had to make their web content fully accessible. It considers factors like the size of the organization, the cost of making content accessible and what type of organization it is. It does not take into account factors like lack of time or knowledge. If you're uncertain about whether fully complying with the accessibility regulations would be a disproportionate burden to your organization, it's a good idea to speak to a legal advisor.
Does the private sector need to follow website accessibility laws in the UK?
Yes. Private sector businesses fall under the remit of the Equality Act 2010 which states that UK goods and service providers cannot discriminate against disabled people.
Beyond complying with the law, there is a convincing business case for web accessibility. With 14.1 million disabled people living in the UK today, UK businesses risk losing out on millions of pounds of sales if their website fails to accommodate the needs of these consumers – and the numbers aren't trivial. In fact, the spending power of this group is estimated to be £275 billion a year! The Click-Away Pound survey found that in 2019, UK businesses lost more than £17 billion in sales because of disabled shoppers abandoning websites with accessibility barriers. Added to this is research from Nielsen that suggests that people with disabilities are typically more brand loyal, shop more frequently and spend more than the average consumer.
Of course, the business case for digital accessibility is more universal than this – it's also a way to authentically demonstrate your business's commitment to digital inclusion and enhance your reputation. Both these outcomes help you stand out from your less accessible competition.
What are the risks for not complying with the law?
Public Sector Bodies Accessibility Regulations 2018: When it comes to the Public Sector Bodies Accessibility Regulations, the Central Digital and Data Office (CDDO) is responsible for monitoring public sector website compliance. It has the power to request information and demand access to any public sector organization's web content – both intranet and public-facing materials. If a public sector body fails to publish an accessibility statement on their website – or one that is not accurate – the CCDO will publish the organisation's name.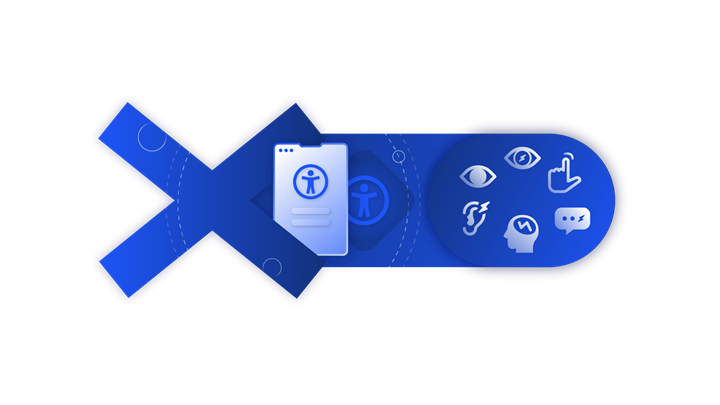 Actual enforcement of the law falls under the Equality and Human Rights Commission (except in Northern Ireland). It has the power to investigate non-compliant organizations and initiate legal action against them.
Equality Act 2010: As of now, no organizations have been successfully taken to court under the Equality Act. Several discrimination cases against non-compliant websites have been brought forward by the Royal National Institute of Blind People (RNIB) and settled out of court.
It's possible that in the future the UK will see more web accessibility cases brought to court and non-compliant organizations publicly named. To avoid the risk of a legal challenge and the reputational fallout of being named as a discriminatory organization, it's a good idea to proactively work towards web accessibility.
The Overview of the UK and EU web accessibility laws
The EU web accessibility directive was implemented in the UK as the Public Sector Bodies Accessibility Regulations in 2018. The law is still in place – and will remain in place – even though the UK is no longer a member of the EU.
It was designed to build upon existing UK anti-discrimination law, like the Equality Act 2010. The EU Directive obligated the UK to implement the law in three stages:
Public sector websites created after 23 September 2018 needed to comply with the requirements from 23 September 2019.
Public sector websites created before 23 September 2018 needed to comply with the requirements from 23 September 2020.
Public sector mobile applications need to comply with the requirements from 23 June 2021.
The European Accessibility Act (EEA) is a new accessibility law that will implement a set of common rules for accessibility products and services across the EU member states. Unlike the EU Directive, it will apply to the private sector. EU states have until mid-2022 to enact the EEA into national law, with enforcement actions beginning in 2025.

So, where does that leave the UK? Non-member states are not required to bring the EEA into law, though they still have the option to. The UK government has not yet stated whether it will transpose the EEA into local law. But coupled with the post-Brexit freeze on the automatic adoption of new EU directives and a lack of commitment from Westminster, it's possible that the EAA may never become UK law.

However, this is where things get tricky. Any private sector organization selling products and services within the EU does need to comply with the EEA. So, if you're a UK-based business selling products or services in an EU member state, your website will need to comply with the EEA. This suggests that unless UK private sector businesses want to create a two-level accessibility system; one for the UK market and for the EU market, they will benefit from applying the EEA guidelines to all their products and services in order to be competitive both domestically and abroad and avoiding providing a less accessible product/service within the UK.
See our FAQs on the European Accessibility Act for more information on complying with the EEA.
What type of content must be accessible on your website?
As the standard for web accessibility in the UK is WCAG 2.1 Level AA, your website should align with its requirements for web accessibility. The following WCAG accessibility best practises should be considered when creating content.
Alternative text: Images and other non-text content should have descriptive alternative text (alt text) added to them so they can be read by a screen reader. Alt text also helps search engines understand your non-text content better.
Keyboard navigation: All website functionality should be available using a keyboard only.
Semantic markup: A logical page structure using semantic markup to designate headings, lists and other structural elements. For example, headings should be identified as a H1, then structured in a sensible way – H1, followed by H2 and then H3.
Tables: Data tables need extra markup. Add row and column header cells to make them accessible to screen readers.
Instructions: Instructions to complete a task should not rely on sound, shape, size or visual location.
Descriptive links: Using generic link text like 'learn more' and 'click here' provide no context to screen reader users. All link text should therefore make sense when read in isolation.
Forms: To ensure everyone can submit a form, they need to be labeled properly – that includes text fields, dropdown lists and checkboxes.
Videos and audio: A text equivalent, such as captions or transcripts should accompany multimedia content.
PDFs: PDF files need to be tagged to make them accessible.
Color: You must not rely on color alone to signify meaning. If you do use a color to convey meaning, you should also include a text alternative.
Readability: Use accessible fonts, format copy logically with headings that enable skimming and write at a level that matches your target audience for optimal comprehension.
Skip elements: Include a skip navigation link. This helps users with assistive technology to skip repetitive elements on a page so they can read faster.
Titles: Page titles should be descriptive and informative.
Contrast: Text and images of text have sufficient color contrast ratio for users with low vision.
Text: No loss of functionality or content should occur when the text is zoomed in on.
Seizure triggers: Do not use blinking or flashing content.
This list is just a selection of accessibility recommendations. To see the full list of WCAG 2.1 requirements and techniques for achieving them, visit the WCAG guidelines.
How to meet the compliance requirements
To be compliant with web accessibility legislation in the UK, it's necessary to do two things.
Meet WCAG accessibility requirements. This center around making your website 'perceivable, operable, understandable and robust' for all users - you can achieve this by making sure it meets the international accessibility standard, WCAG 2.1 Level AA. By meeting these requirements, your website should be compatible with common assistive technologies like screen readers, magnifiers and speech recognition tools. This will require a mix of hybrid and manual testing of your site content to ensure it functions in the way it is expected to.
Publish an accessibility statement. This is required for all public sector organizations in the UK and is accessibility best practise for businesses too. You can learn more about how to write an accessibility statement in this blog.
Your journey towards accessibility compliance in the UK should follow these steps:
Conduct a full accessibility audit. If you're not sure about your site's current accessibility status, using an automated accessibility auditing service, like Siteimprove Accessibility, helps you quickly and accurately spot WCAG violations on your website and prioritise fixes based on severity.
Bring your site up to WCAG 2.1 level AA standards. There are three different levels of WCAG conformance, A, AA and AAA, each with different checkpoints and measurable success criteria for accessibility. Websites that don't meet Level A conformance standards are typically inaccessible to disabled users in multiple ways. As UK accessibility laws stipulate Level AA as the required standard, it makes sense to focus on achieving this level as a priority. For organizations with more advanced accessibility agendas, working towards Level AAA is the next step. Accessibility tools like Siteimprove Accessibility split accessibility issues by conformance level to clarify exactly what needs to be done to hit each level.
Run regular accessibility checks. Accessibility is never finished. Every time you add new content to your site, redesign it or migrate it, you can add new accessibility barriers to your content. Mitigate this risk by incorporating scheduled automated and manual accessibility testing into your website processes. This might include having your website tested by disabled users to make sure you're following the spirit and not just the letter of the law.
Remember that web accessibility is a process – not a project. That means budgeting for continued accessibility remediation, educating your website contributors on the importance of accessibility and designing accessible content from the ground up, rather than adding it in afterwards.
If you follow these steps, it's very likely your website will be usable for everyone and be considered accessible under UK accessibility laws.
Let us tell you how
Let us know who you are and what you dream of. We might be able to help.
Start the conversation