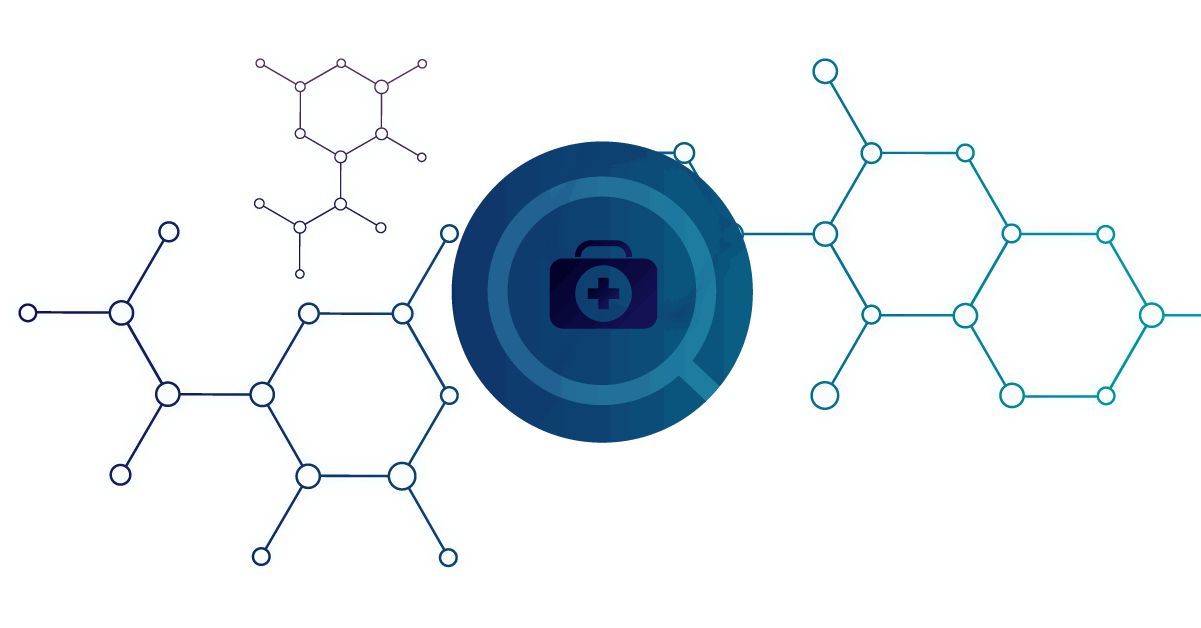 Healthcare SEO: how to improve your organic performance 
For many healthcare organizations, attracting new patients is more difficult than ever before. Patients have endless choice when it comes to selecting their healthcare provider, making it critical for hospitals and clinics to offer a competitive digital experience for patients. The first step in offering a digital experience that will attract patients is investing in SEO, since most patients turn to search engines when researching a new provider.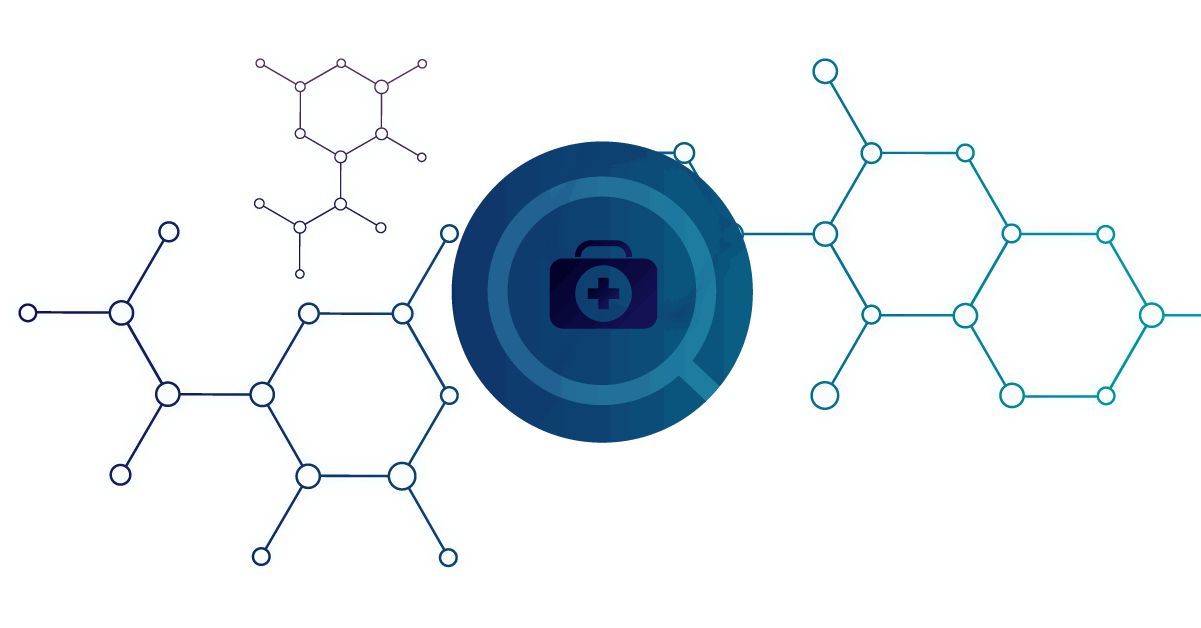 What is healthcare SEO?
SEO stands for Search Engine Optimization, which is the process of optimizing your website to attract more of the people you want to reach through organic search results. In practice, that means optimizing your website so Google and other search engines show your site to potential patients searching for services like yours.
According to Google, searching online is by far the preferred way for patients to find healthcare providers: online search drives three times as many visitors to hospital websites compared to other sources. In order to attract new patients, your site needs to be optimized so it shows up at the top of search engine results pages, making SEO an important investment for any medical practice, clinic, or hospital.
How can the healthcare industry benefit from search engine optimization?
Grow your patient base
One study found that 80% of US adults conducted a healthcare-related search in the last year.
Online search is the main way patients research new healthcare providers, book appointments, see provider review, and find valuable information. In order to provide the best possible digital experience to your patients, you need to invest in healthcare SEO, so your site appears at the top of their search results—ultimately growing your number of patients.
Show up for local searches
Another benefit of a healthcare SEO strategy is showing up in local search. Many patients search for terms that are specific to where they're located, like "physical therapist in Nashville."
In order to show up for those geographic-specific searches, your site needs to be correctly optimized. Once it is, you can tap into highly relevant, local searches from potential patients looking for services just like yours.
Rise above the competition
Healthcare is a competitive space, which makes investing in SEO all the more important. If a patient is searching for a hospital in their area and your main competitor shows up as the first or second search results, while your hospital isn't even on page one, you're going to lose valuable opportunities for growth.
Investing in SEO is a great way to differentiate yourself from your competition, and if you follow that up with a high-quality website experience and online services, you'll be well ahead in offering a digital experience patients will want to come back to.
Start by checking your SEO score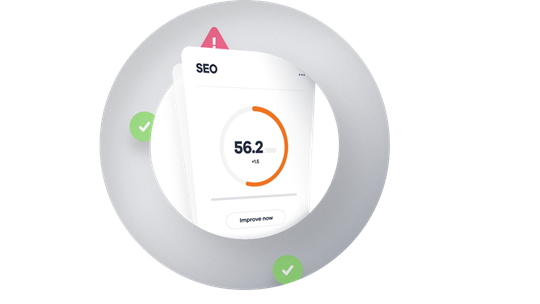 Before you can start working on your SEO, you need a solid understanding of how your site is currently performing.
Start by using Siteimprove's free website SEO checker, which scans your webpage for 14 common SEO issues and separates them into four categories: technical, content, user experience, and mobile SEO.
From there, you can start digging into problem areas and focus on the ones that will create the most impact.
11 actionable tips for your healthcare SEO strategy
Now that you have an overview of how your site is currently performing, you can start to create a healthcare SEO strategy that will help your site move to the top of search results. Get started with the 11 actionable tips below.
1. Focus on quality content
Arguably the most important factor in a solid SEO strategy is high-quality content. In order for your site to appear in search results, you need to have content that search engines can show users. And since the content is why users come to your site, search engines give your content quality a lot of weight. Make sure your content is thorough, high-quality, and accurate.
You can also use content as a method to attract more users to your site. By creating a blog on your healthcare site where you can add helpful resources for patients, you widen the possible searches you can show up for (you aren't going to show up for a search if you don't have any content covering that topic!).
If you're unsure what to write about, look at what your competitors are writing about—then do it better. Write more in-depth content or take a different angle than your competitors.

You can also use a keyword research tool to see which keywords people search for the most. Prioritize writing about relevant medical terms people search the most for, as this increases your chances of capturing more traffic.
2. Make sure search engines can crawl and index your website
Now that you have high-quality, unique, and thorough content that's relevant to your healthcare organization, you need to ensure that search engines can index it.

Let's start with the basics: When search engines crawl your site, they store and organize the content they find. Once your page is indexed, that means a search engine knows what it's about and can show it as a search result to users (basically, by indexing content search engines are building their own library they can pull from when a user searches for something).

That means it's critical that your healthcare content is easy for search engines to index. One effective way to do this is by using a sitemap. A sitemap is a list of all the URLs on your site that you want search engines to index and show to users. A good place to start is by building a sitemap just like Google recommends, then submitting it to Google Search Console.
3. Monitor your SEO progress
If you're going to run a successful healthcare SEO program, it's important to monitor your progress so you can report on ROI.
Here are a few SEO metrics to keep track of over time:
Average position in search results
Click through rates from search results to your website
Search engine impressions
Total organic traffic to your site
Conversions
In order to look at all of these metrics, you'll need to use a website analytics tool. Make sure your analytics tool is set up to monitor these metrics and aligns with your healthcare SEO strategy. You should also use an SEO tool that automatically monitors some of these metrics and shows your SEO performance over time.
4. Benchmark your healthcare SEO and compare performance to your competitors
Tracking and reporting on your SEO efforts is a critical step in proving the ROI of your SEO efforts.
However, keep in mind that SEO performance is always relative to your competition. Your organic traffic might have increased by 50% in the last year, but if you're still on page two of search results while your competition is in position one for high priority keywords that attract the right kind of patients, then you're most likely not capturing the right traffic.

To figure out how you stack up to the competition, use an enterprise SEO platform that benchmarks your SEO score against 1) an industry average, and 2) your specific competitors. This will give you insights into how much work you need to do overall when it comes to improving your SEO score, as well as specific insights into ways to optimize for your most important key words.
5. Improve the patient experience on your website
As previously mentioned, a great healthcare SEO strategy will get you far in attracting new patients, but you need to provide an outstanding digital experience in order to keep them.
A high quality website experience is also something search engines take into ranking considerations. When thinking about your overall website experience, keep the following in mind:
Site speed: Does your website load quickly? The average consumer will leave a site after 2-3 seconds of load time, so make sure your site loads fast.
Straightforward navigation: For both search engines and users, a straightforward menu will go far in making your site easy to use and index.
Clean, universal design: Especially when it comes to healthcare websites, design should follow universal design principles that make your site easy to navigate.
Quality assurance: Make sure to test your website quality assurance for broken links, broken media files, 404s, or broken buttons anywhere on your site, as they lead to a very frustrating experience for users.
Simple user journey: Don't make it complicated for users to complete an action. If users want to book an appointment online, reduce the number of steps they need to take and make the process clear and straightforward.
Accessibility: Healthcare websites should be easy for people with disabilities or the elderly to use. Keep color contrast high, font readable, and ensure your site is accessible for people with hearing, sight, cognitive, or physical disabilities.
By providing a smooth, engaging website experience, you'll not only retain patients, but also send search engines signals that your site is worth visiting.
6. Build your website authority
Another way to improve your healthcare SEO strategy is by building up the authority of your website. The best way to do that is through something called backlinks, which is when another website links to yours.
Backlinks are seen as a vote of confidence to search engines—basically, if another site is willing to send their users to your site, then they must trust your organization and your content.
Not all backlinks are created equal, however. You want high-quality, authoritative sites linking to yours—not spammy or untrustworthy ones.
If your hospital or clinic has been mentioned for interesting research, good outcomes, community work, etc. on another website, reach out to that website owner and ask if they wouldn't mind including a link to your website when they mention you.
Get your organization in front of trustworthy third-parties as much as possible and request that they link to your site when using your content, mentioning you, or interviewing a member of staff.
7. Focus in on EAT requirements for healthcare SEO
In 2018 there was a significant Google algorithm update that affected medical websites, known as EAT. This update was an effort from Google to encourage medical sites to comply with higher standards—standards known as EAT (expertise, authoritativeness, and trustworthiness).
As a healthcare organization, it's very important that both patients and search engines can see you're a trustworthy organization with accurate information. Keep the following in mind when working on your site's EAT:
Create high-quality, informative About us and Contact us pages with plenty of information
Make sure to include author information for all your in-depth content, including author bios with information about their expertise or accreditation
Make it easy for patients to contact your organization
Include a privacy policy, terms and conditions, etc.
Add an easily identifiable address and phone number to your site
8. Prioritize local healthcare SEO with Google My Business
Local SEO is critical for your healthcare organization. Patients search for local providers more often than not. To start working on your local healthcare SEO, start by creating a Google My Business account and claim your business listing.
From there, create a detailed business profile with photos, your website, opening hours, and an updated address and phone number. You can also build patient trust by responding to customer reviews.
Doing all of this will create a robust local profile that Google will reward by showing in local searches and maps.
9. Make sure your website is accessible for all users
Healthcare websites need to pay attention to accessibility compliance. All healthcare websites should be usable for the elderly and disabled. Doing this not only provides a better digital experience for your patients, but search engines also include it in their SEO ranking factors.
A good place to start is checking your site's accessibility standing. Use Siteimprove's free website accessibility checker to get an overview of problem areas you need to work on. From there, you should check accessibility regulations in your area to see which level of compliance you should aim for. A good place to start is WCAG 2 Level AA.
10. Look into your site's speed and mobile usability
Website speed and mobile usability are now factors in Google's SEO ranking algorithm, making it an important player in your SEO performance.
Mobile usability
According to Statista, about 50% of worldwide website traffic comes from mobile devices. (that number is about 60-65% in the US), making it critical that your healthcare website is optimized for mobile usability. Here are a few things you should keep in mind for mobile usability and mobile SEO:
Use responsive web design. Make sure the design of your website adopts and responds to the type of device users are on
Make sure all content, including video, images, etc. are viewable on a mobile device
Avoid pop-up or other overlays, as they take up a huge amount of screen space on mobile devices
Don't use very small or thin fonts that force users to zoom in all the time on their mobile devices
Make sure the elements on your site that are touch-responsive are easy to tap on a mobile device by spacing them out
Site speed
Most users will leave a site if it takes longer than 2-3 seconds to load, which is a high bar to reach! But to provide the best patient experience and improve your SEO rankings, you need to invest in a fast site. Here are a few things to keep in mind when working on your site speed:
Most of a page's loading time is spent downloading its components, most of which require an HTTP request. Reduce the number of components on your page to reduce the number of HTTP requests and speed up your site.
Reduce the number of redirects your site uses, as they create more HTTP requests and slow down your site.
Broken links create a poor user experience, but they can also cause your site to lag.
Reduce the file sizes of your images. Big file images will increase the total size of your page—and the larger your page, the longer it takes to load. Optimize your image files using a free online image optimizer.
Video files are even larger than image files, so don't upload them directly to your web page. Use a video hosting service to host your video, then embed them on your site, which saves space and speeds up load time.
Investing in both a faster site and a more mobile-friendly site will create a better digital experience for potential patients, help your organization appear more trust-worthy, and boost your SEO rankings—so it's not something to be ignored.
11. Don't forget about Bing in your healthcare SEO strategy
Yes, Google has the market share of searches (especially in the US). But 10% of search traffic still comes from Bing and Yahoo!. Luckily, you don't need to do anything different to optimize your site for Bing searches. For both search engines, focus on providing a high-quality, accurate, and trustworthy digital experience.
However, you should still configure Bing's webmaster tool, so you can monitor your site's Bing performance and optimize for easy wins.
Siteimprove is all-in-one SEO tool that can improve your healthcare SEO
In order to improve your SEO rankings across the board, it's critical to use a collaborative platform that marketing and web teams can use to create better website experiences.
With Siteimprove SEO, you can maximize organic growth and get your site seen by more potential patients. Our all-in-one platform helps you create a competitive website through keyword research, competitive analysis, and content optimization.  
Over 15% of US hospitals and clinics already use Siteimprove to drive growth, optimize their SEO strategy, and provide a better digital experience. Siteimprove has also been named a Strong Performer in The Forrester Wave SEO Platforms and has been consistently chosen as an SEO leader with an intuitive user experience by G2.  
Handpicked resources for you